De'Anthony Thomas hurts ankle, unsure if he'll play vs. Colorado
De'Anthony Thomas admitted to reporters his ankle is injured and that 'we'll see' if he can play Saturday's game vs. Colorado.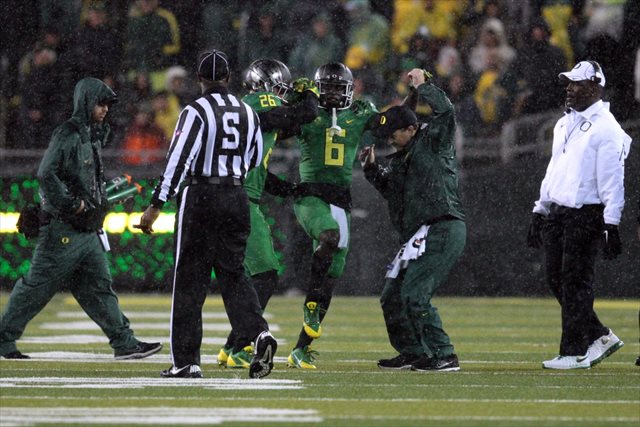 The way they've destroyed anything and everything in their path so far, it's hard to say when Oregon will really need De'Anthony Thomas. But they may have to hope that time isn't this Saturday vs. Colorado.
Though Duck coaches do not discuss injuries as a matter of policy, Thomas admitted to reporters following his team's 55-16 win over Cal that he had injured his right ankle on the game's opening kickoff and was unsure of his status for the trip to Boulder.
38.5-point underdogs, "We'll see," he said, per the Associated Press. "I'm very focused and I'll get back out there when I can."
Thomas missed the remainder of the victory over the Bears after having to be helped off the field on the game's first play. The AP reported Thomas was on crutches on the Duck sideline during the second half, but walked without them during his meeting with reporters.
"I was just trying to make a move and it was slippery out there," he said of the injury.
Thomas's Sunday comments on the game on his famous Twitter feed were, as usual, much more himself:
THEY GOT LUCKY LAST NIGHT I WAS READY TO PERFORM LAST NIGHT BUT ITS ALL GOOD THO ILL BE SOON AND MORE DEADLY#BELIEVEDAT #RUNDAT

— DE'ANTHONY THOMAS (@EATBLACKMOMBA6) September 29, 2013
It's highly doubtful that the Ducks won't be able to overwhelm the Buffaloes, 38.5-point underdogs, with or without Thomas. But for all the weapons at Mark Helfrich's disposal, the junior from Los Angeles remains the team's No. 1 rusher and No. 1 all-purpose yardage leader even after missing nearly an entire game's worth of action. If the ankle injury develops into the nagging sort, there are games further along on the schedule -- notably, the trip to Seattle to face undefeated Washington on Oct. 12 -- where his absence or even a less-than-optimal showing could play a major, major role in the Ducks' performance.
Robbie Robinson has not been enrolled at ASU for more than a year

Rutgers' offensive line challenged a local curling club to a match

These five teams have the best chance of being the Group of Five darling this coming year
Drevno had been running the Michigan offense for three seasons

Aaron was reportedly shot while trying to protect his girlfriend when a fight broke out at...

An assistant-by-assistant look at changes Saban made to the Tide's staff ahead of 2018