De'Anthony Thomas on defense? Oregon's all-purpose star might be used in secondary
Oregon is seriously considering playing Thomas at cornerback Saturday against Stanford to alleviate the wave of attrition in the secondary.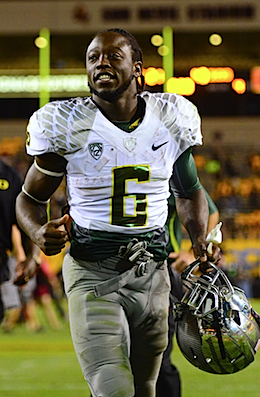 As a coveted five-star recruit, De'Anthony Thomas rejected the prospect of playing cornerback at his hometown school, USC, for the chance to play multiple roles in Oregon Ducks 's warp-speed offense, which turned out to be a pretty good decision: As a sophomore, "Black Mamba" is the leading receiver for the highest-scoring attack in the nation and with well more than 1,000 all-purpose yards for the second year in a row. For at least one weekend, though, with the Pac-12 North on the line and the Duck secondary on its last legs, Thomas' versatility might wind up serving him on defense, after all.
According to The Oregonian, Oregon is seriously considering playing Thomas at cornerback Saturday against Stanford Cardinal because of a wave of attrition in the back four, one that's already claimed veteran cornerbacks Troy Hill and Oregon Ducks as well as safety Avery Patterson , who is out for the season with a torn ACL. Patterson was only in the lineup because All-Pac-12 senior John Boyett opted for season-ending surgery earlier in the year to fix lingering injuries in both knees.
Sophomores Terrance Mitchell and Ifo Ekpre-Olomu are the only healthy cornerbacks left with significant game experience. If Thomas does see time at corner, Ekpre-Olomu might move by shifting to safety, where he's practiced in the past.
The bug isn't limited to the secondary. By the start of the second half of Saturday's 59-17 win at California Golden Bears , no less than half of the starting defense was watching from the sideline, including all four starters on the defensive line. The only regular up front who started the game, defensive end Taylor Kelly , left in the first quarter with an apparent foot or ankle injury. The starting nose guard, Wade Keliikipi , didn't make the trip to Berkeley and is reportedly out for the season with an undisclosed injury; two other veterans on the inside, Ricky Havili-Heimuli and Issac Remington, are questionable to play against Stanford after sitting out last week, as is the top pass rusher, Dion Jordan .
For much of the night, the front four consisted of three true freshmen, Arik Armstead , DeForest Buckner and Alex Balducci (who was forced to burn his redshirt), and newly converted tight end Koa Ka'ini, who spent the first two months of the season on offense.
Not surprisingly, coaches weren't exactly forthcoming Monday about their plans for arguably the biggest game of the season. Defensive coordinator Nick Aliotti conceded that "we're getting thinner," but stopped well short of offering any specific solutions involving Thomas. Out of high school, Thomas was generally listed as an "athlete," reflecting his blue-chip skills as a running back or cornerback, and he has confirmed every accolade with the ball in his hands.
In a similar situation last week, USC teased the possibility of giving its own scintillating sophomore, Marqise Lee , a few snaps on defense against Arizona State, but decided against it once the ball was kicked. Lee was inserted for a single play at safety, and immediately pulled after the play was stopped by a presnap timeout. If we see much more of Thomas in the Ducks' secondary this weekend, it will be as much a sign of their desperation there than his talent.
Taking a close, detailed and opinionated look at the ACC a week before the start of the 2017...

There are new names to learn every season, and here are five to keep an eye on from the AC...

The champs defend without Watson, and Florida State's hopes are sky high
Kevin Sumlin addressed Texas A&M's decision to cancel a rally scheduled for Sept. 11

Expectations are high for Charlie Strong at South Florida, and Houston looks to take the next...

There are new names to learn every season, and here are five to keep an eye on from the AA...