Death of UAB football: A spring game for the deceased Blazers
UAB played an alumni flag football game Saturday as its spring game. You try telling the former Blazers who showed up that it meant nothing.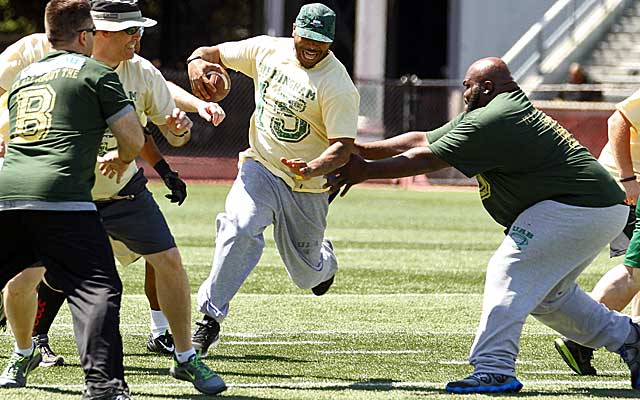 BIRMINGHAM, Ala. -- They played a spring football game for a dead program Saturday.
OK, it was an alumni flag football game for former University of Alabama at Birmingham players. Sure, fewer than 1,000 fans showed up at Legion Field, which once bore the words "Football Capital of the South" on the upper deck. Yeah, Bill Clark -- the 2014 Conference USA coach of the Year at UAB -- shook hands instead of calling plays.
But you try telling the 120-plus former Blazers who showed up that this "Sons of UAB" game meant nothing. You try telling them that 26 years of building UAB football from a club sport nurtured into major college football by Gene Bartow, the founder of UAB athletics, will simply vanish because President Ray Watts said so in December.
"We came here in the early days thinking that in 20 years we would be bringing our family back to a stadium on campus that we truly were a part of building," said Justin Craft, a UAB safety from 1995-97, as he fought back tears. "It's a celebration of the hurdles we've overcome and the hurdles we're going to overcome in the future."
Clark reached out to former players for the first spring alumni game last year. The former players did it themselves this time. Why wouldn't there be a game again in 2015 even without a football team?
If money becomes a concern to stage the game, just cut a sweetheart deal with the city of Birmingham and only pay for security and insurance. Go ahead and clean up the stadium yourself to save money.
If school spirit is needed, bank on longtime UAB fan Neil Yawn (a.ka. Dragon Man for the past 10 years) to show up in his ridiculous dragon outfit that fans grew to love. Get Lynn and Garland Reeves to wear shirts that Lynn stitched herself. Lynn's shirt: "Bill Clark For President" on the front and "Don't Stop Giving them Hell" on the back. Garland's shirt: "Meddle not in the affairs of the dragon."
If the UAB undergraduate band has a conflict and organizers wait too long to ask the alumni band to play, bring in the Ian Sturrock Memorial Pipe Band. Somehow, Amazing Grace on bagpipes felt appropriate anyway.
"If you think about it in terms of the seven phases of dealing with loss, there's grief, there's anger, there's never going to be acceptance," said Ralph Harbison, UAB's homecoming king in 1994 and an event organizer. "We are not done. We are going to have football back. It can't be 2015. It may not be 2016. Football will be back, and a lot of this is a celebration of what we did to get it here and what we're going to do to bring it back. This is about us."
They all have stories on why they gathered Saturday.
Chuck Dietzen, a pediatric rehab doctor in Indianapolis, skipped a speaking engagement to fly to Birmingham. He was the first quarterback in UAB history, a then-28-year-old who wore a beeper to practice because he was doing his residency at UAB.
Dietzen had played semi-pro football in Muncie, Ind., and had an offer to play in Europe. But he figured his future was in taking care of kids so he went to UAB to continue his training. Who knew football would be added as a club sport earlier than expected?
Chuck Tuggle, Dietzen's old UAB center, had told him months ago the program was getting cut. But it didn't resonate to Dietzen until he saw the video of current UAB players who had gone through multiple surgeries in tears while confronting Watts at a team meeting.
"I've worked all over the world helping kids who don't have the means to get health care," Dietzen said. "But when I saw the players being interviewed, that hit home. I understand how they feel about it. I had been removed for so long that I just wanted to come back and support them."
Tristan Henderson, a senior tight end for UAB last season, most famously confronted Watts last December in a video that went viral. Today, Henderson trains in Birmingham, still hoping to make the NFL. Of course he would be at the alumni game.
"They're brothers," Henderson said about the original UAB players. "They paved the way for me to play here."
Mike Trammell, a UAB center in 1991 when the team became an NCAA sport, showed up to show Watts that people care. He played in the days when UAB would load up the bus with hoagies for the pregame meal on long drives to play games.
"If there was no football program, I wouldn't be here," said Callie Trammell, Mike's daughter. "He was going to go into the Marines and leave my mom here. Because UAB called him and said they had a football program, he stayed and I ended up happening." Callie will attend UAB next fall.
The stories go on and on from former players. One question they struggle answering: Why didn't more of this alumni support happen sooner?
Perhaps it's because the history of UAB football was always tenuous. Harbison recalled that a University of Alabama trustee told him in 1993 that if UAB students wanted a football team, "we needed to transfer to a real school and that UAB is not a university like that."
Perhaps it's because the players lived year to year. They often wondered if they would have a scholarship the following season.
"It was so crazy because every year we stepped on the field we felt we had the pressure to win or they could shut the program down," said Josh Evans, UAB's first NFL player and who was an NFL defensive tackle from 1995 to 2004. "We were a very close group of guys because we always felt we had nobody but ourselves. That's what I really liked about it."
Perhaps there wasn't this kind of ex-player support because no one asked, no one allowed it to happen, or no one even thought of such support for such a young program. Life moves on after college football. There are bills to pay, mouths to feed, lives to live. But the itch to return never subsidies.
Standing on the sideline Saturday, recent UAB All-American kick returner J.J. Nelson wondered how he will ever scratch that itch without a UAB team. He's the famous ex-UAB player now, the one signing autographs and posing for photos. He ran the fastest 40-yard dash at the NFL combine and will soon be trying to make an NFL team.
"Sometimes it gets to me knowing whatever happens with the draft process and NFL that I can't come back and join a moment like this on the sideline on a Saturday like any other player in the NFL," Nelson said. "It's kind of anger, a little sadness."
They played a spring football game for a dead program Saturday.
In two weeks, they will start planning for next year's revival.
CBS Sports HQ Daily Newsletter
Get the best highlights and stories - yeah, just the good stuff handpicked by our team to start your day.
Please check the opt-in box to acknowledge that you would like to subscribe.
Thanks for signing up!
Keep an eye on your inbox for the latest sports news.
Sorry!
There was an error processing your subscription.
Lewis had previously been arrested in February on a domestic violence charge

Both of the SEC West's premier coaches are now aligned on their scheduling preferences

Venables' five-year deal will be worth $11.6 million total
Tua or Jalen? Jalen or Tua? The fight will go on, but it may not be that contentious

The North Carolina coach believes changing the game will impact the country

Saban did little to quell the interest in college football's most interesting offseason st...