Death of UAB football: Anger remains, but study banks on healing
UAB believes athletic revenues will eventually rise, but conference affiliation is uncertain and a no-confidence vote looms over president Ray Watts.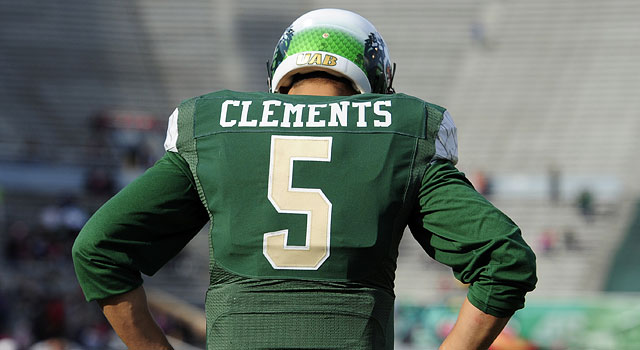 The decision by the University of Alabama at Birmingham to drop football continues to be met by anger within the university community.
UAB faculty members drafted a no-confidence resolution against university president Ray Watts for failing to share governance of the school with the faculty. Students at a UAB basketball game chanted for him to be fired. Some financial giving is drying up, including a $45,000 sponsorship for the Blazer IMG Sports Network that was canceled, AL.com reported earlier this month.
Watts has expressed regret over how he handled the decision that made UABthe first major college football program to drop football in 19 years. The outrage doesn't appear to be going away, but UAB's athletic financial projections -- not to mention the university's $1 billion fundraising drive -- bank on good feelings returning soon.
UAB projected a $287,000 loss of athletic department giving in 2015-16 before donations quickly start increasing again in 2016-17, according to a 58-page study of UAB's future obtained by CBSSports.com through a Freedom of Information Act request. UAB initially released an abbreviated 16-page report by CarrSports Consulting that the university has used to justify dropping football.
The more detailed report includes assumptions consultant Bill Carr made in his work, an apparent discrepancy over how he calculated projected football contributions, no financial model for what happens if UAB must leave Conference USA as expected, and UAB's hope to reduce the money it owes for canceled football games by finding new opponents for the impacted teams.
Future giving figures to be a tricky area for UAB given the blowback. Donations account for 8 percent to 9 percent of UAB's projected athletic revenue in future years.
Carr assumed a 20 percent drop in Blazer Club and Champion Club donations for 2015-16. By 2016-17, the study projects a 10 percent increase in Blazer Club donations for 2016-17 when reseating occurs at men's basketball games, followed by 5 percent annual increases. Champions Club giving is expected to increase by 4 percent beginning in 2016-17.
By 2018-19, UAB is projected to have $2.3 million in total athletic department philanthropy. UAB reported $2.5 million in athletic giving in 2012-13 and budgeted for $2.6 million in 2013-14. The Blazers' highest-profile sport, men's basketball, has made the NCAA Tournament only once in the past eight seasons (2010-11) and has a 4-8 record this year.
In a written response to emailed questions, UAB vice president for financial affairs and administrator Allen Bolton said the strategic plan is ongoing and UAB is banking on competing for championships in remaining sponsored sports. "So while we anticipated a short-term loss [in donations], we are focused on competing for and winning championships, which will boost attendance and financial support," he said.
Carr's figures related to donations raise their own questions, including the methodology for how he counts which sports get credit for contributions. For instance, Carr lists $351,126 in total football contributions for 2012-13. Yet UAB on its own NCAA financial report from 2012-13 listed $1,136,522 for football donations that year.
Carr's report says it divides up how to count where UAB athletic donations come from this way: 70 percent from men's basketball, 20 percent from football and 10 percent from other sources. That's essentially completely opposite of how UAB has reported athletic contributions in its annual NCAA reports for many years.
In 2012-13, UAB reported to the NCAA that 46 percent of its donations came from football, 18 percent came from men's basketball. A similar divide between football and men's basketball got reported over multiple years.
Bolton said in an interview on Dec. 29 that Carr's study and UAB's NCAA reports are an "apples and oranges" comparison and count donation allocations differently. UAB's NCAA reports allocate gift money based on the scholarship expenses for each sport, meaning more donations go toward football than basketball because of more football scholarships, Bolton said.
Because many gifts aren't earmarked directly to a sport, Bolton said, UAB's NCAA-reported donations by sport are based on scholarship costs. UAB's 2013 NCAA report listed $433,759 in revenue not related to specific teams.
In terms of direct giving for 2013, UAB received about $680,000 in gifts for men's basketball and $110,000 for football, Bolton said. "That's what drove the 70-20-10 split (used by Carr to allocate contributions)," he said.
There was also a calculation error over how Carr counted UAB football contributions. On a document titled "Football Projections" on Exhibit 1, Page 18 that deals with estimates by keeping football at UAB, Carr arrives at contribution numbers for 2012-13 and 2013-14 by correctly adding up seven itemized lines under the category "Contributions/Gifts."
However, calculating those same lines for 2014-15 through 2018-19 projections leaves a $129,000 shortfall each year. Carr appears to not count $129,000 in those years for an itemized line titled "EF for Nike, Car, Expense Allowance." EF stands for Educational Foundation.
Because of this calculation, the total football revenues at the bottom of the page don't add up and fall $129,000 short each year compared to the listed numbers. That's a shortfall of $645,000 that isn't counted over the five-year period of football projections even though the $129,000 was calculated in prior years with actual or budgeted numbers.
There is also an issue with the numbers on the football projections page that estimates finances without football (Exhibit 2, Page 19). The numbers add up for 2012-13 and 2013-14, but not for 2014-15 due to $129,000 not counted from "EF for Nike, Car, Expense Allowance." That leaves football's projected revenue $129,000 short than the numbers suggest for 2014-15. It's not clear why the numbers are counted differently.
Bolton said the $129,000 mistake was a "good catch" by CBSSports.com and UAB asked Carr to review his calculation. A summary page for the report that was built first includes the $129,000 within the final numbers, even though they don't add up on the worksheets, Bolton said.
"It wasn't really relevant to the decision because it's in the summary," he said.
UAB's Faculty Senate is scheduled to vote during a special meeting on Jan. 15 on whether to give Watts a no-confidence vote -- a move that could undermine Watts' ability to lead the university. The draft of the proposed resolution says the faculty supports football and the other sports dropped (rifle and bowling) and calls for a transparent and comprehensive study of UAB athletics that "includes consideration of campus-wide impact for discontinuation of any athletic program."
For example, Carr's report projects UAB's athletic department will cut its band budget in half next year to $225,000. The band's budget would gradually increase each year until it reaches $245,864 in 2018-19 -- a far cry from the $491,043 UAB spent on the band in 2012-13.
At his Dec. 2 news conference, Watts said members of the band, cheerleading and dance programs should not be worried because they are supported by the university. "We'll need them for our other athletic programs," Watts said. "We're not going to change their scholarships or their status."
Bolton said on Dec. 29 that UAB's marching band has operated on a discrete budget with shared costs paid for by the athletic department and the intent is to "keep support at the current levels." The university plans to help the band identify other opportunities for the band outside of football games, and "when we identify those opportunities, we'll identify appropriate funding gaps," Bolton said.
UAB faculty athletic representative Frank Messina said he received no indication from Watts or CarrSports that football, rifle and bowling could be cut. A major complaint by UAB stakeholders is the lack of transparency by Watts, who has expressed regret over how he handled the process and the way the decision was announced Dec. 2.
"The buck stops with me," Watts said in a Dec. 9 statement. Many UAB supporters believe the University of Alabama System of Board of Trustees, which oversees UAB, played a major role in cutting football.
UAB study started in November 2013
UAB has paid CarrSports $79,536 for its work over the course of a year, according to invoices provided to CBSSports.com. The UAB Educational Foundation entered into a $60,000 agreement (plus up to $11,500 in expenses) with CarrSports on Nov. 25, 2013. The proposal from Carr was dated Nov. 6, 2013.
Under the original proposal, Carr's study was scheduled to be completed by April 30, 2014. A memo from Carr to then-UAB athletic director Brian Mackin on April 30 extended Carr's work by 11 weeks to July 14 because the national and regional data research requested by UAB "is beyond the scope of services originally agreed to" in November 2013.
The memo added an item to Carr's work called "Special Research for Athletics" that Carr said delayed completing the strategic plan. The terms of Carr's payment increased by $19,950 with the extension. UAB spokesman Jim Bakken said the process shifted in the spring of 2014 because initial numbers showed an increase in subsidies to fund football.
Carr was then asked to compile and analyze costs with and without football, according to the university. Carr declined to comment for this article and referred all questions to UAB.
Carr's report to UAB in November uses the same projected subsidy numbers with and without football. The report projects that 79 percent of UAB's athletic department will be subsidized by the university or student fees starting next year, up from 67 percent in 2014-15.
Student fee revenue was $5 million in 2012-13 and is estimated to reach $6.4 million in 2018-19. (UAB has said student fees for 2016 and beyond have not been set yet.) Direct and indirect institutional support is projected to be $14.9 million per year without football.
"Keep in mind, this decision wasn't about finding cost savings or cutting costs to break even," Bolton said. "This is about investing and reinvesting in sustained excellence, and cultivating programs where we can win."
UAB has also cited new costs coming to college athletes, such as a cost-of-attendance stipend, as one reason it dropped football. The new benefits coming to athletes have been a major talking point in the media regarding the death of UAB football, raising questions if other universities will do the same.
Without football, Carr projects UAB will save between $299,246 to $479,012 per year in cost-of-attendance payments for all of its sports. The estimates use $5,442 as UAB's additional cost-of-attendance number for fall 2015.
Schools are now allowed to provide enhanced meals to athletes. Carr estimated UAB will save between $125,000 and $136,591 per year in that expense without football. He projected meal enhancements at $1,000 per athlete and a 3 percent annual increase.
There was no projected savings without football from Carr's estimate that six athletes would return to UAB per year to compete their degree. With and without football, the additional costs are the same: between $206,122 to $225,236 per year.
Carr projects UAB will initially save $2.7 million in total scholarship costs next year without football, bowling and rifle, and the savings will be worth $4.4 million by 2018-19. UAB's average scholarship cost is estimated to be $34,354 in 2015-16 and rise to $37,539 by 2018-19. Twenty-three football players are projected to remain on scholarship next year.
The report doesn't factor in any lost revenue from football walk-ons who pay tuition to the university because UAB doesn't have a preferred walk-on program, Bolton said. "There are a small number of walk-on players a year (4 or 5) who fit the model you are referring to," Bolton said.
The report estimates UAB will initially save $2.2 million in coaches' salaries without the three cut sports, with salaries then increasing by $322,129 over the next four years.
Salaries for UAB coaches in men's basketball, the highest-profile sport at the university, are projected by Carr to increase the same amount annually with or without football. Men's basketball salaries would initially go from $1.41 million to $1.45 million and increase each year by 2 percent or 3 percent regardless of whether football had been cut or not, the study shows. 
No model for life without C-USA
Some additional findings from the study about UAB's future that was initially not released:
• UAB is projected to lose roughly $2 million per year in NCAA and Conference USA revenue starting in 2015-16. That includes annual payouts of $900,000 in C-USA TV revenue, $800,000 from the College Football Playoff, and $40,000 in C-USA bowl money. Carr projected a flat $800,000 from the playoff each year even though it's expected the payouts will increase.
The financial projections assume UAB will remain a C-USA member -- a value the study shows is $657,000 annually as a non-football member -- but many people believe that's unlikely to happen since C-USA's current bylaws require playing football for membership. UAB projects $350,000 per year in NCAA men's basketball tournament units from C-USA, $260,000 a year from a C-USA revenue growth supplement, and $40,000 a year from the C-USA men's basketball tournament.
Watts hasn't said where UAB would play if it's dropped by C-USA, only that he has backup plans. Bolton said UAB's focus is on remaining in C-USA, but "we are aware of variables that affect revenue and costs in different conferences, so we will be exploring the potential impact in more detail next year."
For competitive purposes, Carr's report benchmarks UAB coaching and administrator salaries with Virginia Commonwealth (Atlantic-10 Conference), Wichita State (Missouri Valley Conference) and the American Athletic Conference. "These were programs that compete (at) a level we aspire to reach," Bolton said.
• UAB assumes it can reduce $2.43 million in buyout costs of canceled football games by securing another opponent for impacted schools. The report said these costs "could be handled as a one-time expense" and not be shown in projected operating expenses in the study.
UAB has to cancel games against Tennessee ($925,000 buyout), Kentucky ($500,000), Troy ($200,000), South Alabama ($150,000) and Georgia State ($150,000). "We have been in contact with all the schools and we are still in the process of working that out," Bolton said.
• It's estimated UAB's rights fee with IMG College Sports will decrease by $250,000 in 2015-16 without football. IMG receives the rights to all sales and marketing opportunities with UAB sports, including the radio broadcast, print advertising in athletic department publications, and all signage in UAB athletic facilities. Carr projects the fee to drop to $450,000 next year and then rise $30,000 annually due to men's basketball.
• Carr projects $26.6 million in capital projects without football. Among the projects: soccer facility ($4.5 million), soccer clubhouse ($4.3 million), outdoor track ($3.5 million), outdoor tennis complex ($2.7 million), baseball stadium renovation ($2.6 million), and softball stadium renovation ($1.4 million). UAB coaches have said they were asked to give a wish list of items to stay competitive -- a point of contention by football coaches who did so and then saw the sport get cut.
UAB has cited $22 million in capital support needed for football to be competitive as a major reason the sport got cut. If football had remained, Carr projected capital costs for a football administration building ($11.5 million) and the football practice field ($1.5 million), plus a multi-sport indoor practice facility ($9.5 million). UAB reported no annual debt service for athletic facilities from 2010 to 2013 -- a rarity in Division I sports.
• If UAB had kept football, Carr projected 10 percent annual increases in football ticket sales from 2017-19. The city of Birmingham bought 5,000 football season tickets in 2014 at a total of $225,000, according to a one-year rental contract UAB signed with Legion Field last July. UAB was previously on a four-year contract for use of its home stadium. UAB had the second-biggest attendance jump in the Football Bowl Subdivision this season after recent years with major declines.
• In order to maintain Division I requirements, UAB plans to add men's cross country and track and field. Carr assumes track and field will start with six scholarships in 2015 and increase by three per year before reaching the NCAA-maximum of 12.6 in 2018.
CBSSports.com also requested from UAB all emails discussing the football program's future among four key stakeholders over the past two years, and documentation showing Mackin's new job description and any compensation change since he resigned last month as athletic director to become special assistant to the university president for athletics. A university spokesman said, "There are no emails pursuant to your request, and there is not a document regarding Brian's reassignment."
CBS Sports HQ Daily Newsletter
Get the best highlights and stories - yeah, just the good stuff handpicked by our team to start your day.
Please check the opt-in box to acknowledge that you would like to subscribe.
Thanks for signing up!
Keep an eye on your inbox for the latest sports news.
Sorry!
There was an error processing your subscription.
Robinson threw three touchdowns in 2017 as a backup to Kenny Hill

Taking a close, detailed and opinionated look at the AAC as the college football season ap...

When you ask their peers, these are the coaches that either get too much -- or not enough --...
Outside linebacker Chris Allen will miss the season after sustaining a knee injury

Quintez Cephus is instead focusing on a legal case for "unspecified" charges from an April...

This is the second ACL injury for White in as many years