Death of UAB football: Will new consultant's study lead to revival?
UAB task force selects OSKR to perform a study of previous consultant's report. OSKR co-founder has been highly critical of UAB's decision to eliminate football.
A University of Alabama at Birmingham task force reevaluating the decision to kill football announced Saturday night it has selected California-based consulting firm OSKR to perform a new study.
OSKR co-founder Andy Schwarz has written two articles criticizing UAB's first report by consultant Bill Carr that was used by the university to end football, bowling and rifle. Schwarz wrote that Carr erred in his projections and said eliminating football could cost the university money. Supporters in favor of UAB football wanted OSKR as the consultant.
OSKR has provided expert testimony on several antitrust college sports cases, including on behalf of the Ed O'Bannon plaintiffs, and won the UAB consulting job over College Sports Solutions. The UAB task force hopes to release a final report from OSKR by April 2.
What happens after the report is completed figures to largely be up to UAB president Ray Watts. He received a no-confidence vote from UAB's faculty senate after the football decision in part because faculty weren't consulted on how no football could impact other aspects of the university. UAB won't play football in 2015 and its future in Conference USA is in jeopardy.
In December, UAB became the first major college football program to be cut in almost two decades. The program had been struggling on the field and in attendance for years, but went 6-6 in 2014 and had the second-biggest attendance jump in the Football Bowl Subdivision.
UAB will seek irrevocable donations
How much financial support UAB football actually has or could get from donors has been a major issue in the debate.
The UAB task force charged with hiring a new consultant plans to solicit irrevocable donations contingent upon football, rifle and bowling being reinstated. A web site will be established for fans to purchase season tickets that would be refundable if the sports are not reinstated. Wes Smith, who is chairing the task force as president of the UAB National Alumni Society, said a new study will inevitably contain a financial gap between where UAB resides and where it needs to be for support.
"We do not yet know the size of the donut hole," Smith wrote in an email. "If the university is to rely on public support to fill the donut hole, we must have gift agreements from donors that cannot be revoked if the programs come back."
Former UAB football player Justin Craft, who has helped lead efforts to raise money for the program, said he agrees with seeking donations to show support but expressed concern about irrevocable agreements.
"If you have an irrevocable agreement for naming rights on a building, I have no problem with it," Craft said. "To provide it for everyone who donates is too far and not standard practice. It throws up a major hurdle. Irrevocable gift agreements are legally binding and pledges aren't. It makes the donor feel better to do a pledge."
In Carr's report, UAB projected $404,000 in football contributions in 2013-14 based on dividing up all athletic donations this way: 70 percent from men's basketball, 20 percent from football, and 10 percent from other sources. UAB officials have said Carr's study and the university's NCAA reports are an "apples and oranges" comparison for donation allocations because they are counted differently.
Because many gifts aren't earmarked directly to a sport, UAB said its NCAA-reported donations for each sport are based on scholarship costs. Men's basketball received $680,000 in dedicated gifts in 2013-14 and football received $110,000, according to UAB.
OSKR's Schwarz criticized UAB's explanation in a January article for VICE Sports. "UAB's reported donations don't appear to be proportional to scholarship costs, no matter what the school is telling the public," Schwarz wrote. "There's no way to spin this to make donations proportional to scholarships, not with bowling at one percent, football at 77 percent and men's basketball at 124 percent."
UAB's numbers from NCAA report
UAB's football ticket revenue per game increased by about 10 percent in 2014, according to university figures provided last week to CBSSports.com. Although the 2014 numbers are not finalized, UAB said football tickets generated about $620,000 for six football games, equating to $103,333 per game.
The $620,000 surpasses the amounts from the past two seasons UAB had six-game home schedules: $605,892 in 2012 and $503,223 in 2010. The per-game average ranks sixth in UAB's past 10 years.
Meanwhile, UAB filed on Jan. 14 its 2013-14 NCAA financial report that sheds some more light on the program's finances entering its final football season. In 2013, football tickets generated $471,801 for five games ($94,360 average) for one of its worst financial years on record. Ticket sales in 2013 were down 24 percent since 2007. UAB had budgeted for $670,390 in 2013.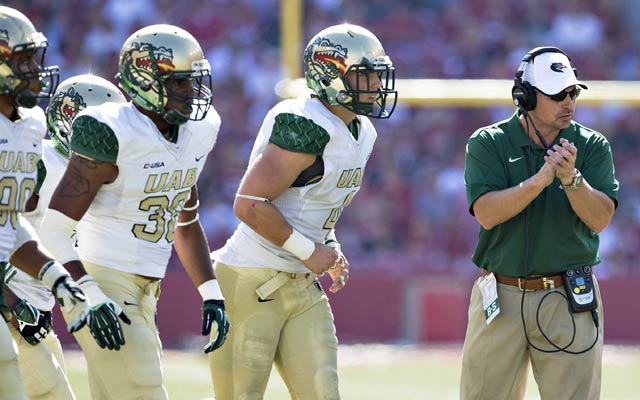 Despite the ticket sales decline in 2013, UAB's NCAA report that year listed the football program with $1.5 million in contributions. That was up 30 percent from the 2012-13 NCAA report. Football contributions averaged $1.2 million from 2010-11 to 2012-13 on its NCAA reports.
UAB said football contributions for 2013-14 increased primarily due to the UAB Educational Foundation's support on coaching transition costs and large one-time items, such as an equipment purchase of $205,000 and locker room renovation support of $210,000. UAB spokesman Jim Bakken said it is too soon to project football contributions from 2014. Once again, UAB listed no annual debt service for athletic facilities while the university's debt service in 2013-14 was $19.4 million.
UAB reported $3.6 million more in 2013-14 athletic revenue and $2.7 million more in expenses than what the university projected in Carr's report. UAB said revenue increases were due to $920,000 in additional support from the UAB Educational Foundation; a one-time, unbudgeted $550,000 payment from Louisville related to former football coach Garrick McGee's buyout; and subsidy increases to cover revenue shortfalls and expense overruns.
Carr's report had shown UAB projected $18.4 million from university subsidies and student fees in 2013-14. Instead, UAB reported to the NCAA a total of $20.3 million in subsidies. Student fee revenue increased to $5.2 million, up 5 percent from 2012-13. Direct institutional support was listed at $14.7 million, a 16-percent increase from a year earlier.
UAB's NCAA report showed subsidies accounted for 64 percent of last year's athletic revenue — the same proportion as in 2012-13. The amount of athletic department revenue tied to subsidies had increased 13 percent from 2006 to 2012.
Rifle and bowling, which existed essentially for UAB to maintain Title IX compliance for gender equity, got caught in the football crossfire and were eliminated. They were UAB's two cheapest sports in 2013-14.
Rifle (12 participants) cost $104,532 and bowling (eight participants) cost $209,947, for a total of $314,479. UAB budgeted for $303,734 for those two sports last year in Carr's report and projected they would combine to total $560,525 in 2015-16.
Now the question is what OSKR's report will conclude and how UAB's administration might interpret it. Smith, the chair of the task force, acknowledged that OSKR (as well as College Sports Solutions) has "prior established relationships which could be construed as interjecting bias." But Smith said the task force's interviews and discussions confirm that past articles don't overcome the professionalism required in this work.
Alabama state Rep. Jack Williams, a UAB supporter who has called for an investigation into interference with UAB by the University of Alabama System board of trustee, said he believes there's better than a 50 percent chance of football returning. But he has doubts.
"I think the administration is trying to raise the bar so high that football won't come back," Williams said. "I have never seen an issue with so much distrust between the two parties as there is on this issue. It's both sides."
CBS Sports HQ Daily Newsletter
Get the best highlights and stories - yeah, just the good stuff handpicked by our team to start your day.
Please check the opt-in box to acknowledge that you would like to subscribe.
Thanks for signing up!
Keep an eye on your inbox for the latest sports news.
Sorry!
There was an error processing your subscription.
The lawsuit claimed Colorado officials failed to properly address domestic violence claims...

The cupboard isn't bare in Tuscaloosa

Media members are now on the record for their picks for the 2018 season
Bubba Cunningham believes his coach's remarks were 'poorly communicated'

Ball is still life for Malzahn, but he now has some space to be himself as he leads the Ti...

Swinney is happy to have his current quarterback situation