Deep receiving corps looks like Alabama's best ever
Barnhart: Alabama's stellar wide receiver corps is all about making big plays. The wideouts might be the best group in school history, and that's saying something.
TUSCALOOSA, Ala. -- When you are talking about a football program like Alabama's, you have to be careful when using words like "best ever."
Because:
You're talking about a school that has won three of the past four national championships and 15 overall.
You're talking about a school where three Hall of Famers (Wallace Wade, Frank Thomas, Bear Bryant) have coached, where Gene Stallings (who should be in the Hall of Fame) won a national championship in 1992 and where a future Hall of Famer (Nick Saban) is currently employed.
You're talking about a school that is sixth on the all-time wins list with 827 and has been to more bowl games (60) and won more bowl games (34) than any other team.
So, yes, you need to think about it before using the words "best ever" in the same sentence with Alabama.
But here goes.
The 2013 Alabama football team will feature the best set of wide receivers in the history of the school.
I floated the proposition on a recent trip to Tuscaloosa and no one disagreed.
"As a group we can be one of the best that Alabama has ever had," said sophomore Amari Cooper, who burst onto the scene as the big-play man on the 2012 national championship team. "All of us are really good and really fast. All of us know how to make plays."
Alabama has certainly had some great wide receivers in its history. Don Hutson (1932-34), one of the greatest receivers to ever play the game, and Ozzie Newsome (1974-77) are in both the College and Pro Football Halls of Fame. The first-team All-Americans at the receiver position include notables like Ray Perkins, Dennis Homan, Wayne Wheeler and David Palmer.
But Alabama has never been able to go eight or nine deep in wide receivers who could start for any other team in the country.
"This is easily the best group of wide receivers we've had since I've been here," senior quarterback AJ McCarron said. "They are all fast, talented and capable of making big plays. I don't believe anybody else in the country is as deep as we are at wide receiver."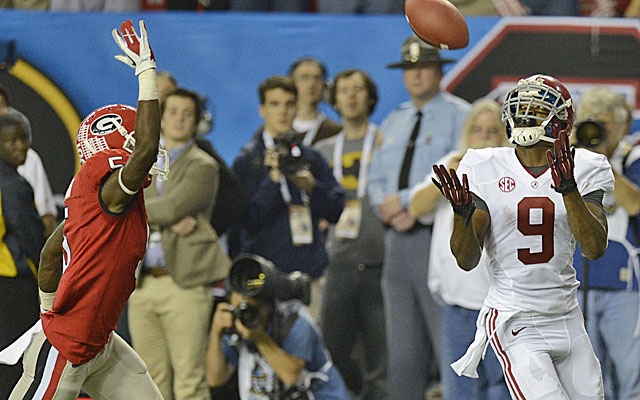 A quick look backs up McCarron's claim:
Amari Cooper, So.: Set school freshman records for catches (59) and yards receiving (1,000) in 2012. Caught a career-defining 45-yard touchdown pass with 3:15 left to beat Georgia 32-28 in the SEC Championship Game.
Kenny Bell, Sr.: Big-play receiver who averaged 25.4 yards per catch last season. Of his 17 receptions, 12 went for first downs.
Kevin Norwood, Sr.: Plays best in the big games. Caught four passes in the 2012 BCS Championship Game against LSU and three catches for 66 yards in last January's BCS title game against Notre Dame.
Christion Jones, Jr.: Started at the slot receiver last season in 10 games. Caught 27 passes while serving as the primary punt return and kickoff returner.
DeAndrew White, Jr.: Started the first five games of the season and caught eight passes, including a 51-yard touchdown catch against Michigan. Suffered a season-ending knee injury against Ole Miss that opened the door for Cooper.

Chris Black, R-Fr: Rated by every recruiting service as one of the top-five wide receiver prospects in the nation coming out of First Coast High School in Jacksonville, Fla. He was set to get on the field as a true freshman 2012 but was redshirted after suffering a shoulder injury in August.
Rahim Falkins, Fr.: A tall (6-foot-4) rangy receiver from New Orleans who enrolled at Alabama in January and went through spring practice.
Robert Foster, Fr.: Rated as the No. 1 wide receiver prospect in the nation by 247Sports.com.
"It is a very competitive group of guys," said Bell, who suffered a broken leg against Auburn last November but is now back at 100 percent. "If we do what we are capable of doing, people are going to look back and say this was one of the great receiving corps to ever come through Alabama."
Nick Saban doesn't have the reputation of filling the air with footballs, but the reality is that since the 2012 national championship game with LSU, the Alabama head coach has put a lot of trust in McCarron.
That trust was rewarded last season as McCarron was the most efficient quarterback in college football, throwing for 30 touchdowns and only three interceptions. Alabama had 6,237 yards of total offense last season (445.5 yards per game) and almost half of it (3,052) was passing.
This comes under the heading of "I'll believe it when I see it," but Saban flatly states that with a veteran quarterback and this group of wide receivers, "We will have a different kind of team this season."
He explains:
"If we're able to take advantage of the personnel that we have, which is always the goal as a coach, that is a distinct possibility," Saban told me when we sat in his office last Friday. "When we have all of our guys out there, that just seems to be featuring our best players.
"It's not that we don't have good runners, because I think we do. And it's not that we don't think balance is important, because it is. We just think that AJ is capable of doing good things and making good decisions and we have some guys that are a little more difficult to cover. They have some experience. So hopefully we can make more explosive plays in the passing game."
There is a chemistry -- White calls it "a trust" -- between McCarron and this group of wide receivers. Never was it more evident than in the final minutes of the SEC Championship Game with Georgia.
All game long Mike Groh, Alabama's wide receivers coach, had been telling Cooper to be patient.
"He said that in a game like that we would get one or two shots to make big plays," Cooper said. "We just had to wait until the time was right."
Alabama trailed 28-25 and was simply pounding Georgia with the running game. A packed Georgia Dome thought Alabama would keep running to win the game. But with a little over three minutes left at the Georgia 45-yard line, Cooper found himself split wide and matched up with Damian Swann, the Bulldogs' top cover corner. Alabama decided to take its shot.
"We had called a post route that I could take it inside or outside," Cooper said. "I tried to take it inside but [Swann] cut me off. So I took it outside. I looked back trying to find AJ but I couldn't see him behind the linemen. Then I looked up and I saw the ball in the air."
McCarron had thrown the ball far enough to allow Cooper to use his speed to blow past Swann for the catch and the touchdown.
"I'll never forget that play because I'd never had a catch like that before," Cooper said. "AJ knew exactly where to put it."
With this quarterback and this collection of receivers, expect to see a lot more plays like that from Alabama this season, Norwood said.
"We know that if we get open AJ is going to get us the ball," Norwood said. "This group has a chance to be something special."
Rutgers' offensive line challenged a local curling club to a match

These five teams have the best chance of being the Group of Five darling this coming year

Drevno had been running the Michigan offense for three seasons
Aaron was reportedly shot while trying to protect his girlfriend when a fight broke out at...

An assistant-by-assistant look at changes Saban made to the Tide's staff ahead of 2018

Find out when Nick Saban, Kirby Smart and the rest of the coaches will speak ahead of the...