Defensive backs steal spotlight at New Level 7-on-7 National Championship
Just outside of the Big Apple, five-stars and unknowns battled it out during pool play of the New Level Athletics 7-on-7 National Championship on Saturday. While it was the normal assortment of recruits that stood out at the Aviator Sports Complex, it ended up being a trio of Texas defensive backs in the class of 2014 who stole the show.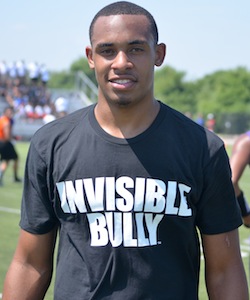 BROOKLYN, N.Y. -- Just outside of the Big Apple, five-stars and unknowns battled it out during pool play of the New Level Athletics 7-on-7 National Championship on Saturday with several players leaving a lasting impression with inspired play for one of the biggest offseason trophies a team can claim at stake. While it was the normal assortment of recruits that stood out at the Aviator Sports Complex, it ended up being a trio of Texas defensive backs in the class of 2014 who stole the show.

While the U.S. Army All-American Bowl is almost five months away, organizers are getting a jump on the one after that by offering invites to the 2014 game to Mansfield (Texas) teammates Brandon Simmons and Edward Paris, right, along with Beaumont (Texas) cornerback Tony Brown.

"It means a lot to me. Any invite means a lot but I'd like to accept it," Paris said. "I want to keep my head out of it because it's two years from now. I have to focus on what I'm doing right now."

"It means a whole lot," Simmons added. "I'm honored to be invited and hopefully will participate in that game. It's just an honor. I grew up watching the Army game and it's very prestigious."

All three played for the 7-on-7 travel team the Goon Squad and shut opposing offenses down en route to a perfect record during their early afternoon session. Paris in particular looked sharp, locking his man up using his long arms in press coverage or by floating around in zone. Despite all the success on the scoreboard, neither of the two felt prideful about their performance after a lapse or two they both know could cost them in the tournament round on Sunday.

"We did decent but we need to step it up a little bit," Paris said. "Nothing's different (at Nationals), we're the same team, same players. Only the competition is a little different. We're going to win it."

"Goon Squad is from all over the country so we don't really get a chance to practice and get polished like a lot of other teams," Simmons said. "We were a little rusty but we got the wins and that's what matters.

"We just met a few weeks ago but we already gel with each other."


The Timberview High teammates in particular are among several with major offers before officially becoming juniors at the start of the school year. Paris might be the more highly ranked of the two when evaluations are released but both are still top 100-caliber recruits at this point with offer lists to match.

"It's getting crazy right now. I get offers everyday now," the 6-foot-2, 190-pound Paris said. "Those are big D-I schools and a kid my age, a sophomore going into his junior year, having all these offers is truly a blessing."

Simmons, whose father is one of the event's co-founders, has been more familiar with the process than his good friend but stays amazed at all the things he hears and that are thrown at him.

"I didn't expect it to be quite like this," he said. "Just growing up and being around it, I always knew about offers and seeing all those big time athletes perform to get offered. It's funny to now be in their shoes and getting the offers, having everybody look at you. You just keep performing and once you're at that caliber you keep performing."

Paris already holds offers from powerhouses such as LSU, Michigan, Notre Dame and others but with over two years until signing, prefers to keep his options open and does not have a top 10 nor is he taking any other visits the rest of the summer.

"Basically all of them are standing out," he said. "Everybody's recruiting me hard, they all want me to play corner."

When the topic turns to his teammate however, that's when Paris comes out with a bit stronger language.

"That's my brother, we're trying to go to college together," he said of Simmons. "We are going to go to college together, we're going to make sure of that."

Notre Dame, Ohio State and UCLA are among the programs that have offered Simmons for a list of claimed offers that has topped 20 as of the end of June. While there is some overlap between him and his teammate, the 6-foot, 170-pound safety is not completely locking himself into a certain school with his best friend in the secondary.

"Anytime you get an offer, it sticks out because a lot of people are unfortunate to get one," Simmons said. "Lately, Notre Dame, Ohio State, Michigan, LSU, West Virginia have stuck out.

"Me and Ed, we kind of compete for offers. He gets one and I'm like, 'Ah, I've got to get one.' We play that little game but we're definitely looking at going to the same college. It may not be the case but it's definitely an option that we have."

There's still plenty of time for them to get on the same page as far as their recruitment but for now the Army All-Americans are looking to patrol the secondary with the same ferociousness they had on Saturday.

Mizzell making the most of his time in NYC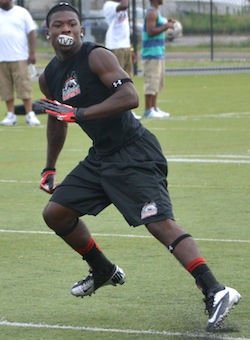 If there was one player at the New Level 7-on-7 who had quickness and athleticism jump out at you it was Virginia Beach (Va.) running back Taquan Mizzell. Though his squad suffered a last minute defeat to start pool play, the talented recruit promised that the Virginia Thoroughbred team would look much more like they had in previous competitions for the title run.

"It was a little shaky, we came out here late and didn't have time to warm up for our first one," Mizzell said. "We'll get everything together  tomorrow. We want great team chemistry and to work together and come out with the victories."

The four-star is part of a talented offensive unit that might be the fastest collection of skill position players in the tournament. Mizzell is ranked as the eighth running back in the country by Maxpreps but is hoping the additional football games allow him to fine tune his skills in preparation for the fall.

"My ability to catch the ball and get up the field faster," he said. "I also want to learn a couple more open field moves and a few other things.

"I'm an all-purpose back that can get the job done. I've gotten bigger so I can pass block, run in-between the tackles, outside the tackles. I can score and play receiver too."

The 5-foot-10, 185-pounder recently cut his list of schools down to 10 with Clemson, Illinois, Miami, North Carolina, N.C. State, Ohio State, Notre Dame, West Virginia, Virginia and Virginia Tech all making the cut. That lengthy list is likely to be trimmed soon but Mizzell isn't quite ready to put a few programs on the chopping block quite yet.

"I want to cut it again in the next few weeks, at least to about five" he said. "I'm going to try and get this decision done before the season starts.

"I know (Virginia) is going to make the cut, I know West Virginia is going to make the cut and I know Clemson is going to make the cut. I'm going to try and sort out the other schools."

Virginia has done a good job of securing in-state talent over the past few years and have a very good shot at keeping Mizzell home. One of the biggest reasons the Cavs are a major player for the No. 93 overall player in the class of 2013 is the man at the top of the program.

"It's my relationship with Coach (Mike) London. With other coaches, it seems like all they talk about is football but with Coach London, he doesn't talk just about football, he talks about making me a better person on and off the field," Mizzell said. "He's just real. I like coach a lot."

Mizzell added that he hasn't talked at length with coach Dana Holgorsen yet but the Mountaineers other staff members have him excited about the prospect of fitting into the big play offense.

"I mostly talk to the running backs coach and the recruiting coordinator," Mizzell said. "Our relationship is really good. They tell me how they want to use me (on offense) in a lot of good ways."

The other school to make the cut, Clemson, sent several assistants to stop by the running back's school during the evaluation period to explain his fit in the Tigers offense and keeps in regular touch as well.

Five-star Bigelow is a tight end in a defensive tackle's clothing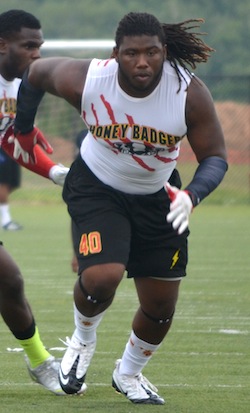 It wasn't hard to spot the most out of place, but at the same time most dangerous, player on the field on Saturday when the 6-foot-3, 320-pound Elkton (Md.) defensive lineman Kenny Bigelow put his hand into the ground and… went out for a pass.

A stud player on defense, the mammoth tight end showed off his athleticism in limited play that was brought on by a busy schedule but he still managed to contribute for one of the top teams in the tournament.

"I've been all over," Bigelow said. "I went to Atlanta, I just got back from California and now I'm here so it's been a busy month definitely."

Crisscrossing the country for offseason work was done with one thing in mind for Bigelow: competition. While the fun of battling other top recruits in one-on-ones made him a better lineman, it was the additional things placed on top of the on the field factors that truly added to the five-star's skill set.

"It's definitely made me mentally tougher with the travel and going to different time zones, getting on a bus when I don't want to or getting on a plane when I don't want to," he said. "It's definitely made me mentally tougher knowing I'm physically tired and I've got to get up and do it anyway."

Bigelow did record several catches on offense at tight end and showed off some surprisingly soft hands normally reserved for throwing a quarterback to the ground. With his current high school and possible future USC teammate David Sills tossing him the ball, the 7-on-7 games offered Bigelow a nice chance to  operate on the offensive side of the ball.

"This definitely is something that will help improve my stamina, hand-eye coordination and things of that nature," Bigelow said. "I've got to run against the fastest linebackers and stuff like that too."

"I'm one of those guys that will do whatever it takes for my team to win. If I get to USC and they ask me to move to tight end  -- it probably won't happen - I would do it if it means helping the team win."

The USC commit certainly made sure everybody knew what school he was committed to by sporting logoed socks and cell phone case. Bigelow recently returned from the annual Rising Stars Camp held on campus and the trip doubled as an unofficial visit that reinforced that USC was the place for him.

"I got a chance to hang with other recruits, hangout with some of the coaches and definitely felt like this was the best place for me," he said. "I love the Trojans and going out there made me more and more sure that I made the right decision. People here really support it and when I go out there the fans love it."

No doubt one of the elite guys Lane Kiffin has in the fold for 2013, Bigelow is continuing to join the coaching staff in their recruiting efforts by making the pitch to others. Among the two that he is working on the most are both out-of-state guys that are quickly learning about the USC program from the big defensive lineman.

"I'm really on (Louisville, Ky. defensive end) Jason Hatcher and (Nashville, Tenn. corner) Jalen Ramsey," Bigelow said. "I really enjoyed hanging out with those two guys and feel like they'd be a great help to the SC defense.

"If I had to pick the (next one to) commit it would be Jalen because he really seemed like he was enjoying himself out there and in that environment."

Bigelow mentioned that this would likely be the last event of the summer for his team.
Conner Manning and the Panthers dominated the Hilltoppers in the Cure Bowl

You can only go to the well so often before it dries up

The Trojans beat LSU earlier in the year and now have their first 11-win season as a FBS t...
Saban has never been a fan of the early signing period and made it clear that hasn't chang...

Paul Tyson is a three-star quarterback prospect for the 2019 recruiting class

College football bowl games were all announced on Sunday, and you can check out the entire...