Defensive-minded Stoops brothers know great QBs are no joke
Bob Stoops excels at sarcasm -- and defense. And the Sooners coach admits, in yet another Red River Rivalry week, that coaches are swimming upstream trying to stop today's great QBs.
This is not about the SEC, so don't get Bob Stoops get going about that.
"I don't want any part of this," Oklahoma's coach said this week.
Stoops won't be lured into expanding on his comments that have vaguely referenced the Strength Everywhere Conference. Even if he has been a refreshing breeze of truth, Stoops is done with the subject.
"I still don't know how A&M was third in the country in total offense and [tied for fourth in] scoring offense playing all those SEC defenses. I have no idea how that happened," Stoops was quoted as saying last week. "Oh, they got a quarterback. That's right."
The obvious snark refers to Heisman Trophy winner Johnny Manziel, who counted OU among his pelts on the wall last season. But Stoops has a Heisman-caliber needle in making a larger point. He is the Don Rickles insult comic of the profession with sarcasm that cuts titanium.
Now that the offensive bug has infected even the mighty SEC, it's time to admit the obvious: If you've got a quarterback, you've got a chance. Everything else, it seems, is secondary.
"It's what you're seeing," Stoops said while ramping up for this week's Texas game. "It's what's [been] in our league for quite some time. When you're getting pro draft-type quarterbacks that go against each other, it's difficult to hold them down no matter who it is. That's why you see these shootouts."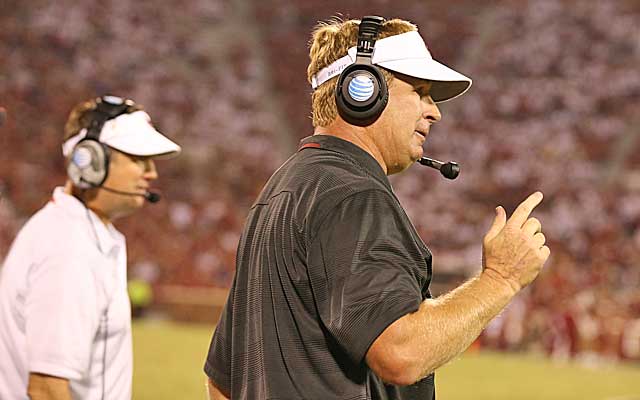 Since 2005, Big 12 quarterbacks have occupied five spots among the top 19 season pass efficiency performances. (Same as the SEC.) In six of the past nine years, at least one Big 12 quarterback has finished among the top six in pass efficiency. That list doesn't include current NFLers Geno Smith, Brandon Weeden, Ryan Tannehill and Blaine Gabbert.
Resistance, a lot of times in the Big 12, has been futile.
"It's a lot easier to play great defense when the quarterback isn't very good," Stoops said. "The bottom line is, when the quarterback is really good, they're going to make plays."
Remember, none of this is about the SEC. Stoops would rather talk about Oklahoma getting back to being Oklahoma. After a down couple of years defensively, the Sooners are back in the top 10 in total defense (ninth) and scoring defense (sixth). Only five teams have given up fewer touchdowns than the Sooners' eight.
They posted their first shutout since 2010 against Louisiana-Monroe. Two early interceptions helped Oklahoma to a 14-0 early lead against Notre Dame. That was the margin of victory in a 35-21 win. Last week, TCU didn't have a first down until the third quarter.
That's the way the Brothers Stoops prefer to play. Mike, Arizona's former head coach, seems perfectly at home again coordinating a defense. The Sooners have gone from a 4-3 alignment to more of a 3-3-5 "Stack." Think of more linebackers getting to better defensive positions quicker. Gone are memories of 2012 when the Sooners gave up 155 points in their last four games.
"Last year is over and we have moved on," Mike Stoops said.
Linebacker and spiritual leader Corey Nelson is out for the season with a partially torn pectoral muscle. But he has delayed surgery so he can travel with the team to Dallas to coach up his replacement, true freshman Dominique Alexander.
"[Nelson's absence] will be significant," Bob Stoops said.
In that sea of points and yards, the Sooners are doggedly swimming upstream. OU is winning with a quarterback (Blake Bell) still under development. Bob and Mike were wise enough to change a defense that relied too much on defensive backs in the back seven.
The current formation features more hybrid linebackers who can come off the edge, tackle in space and cover slot receivers. In short, it's looking more like vintage Oklahoma, a program that has won at least a share of eight Big 12 titles since 2000.
It's time to admit a double standard. The high-scoring Big 12 games that were mocked in the SEC are now the norm. The two biggest games in the conference (Texas A&M-Alabama, Georgia-LSU) have totaled 176 points (an average of 44 per team). SEC quarterbacks have two of the past three Heismans. Four of the top nine quarterbacks in pass efficiency this year are form the SEC.
Aaron Murray just set the SEC career-passing record. Manziel is chasing a second straight Heisman. LSU's Zach Mettenberger may be the nation's best rehab project. Alabama's AJ McCarron was the nation's most efficient passer last season. (Murray was second). No. 25 Missouri has benefitted from a healthy James Franklin.
Defenses down South have cowered lately. The SEC is second nationally in scoring (34.07 points per game) behind the Pac-12. Meanwhile, the SEC has two teams in the top 26 in total defense.
Without saying it, Stoops is saying it: Welcome to the club.
"Everyone changes what I said. I didn't say anything about the [SEC] defense. I talked about the quarterbacks. Now you're seeing in some leagues they're having these types of quarterbacks who are going to be drafted and play in the NFL and they're hard to deal with."
When the Big 12 was rolling and playing in BCS title games -- four in six years from 2003-2008 -- the quarterback heritage took hold. Jason White, Vince Young, Sam Bradford. Those were NFL talents picking away at helpless defenses.
If you don't have one you're toast. While that should be no revelation, just don't pick on Stoops for pointing it out.
The insult comic of college football is waiting.
Anderson had been under investigation for an incident at a bar in Cleveland County, Oklaho...

Between Arizona State and Tennessee, no one would have guessed how this coaching cycle turned...

The Ducks and Broncos tee it up at 3:30 p.m. ET
SportsLine's top college football experts pick a 5-team parlay that pays 20/1

Nobis won a national title as a linebacker at Texas in 1963

The reaction to this commitment was priceless