Del Rio ends strong weekend with Ohio Nike Camp MVP honors
A loaded Elite 11 field carried over to the Ohio Nike Camp on Saturday as some of the Midwest's best and brightest football players turned out for a loaded four hours of competition on the campus of Ohio Dominican University. While Big Ten commits were making plays left and right, it was an outsider who ended up leaving an action-packed weekend with the biggest impression in QB Luke Del Rio.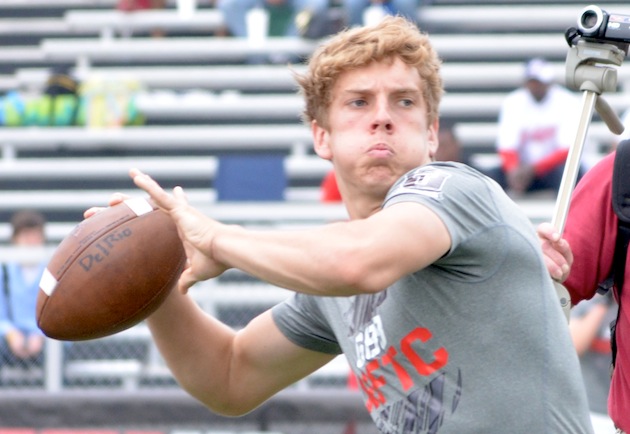 COLUMBUS, Ohio -- A loaded Elite 11 field carried over to the Ohio Nike Camp on Saturday as some of the Midwest's best and brightest football players turned out for a loaded four hours of competition on the campus of Ohio Dominican University. While Big Ten commitments were making plays left and right, it was an outsider who ended up leaving an action-packed weekend with the biggest impression in Denver (Colo.) quarterback
Luke Del Rio
.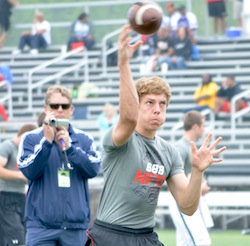 The rising senior was one of the top passers on Friday and followed things up with MVP honors on Saturday thanks to a strong arm and accuracy that few could match.
"I came out here to the Elite 11 because last year this Ohio had the best regional and I was excited to play against the kids up here. I got here and there were like four- and five-star guys. It was great," Del Rio said. "I knew it was going to be hard but it was worth it and I'm glad I stayed with it."
Competing against quarterbacks like
Michigan
commit and five-star
Shane Morris
was something new for the relative newcomer to the camp circuit. Although he was not the biggest guy on the field Del Rio did act like he was a man on a mission and destined to capture the medal at the end of the day.
"Shane has a rocket arm and
Mailk (Zaire)
- I kept calling him lucky - is probably a better decision maker than me and I thought he won it today to be honest," he said. "I definitely came out here with a huge chip on my shoulder. Some guys had big numbers last year and got offers just like that. I'm only 6-2 so you don't quite get the recognition that, 'Oh, he's big.' You have to prove and college coaches want to see me throw so it definitely adds a bit of an edge and I'm just glad I performed as well as I did."
The 6-foot-2, 180-pounder is the son of former
Jacksonville Jaguars
head coach and current
Denver Broncos
defensive coordinator Jack Del Rio. While the coach in the family was in attendance to see Luke throw, he was extremely hands off and could be seen pulling out his video camera to film his son just like every other parent.
"It's nice to have him close because he calms me down and says to get the next one," the younger Del Rio said. "You definitely get a better understanding of defenses being around him. Offense would be nice but I'd rather have him be a defensive coordinator because you learn how to attack the defense in certain ways that other guys don't know.
"When I get on the board with college coaches, they all say, 'Wow, you know a lot.'"
Luke Del Rio recently transferred from Jacksonville (Fla.) Episcopal High to Highlands Ranch (Colo.) Valor Christian to be close to his father and compete for a starting job as the program moves up a classification after winning multiple state titles over the past few years. The move also means he'll have a chance to hang around the Broncos offices, a familiar place for kid who has grown up around football.  
This spring and summer have been a little different for Del Rio with the addition of quarterback
Peyton Manning
, who is a longtime family friend dating back to the time when both were in New Orleans. Although there's a gap in terms of age between the two players, the class of 2013 product is trying to pick up everything he can about being a professional quarterback before hitting the field for his senior season in high school.
"You notice that even though you've made it to the
NFL
, that doesn't mean you've made it," said Del Rio. "The work load is incredible. You don't have school and you don't have work, it's your job. Some guys treat it like it's high school football but the reason why Peyton Manning is good is because when the Denver Broncos signed him, he got signed at three o'clock and he was there until 10 p.m. The next morning he was there at 5:30 a.m. and left at 10."
Last fall, Del Rio passed for 2,530 yards and 20 touchdowns and is starting to see several colleges interested in extending him a scholarship. At the moment he only has one at the FBS level from
Colorado State
, a school that is close to his new home and has a familiar face leading the program.
"I went to
Alabama
's camp two years in a row so I know coach (Jim McElwain) real well," Del Rio said. "He leaves for
Colorado State
and I was bummed because there goes my favorite coach. Then I move to Denver and it's great. He offered me and he's probably one of my favorite guys to talk to. They're definitely high on my list because they're really good people."
The signal-caller believes
Oklahoma State
,
Oregon State
and
Colorado
are all close to offering and that while academics will play a role in his decision to commit somewhere, the right fit and good coaching staff remains the main focus for Del Rio when sorting out his recruitment. Spring football is staring up and several coaches have already stopped by his school to see him throw and he will head to several college camps over the summer. Additionally, Del Rio plans to head to several passing camps around the country and the Elite 11 stop in Las Vegas on what is becoming an increasingly lengthy docket of things to do as soon as school is over.
But, for one sunny Saturday afternoon, none of the recruiting game mattered as the Del Rios walked off the field excited about the future after an MVP performance.
Ross ready and able to compete at the highest level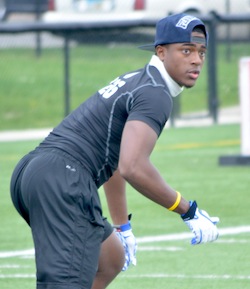 The Nike Camps always offer a chance for players to play against major talent that they simply won't see anywhere else. While it's not in pads, it's still competitive as each recruit looks to make a name for themselves or live up to their billing. Avon (Ohio) cornerback
Ross Douglas
didn't really care about all that as the relaxed
Penn State
commit was all about having fun on nice Saturday afternoon.
"It was great," Douglas said. "The competition was great, there were D-1 receivers like
Jalin Marshall
and we really had a good competition going. I'm really just happy to be out here with everyone and have some great competition.
The secondary position at the Ohio stop was one of the best all year and filled with several Big Ten commitments that Douglas will be seeing in years to come. As part of the top group rotating in, the experience to shut down wide outs and play with top recruits was one the 5-foot-10, 170-pounder enjoyed throughly.
"It was fun with me, (
Jayme Thompson
) and
Cam Burrows
," he said. "When they called nickel package, we all went out there and said we're the future of the Big Ten. I had a fun time with everyone."
Douglas committed to the
Nittany Lions
a little over two months ago and was decked out in Penn State gear, including a nice hat that he never took off. While the decision surprised some, it was simply a perfect fit for the talented cornerback.
"It's a big weight lifted off my shoulders," he said. "Penn State is the right place for me, everything that I looked for in a school, it has. Because of that I had to pull the trigger right then and there.
"One reason I committed there was Coach (Ted) Roof coming over from
Auburn
. I think schematically I'll fit perfectly in his defense."
Though many expected Penn State to struggle with recruiting following the scandal that hit the school several months ago, new head coach Bill O'Brien's staff has done a much better than expected job and has already landed five-star tight end
Adam Breneman
. With Douglas also in the fold, he and others have turned from recruits to recruiters as they try to help build up the Nittany Lions' class of 2013.
"I didn't really talk to anybody out here today but I'm still recruiting for Penn State pretty hard," said Douglas. "Running back David Williams and offensive lineman Dorian Johnson, those are my two main guys right now. I'm really trying to talk them in to coming."
Burrows proves he's the best against the best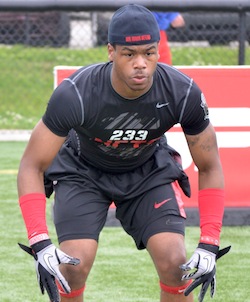 Just a few miles south of The Ohio State campus, the
Buckeyes
were well represented at the Nike Camp by several commitments who performed well, one of whom was no doubt Trotwood (Ohio) defensive back
Cameron Burrows
. As one of several top 100 players at the event, there was a bit of a target on his back but the four-star was excited about showing what he could do against other top players.
"I really wanted to prove that I was a lock down cornerback," Burrows said. "I also wanted to prove I'm not overrated and get that spot to 'The Opening' and Gridiron Kings.
"I'm very excited about the invites."
The 40th ranked player in the country by MaxPreps, Burrows was able to team up with fellow Buckeye commit Jayme Thompson in the secondary during pass skeleton and drills. The pair both had on Ohio State gear and enjoyed showing off what they'll be doing once they arrive on campus and finally don the scarlet and grey.
"It's real fun to say we're going to go at it for the next four years, all day, everyday," he said. "It was cool to have Jayme at safety and me at corner. Every time we went nickel we had Ross in there a little bit and we picked on him a little bit."
Because Burrows is one of the top players in the state of Ohio, he's pretty connected on the recruiting scene and is hoping to add a few members to the current class of 2013 at OSU by doing some recruiting.
"I'm recruiting a couple of wide receivers to go against now," said the ever competitive Burrows. "Robert Foster, Laquon Treadwell, James Quick."
"We think we can win Big Ten championships. We're trying to go for a national championship too. The intensity and competition the staff brings in makes you want to work for that. They make you want to compete against each other. It's a big change from last year and this year. I like competition and I want to be part of it."
Burrows also said he had a great time at the Buckeyes' spring game and thinks the program could get a few more commitments in the next few months.
Notes:
- Offensive line MVP was David Dawson, defensive line MVP was Billy Price, running backs MVP was David Gaydosz, linebacker MVP was Mike McCray, quarterback MVP was Del Rio, wide receiver MVP was Garry Brown and defensive backs MVP was Delano HIll.
- Seven players received invites to 'The Opening:' Shane Morris, David Dawson, Billy Price, Taco Charlton, Mike McCray, Cam Burrows & Jalin Marshall.
- Fun fact from Luke Del Rio:
Eli Manning
dated his older sister.
- Though Ohio State commit Billy Price snagged MVP honors, he wasn't the top performer along the defensive line during one-on-ones. Michigan commit Taco Charlton was rarely stopped while Indianapolis (Ind.) defensive end Anthony Winbush and Detroit (Mich.) defensive end Malik McDowell were some of the other top guys who used a variety of moves to nail the quarterback.
- Michigan commit David Dawson looked really good at the guard position and had a better day than fellow pledge Logan Tuley-Tillman.
- 2014 running back Devine Redding had another strong camp and stood out at a weak position. Among the linebackers,
Michigan State
pledge Jon Reschke and uncommitted linebacker Darrien Howard were impressive. Former Ohio State linebacker commit Alex Anzalone was scheduled to compete but took an unofficial visit to
Florida
instead, multiple outlets reported.
-
Louisville
commit Keith Towbridge stood out not only in terms of his size - easily the biggest tight end at the camp - but his ability to block. He took a rep during one-on-ones and handled his speed rushing defensive end well. He looked good in the passing game and caught several nice balls but it will likely be his blocking skills that allows him to see early playing time for the Cardinals.
- With two days to watch most of the quarterbacks, there was pretty much a consensus top three of Morris, Zaire and Del Rio.
Schiano would have made $4.4 million in Year 1 with annual raises as part of a six-year de...

Dykes spent this season as an offensive analyst at TCU

The "Wyoming Wild Man" notched six tackles for loss as a junior in 2017
Zaycoven Henderson was charged with aggravated assault with a deadly weapon

Patterson is a former No. 1 recruit in the country

Baker Mayfield and two Sooner teammates made the first team