Delany: NCAA, Big Ten had 'moral authority' to punish Penn State
Big Ten commissioner Jim Delany speaks at conference media days, covering the NCAA's penalties in the Penn State case.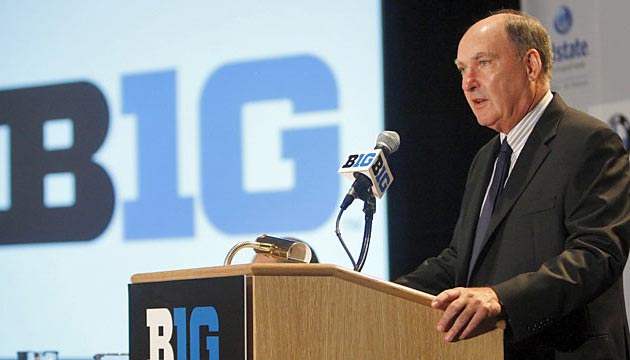 'I don't really care if it's a precedent,' Delany says of the NCAA's and Big Ten's sanctions of Penn State. (US Presswire)
Did Jim Delany get emotional up on stage before hundreds of reporters?
"A little bit," he admitted.
The Big Ten's powerful commissioner showed a rare side Thursday as he described the damage the Sandusky scandal had done to Penn State and his conference. Delany was speaking during his annual state-of-the-conference address during Big Ten media days.
He said firmly that the NCAA and Big Ten had "moral authority" to penalize Penn State. But Delany's voice cracked a bit when he said:
"What's clear to me, though, is that justice can never really be served in this case, because the victims can never receive justice. And that's just the sad fact of the case.
"While there are ancillary people who impacted the case in one way or another, affected the Big Ten, it's affected Penn State, obviously. It's affected a lot of people who are not involved in any way shape or form with the case, I think you have to just -- you have to recognize that the 10 individuals and perhaps many, many more, were damaged and hurt. And there's no amount of legal, criminal, civil, NCAA, Big Ten action that can change that or help them."
Delany gave perhaps the most reasoned explanation of the NCAA penalties against Penn State. There was a higher calling for the Big Ten and NCAA in the case.
"I don't really care if it's a precedent. I don't really care about whether or not they [NCAA] had jurisdiction or whether or not there was an underlying NCAA violation. There's been a lot of debate by pundits one way or the other.
"The only thing that matters to me is I think the NCAA did have moral authority to act, and I think the Big Ten had moral authority to act ...
"I think because the Freeh report has been accepted by the institution, it allowed for the NCAA to take its next steps it felt were appropriate. You can debate them all you want, but in my view they had moral authority and responsibility to act as did the Big Ten ...
"This case is unique in the sense that I think it involved people with senior executive and management responsibilities ... I think the other issue is that Penn State adopted -- not only adopted, but authorized the Freeh report and then adopted it. So that in addition to the moral authority, they had a legal set of findings which the university accepted and embraced and commissioned.
"If this is precedential and -- I don't believe that it is -- but if you ever had senior executives and a set of findings that the NCAA could rely on that related to a criminal charge, I think perhaps you would -- an institution would have something to worry about, because of the elements or the facts would have some commonality. But absent those kinds of things, where you don't have a factual set of findings and you don't have senior involvement in those findings, I think it's a stretch."
In a league that prides itself on academic excellence, Delany had to admit that a third of his league is currently on probation -- Penn State, Nebraska (books), Michigan (20-hour work week) and Ohio State (Tattoogate).
"The Penn State situation certainly needs to be separated from the discussion of Nebraska's book-buying policies. I think it's intellectually and morally difficult to even discuss those things in the same sentence.
"In the case of Ohio State, you had a coach who lost his job for not being honest about answering questions about tattoos. I think that also has to be separated and it's morally and intellectually a stretch to discuss that in the same sentence.
"Having said that, there are all three NCAA cases. And so when you look at NCAA cases, we -- and me in particular -- have never claimed that we don't have teams on probation or that we don't have teams that make mistakes."
Delany also reiterated that the Rose Bowl will be a national semifinal between two and four times during the 12-year cycle of the playoff beginning in 2014. The SEC and Big 12 are also deliberating how many times its Champions Bowl will participate as a semifinal.
The idea in both cases is for the participating leagues and bowls to protect their usual matchup as often as possible.
It was one of the busiest offseasons for the assistant coaching ranks

Oliver's star has already been born, but 2018 is when it will truly be recognized

Craig Kuligowski is reportedly leaving Miami to take the same job with Alabama
BT Potter is about to be very popular in the Clemson locker room

McElwain will coach receivers and help coordinate the offense for the Wolverines

Nathaniel Watson Jr. was involved in a car accident that injured a passenger in early Febr...