Delany reminds that conference breakaway 'is not off the table'
Remember that talk about the five biggest conferences forming their own subdivision? Well, that 'is not off the table.' Big Ten commissioner Jim Delany revisits the subject on Wednesday.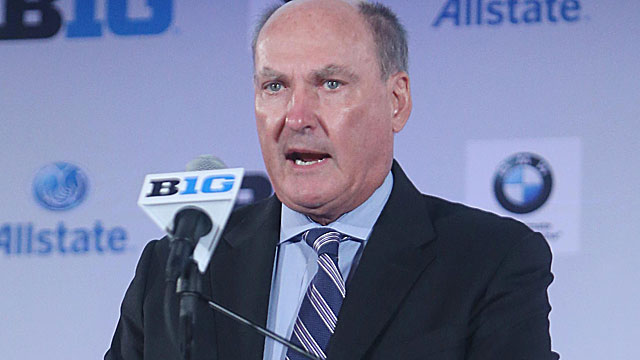 NEW YORK -- As the NCAA continues to fundamentally change the way it does business, along came this reminder Wednesday from Big Ten commissioner Jim Delany.
The concept of the five biggest conferences forming their own subdivision, "is not off the table," Delany said at the IMG Intercollegiate Athletics Forum.
While that's not exactly news, it is a reminder of who's in charge.
The NCAA wants to restructure. Essentially it's a move to become less intrusive and allow schools more self-determination. It's either that or those 65 schools in the SEC, Big 12, Big Ten, ACC, Pac-12 and Notre Dame are going to take their balls and go home.
To a new division where they wouldn't be leaving the NCAA but they wouldn't be celebrating it either.
"Division 4 concepts are out there ...," Delany said. "There was a lot of chum in the water about the sustainability of the NCAA."
It's come to that now. The threats aren't even veiled anymore.
"We need some [NCAA] regulation but it's got to be sensible, it's got to be flexible …," Delany told a small group of reporters here. "If we do that, I think we can stay together.
"If we can't do that I think we have to say we have not only external threats, we have internal threats. And the internal threats are that we can't find a way to use the NCAA as a [way] to solve our problems."
The problem is those issues.
The big ones are seemingly benign, non-controversial for the 65:
• A more streamlined NCAA
• More inclusion of athletic directors in the decision-making process
• A stipend for athletes
• Increased student-athlete welfare
But the membership can't even agree on them. The stipend issue alone threatens to rip apart any given conference.
How much?
Who gets it? (Walk-ons as well as star quarterback?)
"Just look at the override votes," said Notre Dame AD Jack Swarbrick referring to the membership knock-down of the stipend issue. "There is no consensus among the 65 schools."
The BCS schools want rules-making autonomy but they don't know yet what those rules should be. What's wrong with putting any money an athlete could earn from autographs or T-shirt sales into a trust fund? He/she gets it only if he/she graduates.
A point guard getting $6,000 additional tacked onto his scholarship may be bringing the ball up against an opponent who makes only $1,000 extra. When does a stipend become salary?
"If we proceed down the path of employer-employee relationship …" Big 12 commissioner Bob Bowlsby said. "We will forever have lost our way."
It's clear that everyone isn't OK with even that simple extra-cash concept, helping players buy groceries and gas? Philosophically, yes. Realistically, it's a huge debate and fraught with other issues.
"How would you structure a model that basically doesn't become a recruiting debate," NCAA president Mark Emmert said. "It's not hard to imagine if I was recruiting you, I say, 'I know for a fact you're going to get a quarter-million dollars worth of signatures [if you come here].' "
Then it becomes a bidding war, Emmert suggested. A rival school could "offer" $500,000 for what would amount to a post-graduate trust fund.
It is in this environment the 65 are flexing. They don't want the little guys telling them what to do in the NCAA voting process. In the macro, the little guys are defined as the rest of Division I (the remaining 285 of 350 schools).
In the football sense they are defined as the Group of Five going forward in the playoff era -- MAC, American, Conference USA, Sun Belt and Mountain West.
What Delany is referring to isn't a total breakaway. It would be a new division within the NCAA. (Currently there are Divisions I, II and III. FBS is a subdivision within Division of 125 football-playing schools. A new subdivision would theoretically feature those 65 BCS schools, cutting out the rest of FBS.)
"Our problem is not that everyone calls themselves Division I," Delany said. It's that other Division I schools can restrain the BCS schools "competitively" through the NCAA legislative (voting) process.
Delany and his cohorts aren't waiting around. The Big Ten, he said, is looking at office space here in New York City and Washington D.C. Hard to imagine the MAC branching out like that.
"What's right for us," said one BCS commissioner "isn't what's right for the rest of the membership."
And that's what those commissioners want from the NCAA in the future -- more control by the so-called "high resource institutions."
One BCS commissioner gave me an example: He and his peers favor a month-long dead period for football recruiting in the summer. The Group of Five don't necessarily want that.
Then I asked one of those Go5 commissioners: "We'd be fine with that," he said.
So there is a lack of communication, which isn't surprising in this huge enterprise. The for-profit business model bumps into the amateur ideal each day.
Now it's going to change or the BCS boys are leaving town. They just don't know what they want. I asked Swarbrick to give examples of rules they would pass with new liberalized -- and localized -- power.
• Length of schedule. Thirteenth game? It's easier for 65 schools to agree than 125 in FBS.
• Bye weeks. There were two this year in the 2013 calendar. That seems to jive with the student-athlete welfare thing.
• Scholarship limit. It's been at 85 since the 1990s. The 65 could choose to bump it up to 90. Hell, 95.
Those are all hypothetical. They're also an acknowledgement of a competitive disadvantage among schools. Toledo probably can't afford 95 scholarships. Texas can. And that's OK as long as Toledo doesn't have a say in it.
You can either afford to play with the big boys or you can't. It's been that way since 1984 when the Supreme Court deregulated college football television. Those BCS conferences basically became the stewards of the game hindered by -- they say -- the NCAA legislative process.
For years, schools were forbidden from providing cream cheese at training table. God forbid some school or another couldn't afford it.
If that sounds ridiculous, it is. The 65 schools at the BCS level have basically and loudly already separated themselves from the pack. They created the multi-billion dollar playoff system that kicks off next year. Their schools populate the most popular postseason in North America, the NCAA basketball tournament.
Their presidents signed off on the multi-billion dollar contracts of both. Things have gone south –- fast -- in the NCAA basically since an August 2011 summit. The roster of presidents charged with reform included about 20 percent whose schools had been branded with some sort of NCAA misconduct.
Following that came the Penn State decision, the Miami case, a general backlash against Emmert and the NCAA.
"It wasn't planned this way," Delany said of current state of the association. "It just sort of happened this way."
January's annual convention should be seminal. The overhaul should be done by the summer. While that won't affect your tax return it will affect how you watch the game.
The group of 65 commissioners talk about intrusion on the way they do business. But their presidents were the ones who approved the new playoff and profit mightily from the NCAA tournament.
The spending, the arms race isn't going to end.
"I'm embarrassed about some [lavish] facilities," Delany said. "I'm embarrassed about excess."
But the powerful Big Ten commissioner also looks around the landscape and sees increased scholarship costs -- almost five-fold since he started. Those schoolies are paid for directly by the schools.
In addition, Delany sees facilities, stadiums, arenas in his league that have been built in the first half of the 20th century. Delany doesn't want anyone telling him how much he can spend to improve them in the second decade of the 21st century.
"Facilities," he said, "need to be brought up to code."
Everything you need to know to watch and pick the Las Vegas Bowl on Saturday

Everything you need to know to watch and pick the Camellia Bowl on Dec. 16

Everything you need to know to watch and pick the New Mexico Bowl on Dec. 16
Everything you need to know to watch and pick the Cure Bowl on Saturday

Everything you need to know to watch and pick the New Orleans Bowl on Dec. 16

Bowl games are unpredictable, which means teams need to be on upset alert