Derek Mason carries Saban-sized expectations to Vanderbilt
New Vanderbilt coach Derek Mason said he wouldn't have taken Commodores job if he didn't plan on making program elite.
• 4 min read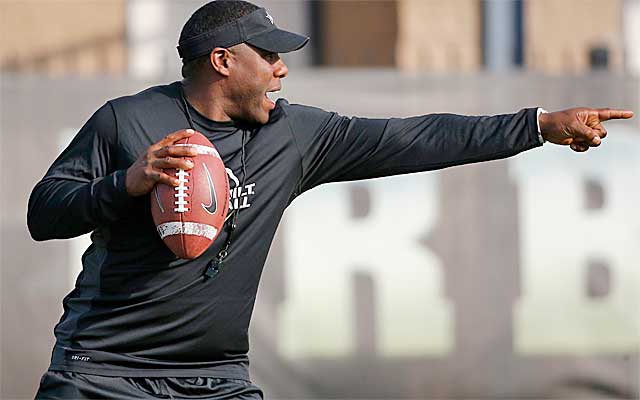 More CFB off-season: Vanderbilt outlook | Breaking down the Buzz
Derek Mason packed two suits for a business trip in January. This had nothing to do with diversifying his fabric game and everything to do with symbolism.
The blue suit was for a job interview with Vanderbilt on a Thursday in northern Atlanta, the other was this black suit he wore from a Vandy campus podium two days later as the Commodores introduced their new head coach Jan. 18.
Mason didn't know which day the press conference would be, but he knew there'd be one -- there'd be black and gold balloons, his name would be called, and there was no way around it.
"Only interview for the job you intend to take," the former Stanford defensive coordinator told CBSSports.com at last week's SEC spring meetings in Destin, Fla.
Mason exudes the same confidence wearing a casual beach shirt in late May as he did less than five months earlier in that black coat. Either way, he's selling the program.
Mason felt so prepared for the Vandy interview, he got offered the job about 30 minutes after the session with Parker Executive, which conducted the search for the school. The result made Mason's decision to turn down previous chances to talk with other schools well worth the patience.
Chatting with the media in Destin is far from a job-interview grilling, but it offers a glimpse into why and how he made it here, as the only rookie coach in the SEC.
Thanks to James Franklin's back-to-back 9-win seasons, Vanderbilt is considered a top 50 program nationally.
But Mason didn't take the job to coach a top 50 program, he says. He plans to coach a top 25 program that will "inch our way to the top 10."
"If I don't look at doing that, then why am I here," Mason said. "My expectation is no different than coach [Nick] Saban's. I want to win every game and I want to play for a national title."
Yes, we know the convenient narratives, the ones that go something like this:
*Vanderbilt is Vanderbilt and Florida and Florida and Alabama is Alabama and everyone should know their place.
*Vandy's recent success is a cute story, but not a legitimate threat to the Dobermans that get first crack at the food bowl.
Even the best coaches need reliable talent, and Vandy hasn't always had that, though Franklin helped change the climate (Vandy had four four-star recruits in 2013, as many as Tennessee and South Carolina).
But one thing working in Mason's favor is his first-hand look, and the role he played, in Stanford's transformation from budding program to one with glass-chewing linemen on both sides of the ball.
Perhaps no team blended the strengths of two conferences, the Pac-12's skill and the SEC's braun, better than Stanford under coach David Shaw and his staff.
That's why Mason sees the importance of recruiting the right players that fit an identity, not necessarily the most talented. Disagree and Mason offers three of his most important defensive players last year: Trent Murphy (three-star recruit), Ed Reynolds (three-star) and Ben Gardner (two-star).
Don't expect Vanderbilt's plan to look much different than Stanford's. Smashmouth "is who I am," Mason said. Combing prep talent pools for schematic fits to his 3-4 scheme will be crucial. Recruiting is so competitive, Franklin poached several Vandy recruits shortly after leaving for Penn State.
"What you have to do is establish an identity," Mason said. "Recruit to who you are. Coach to who you are. Let your players play and understand your strengths."
That means moving the program from relevant to great, which Mason says will be a "day-to-day analogy we have to work toward."
Franklin handled the relevancy, but that relevancy requires a response. Vanderbilt will be hunted, Mason said. Mason likes his roster but must find a quarterback (LSU transfer Stephen Rivers can play right away) and has another major concern.
"Leadership," he said. "Who are [the leaders]? ... I think James had created a culture of winning. All those other aspects and processes were -- some were in place and some were lacking. What you have to look at is the infrastructure and look and see what you don't have and say to yourself: 'How do we get it?' "
Each year requires a tear-down and build-up, Mason adds.
Mason will need to do so quickly, though luckily he feels right at home in the SEC, where he says "it's a different game up front" than the Pac-12.
The national championship game after the 2010 season, which Auburn won 22-19 over Oregon, was close because of skill players but was won with size up front, Mason said.
"That's something you can't simulate [in practice]," Mason said.
Mason will get a reminder in the fall, once he's unpacked.
The junior will take the snaps for the defending national champions in 2017

MetLife Stadium is about 10 miles away from where the World Trade Center buildings once st...

The Terps will wear these against Indiana on Oct. 28.
The coach of the Eagles isn't here for no science talk

These are the teams that are getting too much -- or too little -- love before the season

The Crimson Tide start atop the AP Top 25 poll for the second straight season