Despite Ole Miss' loss to LSU, Rebels still projected to make playoff
Ole Miss isn't done as a playoff team after losing to LSU as Jerry Palm projects the Rebels to win out and claim the SEC title.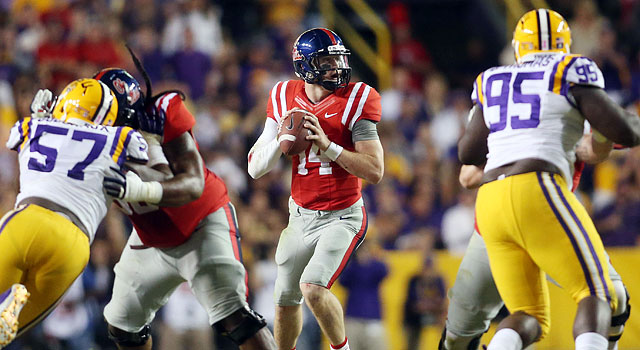 Thanks in no small part to several brain freezes by the Ole Miss coaching staff, the Rebels suffered their first loss Saturday at LSU.
But like every other one-loss team, Ole Miss isn't done as a playoff team. In fact, I still project the Rebels as one of the four teams in the college football playoff.
Ole Miss still has home games with their two toughest opponents, Auburn and Mississippi State. The Rebels still have to travel to Arkansas, a game they have to take seriously, but if they win out, they will be the SEC West champion.
Meanwhile, despite Mississippi State being currently undefeated and the No. 1 team in the nation, I project they will miss the playoff, losing at Alabama (Nov. 15) and at Ole Miss (Nov. 29).
It's going to take one more loss to knock the Rebels from the role of SEC favorite and a projected playoff team.
Rhoads led Iowa State to three bowl games in seven years as head coach

The Georgia middle linebacker is one of the most valuable players in college football

Explaining my 2017 Heisman Trophy ballot and Jackson's tremendous season
Mayfield is the sixth Oklahoma player to win the Heisman since its inception

The Heisman Trophy will be presented to the best college football player this season

Army topped Navy for the second straight year in an absolute thriller in Philadelphia