Despite struggles, Idaho Vandals determined to adapt, survive in FBS
Athletic director Rob Spear and head coach Paul Petrino get creative to make Idaho relevant at college football's highest level. It isn't easy.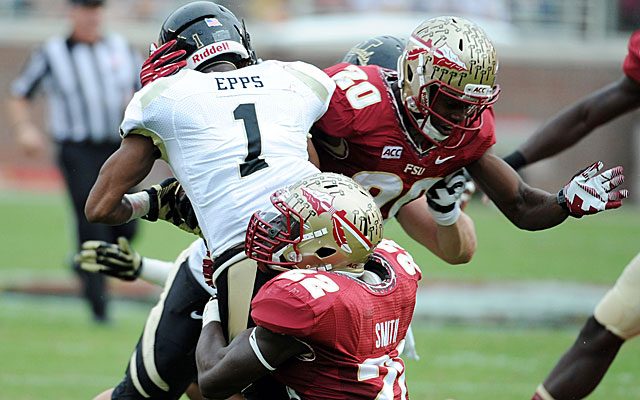 More college football: Bruce Feldman | Dennis Dodd | Jeremy Fowler | Latest news
MOSCOW, Idaho -- It's a tough job here. No, make that a borderline impossible job. Idaho football. Far West and forgotten. But Coach Paul Petrino had an idea to lure recruits.
First, understand there has to be a bottom in every sport. Put it this way, Idaho always has someone to look up to because there isn't much to look down on these days. Athletic director Rob Spear has had six presidents and overseen five coaches since he took office in 2003.
There has been one winning season since 1999.
"In our case we have so much turnover with head coaches, a lot of former players that have played here, they don't know anybody here," Spear said. "A guy walks in here who played in the early 2000s, who are they going to know?"
The football program's budget -- about $4 million -- doesn't equal 60 percent of Nick Saban's annual salary. There are sportswriters who make more in a year than the school earned from the BCS last season -- $100,000. We'll leave any moral conclusions to the reader.
Idaho football begs the question: What is the big time? The Vandals compete in the same NCAA weight class (Football Bowl Subdivision) as Texas, Alabama and Michigan. But any similarity is strictly coincidental. Idaho played Florida State last year in what could have been labeled the Dichotomy Bowl.
FSU won the national championship. Idaho kept playing Football Bowl Subdivision football. Barely. Market forces, the BCS and now the College Football Playoff have drawn a clear dividing line between the haves and have-nots.
The divide grows each day. Texas' athletic budget is almost 10 times that of Idaho's ($17 million). NCAA governance changes may give schools the option of paying players a stipend. That's a projected $440,000 expense that would include Idaho's 207 scholarship athletes in 16 sports. It is an added bill Spear simply cannot afford.
"I think there should be a separate division and let them [BCS schools] go and be in that division," Spear said. "If they take all the money and take their ball and go home, that would put us in purgatory. ... Why can't the NCAA take a more active role in helping schools like us?"
That's why Petrino, Spear and their hearty band of Vandals have to innovate, survive, adapt.
How's this for crazy: Petrino showed recruits some of that FSU film. The Vandals lost 80-14 in the midst of a 1-11 season. But in the middle of that lava field, flowers poked through.
"If guys have a great individual play we show them on Friday nights before games," Petrino said. They're called Punish Tapes -- offensive linemen pancaking opponents, great catches, etc.
"Recruits, we'd show six or seven great plays. There were three or four of them from the Florida State game.
"There were some positives out of what happened in that game."
Like what?
"We gave up 80 points, which was horrible, and threw two pick sixes, which was crazy," Spear said.
But ...
"We had the only receiver all year long to catch 100 yards on Florida State -- Dez Epps."
Actually, juco transfer Dezmon Epps' 126 receiving yards made him only the second player to accomplish that feat against the eventual national champs.
You take small victories where you can get them. Creative editing was one of those W's. 
Petrino can afford some eternal optimism. The former Arkansas offensive coordinator was caught in the vortex created by his brother Bobby's philandering two years ago in Fayetteville. No one, it seemed, was spared -- Bobby's marriage, the program, staff or players.
Paul was lucky. Out of the detritus came the 46-year-old's first head-coaching job of his career.
According to Spear, Arkansas AD Jeff Long told him, "Paul probably should have been the interim coach but I couldn't do it because of his last name."
Paul Petrino prefers not to speak of the way it ended at Arkansas. Still, the Petrino name carries weight out here in Moscow. Twenty-two years ago Paul came here for three years to coach running backs during the program's heyday as a Division I-AA power.
This time it has to be a quick, urgent rebuild. The future of the program at the highest level of college football depends on it. BCS commissioners are openly questioning the relevance of the bottom of FBS.
Petrino landed 16 junior college transfers in February's recruiting class. That's death to some programs. It is sustenance to Idaho, which can't afford to wait for talent to develop.
The latest class came from Florida, California, Louisiana -- even the Bahamas -- to be part of that Punish Tape. Depth is forged for some of the younger players during Sunday night scrimmages. Between scout team, fall practice and those scrimmages, rising redshirt freshman quarterback Matt Linehan took 1,230 snaps last year.
The eventual goal is to get off that endless treadmill taking so-called guarantee games just to balance that budget. The endless loop of frustration has to end. Idaho and others at the bottom of FBS are essentially playing those body-bag games just so they can continue to play.
Example: Idaho took $975,000 from Florida State last year to get its tail whipped.
"We charged them," Spear joked, "by the point."
But at least the Vandals are playing. They were vagabonds in 2013.  Competing as an independent, they played in seven states -- everywhere from Florida to Wyoming to New Mexico. There were only five home games, including a worst-ever home loss to Fresno State (61-14) and an embarrassing defeat to FBS-transitioning Old Dominion.
A week later, Idaho took that thrashing at Tallahassee. The conference realignment merry-go-round had come to rest in Moscow. When the WAC dissolved there was simply nowhere to play.
Dropping down to the Football Championship Subdivision (FCS, formerly Division I-AA) was an option. So they went indy for a year before landing in the Sun Belt beginning in the fall.
"Yeah, it certainly was when we had no [conference] home," Spear said. "Talk about a frustrating time. For that probably three-year period it was hard to move forward. All you did every day was reaction."
The 2013 schedule was a jigsaw puzzle that wouldn't come together. When he had eight games lined up, Spear felt compelled to appear before the state board of education for an update. He had talked fellow ADs, network executives, game brokers. If he could get eight, then he could get 12. Whatever big time is these days, Idaho would continue to be it.
With a cost.
"I took some heat from a lot of our boosters," Spear said of the Florida State game. "I really didn't have a choice. I needed a game and they had an opening. The mighty Vandals right?"
The present is a sort of purgatory where schools like Idaho are branded big time but are really playing for scraps. Idaho was invited back into the Sun Belt where it had played from 2000-2004. Its closest conference rival is Texas State in San Marcos, Texas. At least Petrino can sell his recruits on playing for a championship.
The College Football Playoff money has increased tenfold for Sun Belt teams, but so has the challenge. Idaho will be competing with 54 other schools from non-contract conferences for that automatic berth in one of the six CFP bowls.
When the question arises -- what exactly is an FBS program? -- Spear proudly points to two banners hung in one end of the Kibbie Dome.
"At least we won two bowl games," he said. "It's tough to sustain at times."
The last bowl came down the road in Boise State at the Humanitarian Bowl in 2009.
Four years ago is starting to seem like 40.
The AD would like to expand the unique indoor stadium that seats 16,000. (The Vandals averaged 14,700 for those five home games in '13). He'd also like to build a separate basketball arena. On a recent visit, the Vandals' football stadium was still in its basketball configuration. Off to the side, a tennis match was being played while a couple of athletes worked out on the track.
"I have more ideas than money," Spear said pulling out a master plan. "We put some great strategic plans together. But at the end of the day, there's three letters ... W-I-N."
Spear is brutally honest -- about everything. His life was influenced immensely playing for George Karl in the old CBA. Spear knew he would never play in the NBA but was amazed how Karl strategized against superior opponents.
Spear has served on five NCAA committees, working for change from within. His department is subsidized by student fees and the state to the tune of $6.5 million per year. There's no shame in that. Ask members of the MAC whose programs are also heavily subsidized.
It's the price of playing in the big time when there aren't a lot of Sugar Daddies around to endow scholarships.
The dividing line in this argument might be drawn in his own state. Spear once refused to take a Boise State-branded commuter jet ... because it was a Boise State-branded commuter jet. Instead, Spear spent his own money to rent a car and drive 80-something miles to fly out of Spokane, Wash.
Boise State long ago became a beloved Cinderella in the Gem State -- and around the country. Meanwhile, the state's land-grant institution slipped from the football landscape.
The schools joined Division I-A together in 1996. They haven't played since 2010 in a once-heated rivalry. There are no future games scheduled.  Boise remains a rival, if only on the tarmac.
"I'm a man of my word," Spear said of no-Boise-plane stance.
Horizon Airlines got the message. A model replica of a jet that now bears an Idaho logo sits in his office.
It is a small victory.
The biggest game in the AAC this season takes place Friday between USF and UCF

Alabama should be vigilant against an inspired Auburn team with playoff hopes on the line

SportsLine's computer model simulated every Week 13 game 10,000 times with surprising resu...
Miami looks to cap an undefeated regular season at Pitt on Black Friday

Fitzgerald was injured while running during the first quarter of the Egg Bowl

D.K. Metcalf certainly had an interesting spin on his touchdown celebration