Despite UAB debacle, football a must-have for status-hungry schools
Most football programs, like recently axed UAB, lose money. So how do schools justify the expense? Easy -- even bad football instills a significance money can't buy.
The debacle surrounding UAB football has made us care -- for once -- about UAB football. But that's where it ends, really.
Most of you wouldn't have given a flip. Not until a massive administrative blunder. What should have been a simple assessment of the obvious (red ink) became an American psycho-drama. Unless you're UAB president Ray Watts, that video of the players having their program ripped from them shakes the soul.
How it got that way is scandalous. Jon Solomon's fine reporting has detailed what looks like a railroad job. Watts called inaccurate an Alabama state representative's assertion that the decision was made to kill football before the season. 
The school did hire a fancy New York crisis-management PR firm to oversee its dumping of football. Funny, but whenever these sorts of outsiders get involved, they tend to exacerbate crises instead of managing them.
This particular firm created a false narrative -- let's call it a lie -- suggesting that programs were folding right and left. " … including Hawaii and others, which will likely take the heat off UAB," the firm stated according to Solomon's story.
Except all of it was a load of crap. Turns out, UAB was a one-off, not a trend. It was an individual school's decision. The end of bad football that -- in the end -- was handled badly. Alabama-Birmingham remains no different than the other 83 percent of the athletic departments in FBS that don't make money.
Just don't buy the line about beer leading to heroin or a conga line of dying football programs.
Outside of downtown Birmingham, college football is a growth sport. The Football Bowl Subdivision roster (formerly Division I-A) has grown by nine to an all-time high of 129 in the last 10 years. Since 1999, the FBS membership is up 11 percent. Profit be damned.
For those 83 percent, an overall profit for the athletic department matters less than the residual benefits of sponsoring football. Ever hear of the Flutie Effect? The term has its own Wikipedia page. Forbes has taken on the subject. 
The Flutie Effect refers to the Hail Mary pass thrown by Doug Flutie to beat Miami in 1984. In the aftermath, BC applications went up 30 percent. The private Catholic flagship went to a new, different, better level.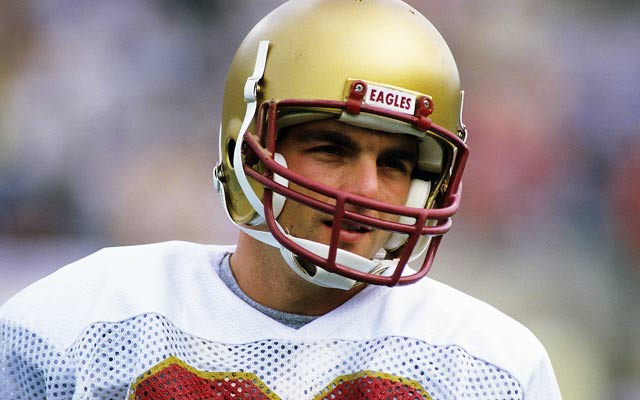 The Eagles have played 19 of their 24 bowl games since that pass. In the 79 years of the AP poll, BC has been ranked in the final Top 25 22 times. Thirteen of those occurrences came between 1984-2007. It can be argued the school is in the ACC today (after the leaving the Big East) because of that higher profile.
A Harvard professor estimates that lightning bolt achievements in football can increase applications up to 20 percent. It's the reason it can be argued with some certainty that Nick Saban is underpaid.
Boise State had its own "Fiesta Bowl Effect", enhancing its image -- as well as enrollment and research grants -- following the 2007 upset of Oklahoma.
Rutgers didn't make the Big Ten because of any current success in football. It's because of the promise of success, perhaps attracting New York media coverage and Big Ten Network viewers.
Football matters that much. The former Hawaii AD who let it slip that the school might have to drop football resigned in December.
All of it while an estimated 22 athletic departments in the country actually make money.
"I had it explained to me like this," former Sun Belt commissioner Wright Waters told me on Monday.
One of his conference schools was losing $1 million a year in just in football. How, Waters asked the school's chancellor, do you justify that?
" 'Do you know what these other institutions are spending on their admissions process?' " the chancellor told him. " 'I have a $546 million [total] budget. I wish I could have two football programs.' "
In other words, football success -- even just the chance at football success -- is worth losing money. Especially when the athletic budget is perhaps only three percent of the total budget. FBS membership brands a school as big time. It is a label that attracts incoming freshmen as well as high-profile research professors.
It's a designation that is sometimes hard to quantify until it is lost. In some way, UAB is losing that label.
That same Harvard professor found that applicants with lower-than-average SAT scores prefer schools with athletic success. Those students "valued" athletic success for longer periods than high SAT applicants.
That theoretically translates to loyalty, which translates to donations. That translates into long-term financing of the whole enterprise -- even when it's bad football.
"Academicians can talk all they want to," Waters said. "The American public loves sports, period. It is what it is. We have a sports page, not a math classroom page."
That's why the college president has his own box at football games compared to his own seat at commencement ceremonies. In one setting he's wooing donors. In the other, he's handing out diplomas to potential donors who may or may not give a damn about football.
That's why Troy (2001) and South Alabama (2013) joined FBS in the same state where Alabama and Auburn rule. That's why Western Kentucky was able to lure Bobby Petrino for a year.
Playing at the top-level college football can be a heck of a loss leader.
"That's generally the rationale," Sun Belt commissioner Karl Benson said. "Not every program inside a university is expected to generate money."
In recent years, Benson has added startups South Alabama and Georgia State as well as FCS movers Georgia Southern, Appalachia State and Texas State.
"Those were decisions made by a university especially to get to FBS to align and to affiliate with membership [in order] to differentiate themselves from FCS or Division I that doesn't have football," Benson said.
It's a status thing. A status that UAB is losing as well. Despite the administration's mishandling, despite basketball's tournament success last week, football isn't returning to the school anytime soon. And a condition of ongoing Conference USA membership requires football.
Even if it's bad football.
No amount of crisis management can change that.
CBS Sports HQ Daily Newsletter
Get the best highlights and stories - yeah, just the good stuff handpicked by our team to start your day.
Please check the opt-in box to acknowledge that you would like to subscribe.
Thanks for signing up!
Keep an eye on your inbox for the latest sports news.
Sorry!
There was an error processing your subscription.
The lawsuit claimed Colorado officials failed to properly address domestic violence claims...

The cupboard isn't bare in Tuscaloosa

Media members are now on the record for their picks for the 2018 season
Bubba Cunningham believes his coach's remarks were 'poorly communicated'

Ball is still life for Malzahn, but he now has some space to be himself as he leads the Ti...

Swinney is happy to have his current quarterback situation