Devin Gardner's gaffe almost ruins special night for Michigan
Michigan hands Tom Harmon's old No. 98 to Devin Gardner. Then he almost hands the game to Notre Dame, but his overall performance sees the Wolverines through.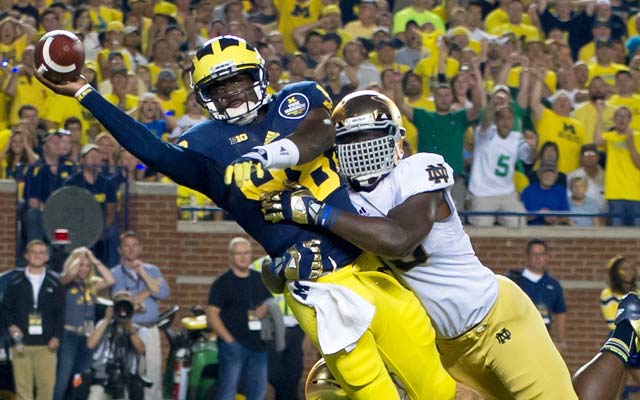 ANN ARBOR, Mich. -- Somewhere, even Tom Harmon is shaking his head.
Twenty-three years after the Michigan legend died, 59 years after the school's first Heisman winner was inducted into the College Football Hall of Fame, the school handed Harmon's legendary No. 98 to a 21-year-old quarterback still finding himself and his game.
Then before the biggest crowd in Michigan history, with revenge in the air hanging heavier than the humidity, Devin Gardner tried to hand the game to Notre Dame.
Forget about ruining the Harmon moment. That would have been a given. Actor Mark Harmon, Tom's son, appeared before the game to accept his father's framed jersey in an emotional ceremony. Per a game-time press release, Garner was suddenly wearing the number of "the most talented player in Michigan history."
Harmon won the 1940 Heisman, was drafted No. 1 overall in the NFL, won the Purple Heart and Silver Star in World II and received a standing ovation from the Ohio State crowd in last college game.
No pressure there, Devin.
The play in question could have doomed Michigan's season, not to mention plant that seed of doubt in a promising, but flawed quarterback. For now, after Michigan's 41-30 victory, that makes Gardner's Gaffe -- that's what they would have called it wouldn't they? -- a talking point.
Nothing more.
Early in the fourth quarter, his team safely ahead by two touchdowns, Gardner retreated to the back of his end zone chased by Notre Dame safety Austin Collinsworth. Only a handful of quarterbacks could have pulled off what Gardner did next. That is, get the ball off before being tackled.
"It's a blessing and curse sometimes when you have that ability," Wolverines coach Brady Hoke said.
Color this moment a curse. Notre Dame lineman Stephon Tuitt showed some athleticism of his own snagging the attempted throwaway inches above the turf for the most unlikely interception ever thrown by a quarterback wearing No. 98.  And the most unlikely touchdown scored by a 322-pound defensive lineman.
The play was reviewed before the feeling was confirmed in the hearts of the record crowd of 115,109. Tuitt did indeed catch the ball and the game was slipping away for Michigan. That two-touchdown lead was down to 34-27 with 12 minutes left. After a stop by Notre Dame, the Irish got the ball back at midfield with less than 11 minutes left.
You could feel it. The Wolverines had gagged away last year's game with all those turnovers in South Bend. Between then and now, Irish AD Jack Swarbrick had canceled the series (after next year's game at Notre Dame), ramping up the rivalry to a whole new level.
Hoke said earlier this year the Irish had "chickened out" in opting out of the series. Sales of "Cluck of the Irish" T-shirts were doing a brisk business before the game. But the revenge motive was all going to be ruined by an unfinished quarterback product who was wearing the same number Grant Wistrom and Lawrence Taylor had in college.
"He can make some big plays but he needs to be more consistent some of the time," Hoke said.
Gardner is a promising but as yet unrefined product. Coming into this game, he had started five career games each as a receiver and quarterback. His two interceptions last week against Central Michigan were glossed over after a 50-point win.
But, now, something didn't feel right in the fourth quarter. Michigan hasn't won so much as a share of the Big Ten since 2004. In Hoke's third year, fans are just now getting the taste of Rich Rod out of their mouths.  
"When he came off the field," Hoke said of Gardner, "I didn't have to say a word to him because he was beating himself up all the way off the field. It was one of those things he knows better."
Gardner might as well be an Irish stew of a player, a tempting mix. He was his team's leading receiver in last year's slopfest in South Bend playing behind Denard Robinson. Despite the horrific interception Saturday, the redshirt junior played one of the best games of his career -- 294 passing yards, four touchdowns, another one rushing among his 82 yards on the ground.
"[Offensive coordinator Al Borges] talked to us about the three leading causes of interceptions," Gardner said. "One of them is desperately avoiding the sack. That's what I did in my own end zone. It was a horrible decision."
Just like they had two years ago here, Michigan was going to have to win it with offense. With the lead shaved to four with 9:15, Gardner led the Wolverines on a 75-yard touchdown drive. He hooked up with Fitzgerald Toussaint for 31 yards. The offense was aided by a couple of questionable pass interference penalties on the Irish.
But when Gardner passed to Drew Dileo for his fourth touchdown pass with 4:18 left, you could feel something else. Relief.
The night was complete because it was soooo Michigan.
John Beilein's Final Four team took a bow during the game. So did Cazzie Russell. AD Dave Brandon's hype machine was in full effect with a laser light show at halftime honoring --among others -- Beyonce. Eminem was somewhere in the building. The largest Michigan Stadium crowd ever went wild over the announcement it was the largest Michigan crowd ever.
Swarbrick had privately considered his security options upon entering The Big House. Oh yes, the Wolverines wanted this one bad, real bad.
The question is, was the result revenge for canceling a great rivalry or survival for a blossoming quarterback on a redemptive Saturday night?
"To say I'm worthy of wearing his jersey, it's amazing for me that they see as that type of person," Gardner said of Harmon.
The challenge, now, is for Devin Gardner to become more famous for his play than his number.
It may have been impossible for Sumlin to meet the expectations set for him in College Sta...

Some players are more easily replaced than others

The 2017 season is in the books, and several big-name stars are jumping early to the NFL
Love was second in the nation in rushing with 2,118 yards in 2017

It looks like Jennings is slowly making his way back to the Vols after being dismissed last...

Offensive coordinator Brian Daboll's departure to the NFL has left a void at Alabama