Devon Kennard injury cuts USC's dwindling D-line depth to the bone
Senior defensive end may miss the entire 2012 season to a pec injury, leaving little to no experience in his wake at the Trojans' most vulnerable position.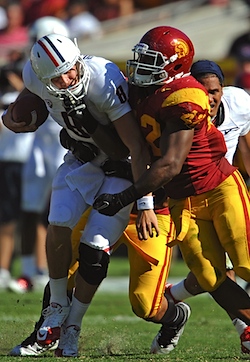 USC coaches and fans were hoping this would be the season senior defensive end Devon Kennard finally made the kind of impact suggested by his five-star recruiting hype three years ago, just in time to lead a concerted push for the BCS title. And it looks like he very well might, although it's not going to be the kind of impact they were expecting: As reported Thursday night by CBS' Chris Huston (as well as by Kennard himself Friday morning), Kennard is expected to miss at least three or four months after undergoing surgery for a torn pectoral muscle next week, which could cost him the entire 2012 season. And with that, an undisputed national frontrunner may have just lost its best player at the one position it could least afford a loss.
Even with Kennard, a part-time starter over the last three years at end and linebacker, the defensive line stood out like a big, vulnerable thumb on the Trojans' otherwise imposing depth chart, thanks to the graduation of tackles DaJohn Harris and Christian Tupou and the early departure of All-Pac-12 end Nick Perry for the first round of the NFL Draft. On a roster just beginning to feel the crunch from NCAA-imposed scholarship restrictions, the front four rivaled tailback as the most pressing concern, and may have just surpassed it.
Besides Kennard, USC has only one other experienced defensive lineman, senior end Wes Horton, who has started 22 games over the last three years and came in last year for a second-team all-conference nod. So far, so good. But the candidates for Kennard's spot are a junior college transfer (Morgan Breslin, who was enrolled for spring practice), a pair of incoming freshmen (Leonard Williams and DeVante Wilson, who were not) and a pair of returnees who have yet to see a significant snap in their college careers (junior Kevin Greene and redshirt freshman Greg Townsend). On the interior, the defensive tackle rotation consists of sophomore George Uko (two career starts) and a trio of second-year guys (Christian Heyward, Antwaun Woods and J.R. Tavai) who remain anonymous beyond their recruiting rankings. This being USC, those rankings are inevitably impressive. Across the board, though, with the exception of Horton, it will be virtually an entirely new line.
That's no trivial matter when the margin of error for winning a championship is so slim. In two years under Lane Kiffin, the Trojans are 1-6 when yielding more than 150 yards rushing, including both defeats last year: At Arizona State, they were gashed for 169 and three touchdowns on the ground in a 43-22 loss in September, and Stanford rolled up 186 with four touchdowns rushing in triple overtime a month later. A few weeks after that, Oregon ran for 209 and three scores in USC's last-second triumph in Eugene – a dramatic step forward, on one hand, considering the Ducks had easily topped 300 yards rushing en route to blowout wins in both 2009 and 2010, but not exactly a compelling line on a championship resumé.
In fact, if there's any single factor that championship teams have shared in the BCS era – and the SEC's dominance at the top of the polls over the last six years has driven this home – it's a nearly impenetrable front seven. Of the 14 teams that have gone on to win a national championship since 2000 (we'll throw USC in 2003 and Auburn in 2004 in that group for good measure), ten of them finished in the top 10 nationally against the run; USC's championship teams in '03 and '04 both led the nation, as did Alabama last year. Between them, those same 14 teams have allowed 200 net rushing yards in a regular season game on a grand total of seven occasions:
Miami (2001): Allowed 214 yards, 2 TDs in a 49-27 win over Florida State.
LSU (2003): Allowed 201 yards, 1 TD in a 55-24 win over Arkansas.
Texas (2005): Allowed 250 yards, 2 TDs in a 47-28 win over Oklahoma State.
Texas (2005): Allowed 277 yards, 3 TDs in a 40-29 over Texas A&M.
LSU (2007): Allowed 201 yards, 1 TD in a 41-24 win over Ole Miss.
LSU (2007): Allowed 385 yards, 5 TDs in a 50-48 loss to Arkansas.
Auburn (2010): Allowed 218 yards, 3 TDs in a 51-31 win over Ole Miss.
So it is certainly possible to survive a bad night or two against a Stanford, Oregon or, say, Utah, the three teams most likely to make a dent in the Trojan defense this season. Obviously, it helps if you have an offense that can be counted on to put up between 40 and 55 points itself in a pinch, which USC's most certainly can. But the unexpected absence of their best defensive lineman only makes it that much more likely that, at some point, it will have to.
Locksley has been the offensive coordinator at Illinois and Maryland during his coaching c...

Bidding for Salaam's trophy, which the auction house says was obtained legally, ends Satur...

Many NFL-eligible juniors ignore advice provided by the league and risk going undrafted each...
Snyder died in Manhattan, Kansas, on Wednesday

Locksley joined Alabama's staff in 2016

Saban reportedly wants to hire Freeze, but there may be things keeping that from happening