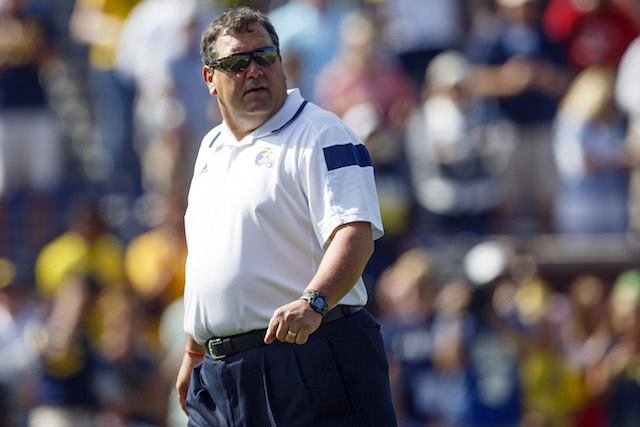 Did Brady Hoke send his quarterback into the game with a concussion on Saturday? It's hard to know for sure, but the video evidence is somewhat damning.
Early in the fourth quarter with the Wolverines trailing 30-7, Shane Morris took a blow to the head from Minnesota defensive lineman Theiren Cockran. Cockran was called for a penalty for the helmet-to-helmet hit that left Morris dazed. After the play Morris stumbled around the field and at one point nearly fell over and needed to be held up by one of his offensive linemen. You can see the play in the video below, and you can also see Morris waving to the sideline before staying on the field for one more play.
Morris would then leave the field after the play and be replaced by Devin Gardner. Gardner would have to leave the game a minute later after his helmet came off, and cameras showed Michigan quarterback Russell Bellomy putting his helmet on and getting ready to enter the game before being called back.
Morris would then reenter the game.
Did Morris have a concussion? It certainly looked like a possibility, and he definitely wasn't on the sideline long enough to be evaluated by the medical staff. During his press conference after the game even Hoke admitted he didn't know whether Morris was concussed.
"Well, you know, I don't know," said Hoke when asked. "I don't know if he might've had a concussion or not. I don't know that and that wasn't something- Shane's a pretty competitive, tough kid and Shane wanted to be the quarterback and so believe me, if he didn't want to be he would've come to the sideline or stayed down."
And that's just not an acceptable answer from Hoke. If there's even the possibility of a concussion it's unforgivable that he'd allow Morris to get back on the field without conducting any tests. The fact Hoke and the Michigan coaching staff showed such a lack of concern for Morris' well-being and just sent him back out there is a deplorable and fireable offense.
Moreso than three September losses.
UPDATE: Hoke issued the following statement through the university on Sunday night:
"The safety of our student-athletes is always our top priority. We generally never discuss the specifics of a student-athlete's medical care, but Shane Morris was removed from yesterday's game against Minnesota after further aggravating an injury to his leg that he sustained earlier in the contest. He was evaluated by our experienced athletic trainers and team physicians, and we're confident proper medical decisions were made. The University of Michigan has a distinguished group of Certified Athletic Trainers and team physicians who are responsible for determining whether or not a player is physically able to play. Our coaches have no influence or authority to make determinations if or when an injured player returns to competition. The health and welfare of our student-athletes is and will continue to be a top priority."