'Disappointed' Nebraska chancellor maintains his playoff vote will be the toughest
Harvey Perlman, on that wall.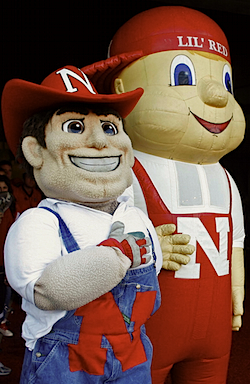 Three years ago, as he was settling in as the new chairman of the Bowl Championship Series' Presidential Oversight Committee, Nebraska chancellor Harvey Perlman issued a solemn warning to BCS critics. "The alternative to the current system is not a playoff," he said. "The alternative to the BCS is going back to our traditional relationship with our bowl partners." He was wrong about that, as it turned out. But it also turns out his nostalgia for the old, pell-mell bowl system wasn't a threat: It was wishful thinking.
More than any other president in college football – and certainly more than any other member of the 12-man oversight committee scheduled to convene next week in Washington, D.C. – Perlman (not pictured) has stood his ground against the growing consensus for a playoff, even one as limited as the four-team model that emerged from a meeting of conference commissioners earlier this week. Prior to that, while Big Ten commissioner Jim Delany was publicly conceding to the inevitability of a playoff, Perlman told reporters that Big Ten presidents still favored the status quo, or a "plus one" format – a single additional game between the No. 1 and No. 2-ranked teams after the traditional bowl games – at most. Thursday, on the heels of the commissioners' pro-playoff powwow in Chicago, Perlman reiterated again that his vote is going to be the toughest when their plan goes to the presidents for final approval:
"I don't like the idea of a four-team playoff," Perlman said in a telephone interview Thursday. "I'm certainly open to hearing what [the commissioners] believe to be the best for the game. Personally, without that, I still think a plus-one, properly structured, would be better for college football, for fan interest and for bowls."
[…]
Perlman believes a plus-one model would serve the sport better because there would be more games each postseason that could implicate the national championship. "I'd rather have five exciting games instead of two exciting games." … "Clearly, that all the commissioners reached a consensus of some sort is a big step," he said. "I think the presidents would be reluctant to overrule the people that actually work in the area unless there was good reason to do so."
Regarding the plus-one, that seems like a… creative bit of math for a high-ranking academic. In the first place, a four-team playoff creates three games with direct championship implications, not two. (You know, four teams enter, only one leaves, etc.) Next: Even on the rare occasion that more than two bowl games would carry championship stakes in a plus-one format, limiting the final game to only two of the bowl winners ensures some of the additional drama will be for naught.
And anyway, if maximizing the number of "exciting games" is the goal, why not an eight-team playoff? That would guarantee seven games every year with direct championship implications. Better yet, why not 16 teams? Players might start literally passing out from all the excitement.
Meanwhile, back in reality, Perlman insists he's "willing to be convinced" on a limited playoff. But he isn't going to hear any competing arguments on his own campus: Head coach Bo Pelini and athletic director/coach emeritus Tom Osborne have both spoken out even more vehemently against the onset of bracket fever than their chancellor. And although any further discussion of a plus-one option appears dead on arrival, if Perlman is accurately representing the opinions of his presidential peers in the Big Ten, he won't be pushed very far from his standing position by anyone from their ranks, either. When the commissioners submit their playoff plan to the Presidential Oversight Committee in D.C., Perlman will be the only Big Ten president in the room.
The assumption for now is that one man cannot turn back the tide, which holds as long as his powerful commissioner is firmly in the playoff camp, as Jim Delany appears to be. But it's still worth asking: If the four-team plan is as inevitable as everyone now believes, which side is going to be doing the convincing?
The 21-year-old quarterback was expected to start for the Cougars in 2018

The Fighting Irish will be without some playmakers in 2018

It may have been impossible for Sumlin to meet the expectations set for him in College Sta...
Some players are more easily replaced than others

The 2017 season is in the books, and several big-name stars are jumping early to the NFL

Love was second in the nation in rushing with 2,118 yards in 2017