Disappointed Slive: 'No one will ever equal' SEC's run of dominance
While Auburn fell short in its bid to become the eighth straight SEC team to win the national title, commissioner Mike Slive found some solace.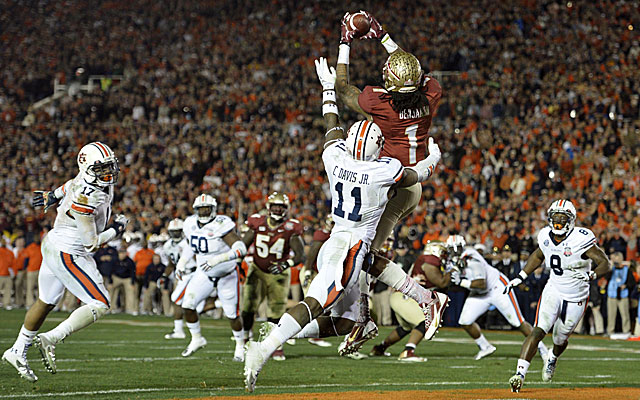 PASADENA, Calif. -- The disappointment was etched on Mike Slive's face. This one hurt. It will probably hurt for a while.
"There is disappointment, no doubt," said the commissioner of the SEC after Auburn's heartbreaking 34-31 loss to No. 1 Florida State in the BCS Championship game. "We congratulate Florida State and the ACC. They have a great team.
"But right now I can't help but think about the enduring pride we have in what our conference has accomplished. What we have done is unprecedented. And no one will ever equal it."
SEC in BCS Championship Games
Year
Result
2013
Florida State 34, Auburn 31
2012
Alabama 42, Notre Dame 14
2011
Alabama 21, LSU 0
2010
Auburn 22, Oregon 19
2009
Alabama 38, Texas 21
2008
Florida 24, Oklahoma 14
2007
LSU 38, Ohio State 24
2006
Florida 41, Ohio State 14
2003
LSU 21, Oklahoma 14
1998
Tennessee 23, Florida State 16
When Slive became the commissioner of the SEC in 2002, the BCS was in its fifth year of existence and his new conference had won exactly one crystal football. As the BCS prepared to crown its 16th and final champion Monday night at the Rose Bowl, Slive's conference had won seven straight BCS titles. Many people wondered if the SEC's streak would ever end.
It took some major league heroics by Florida State to do it, but the SEC's run of BCS championships did come to an end as the Seminoles, who trailed 21-3 in the second quarter, scored the winning touchdown with only 13 seconds left.
Auburn, a team that was 0-8 in the SEC a year ago, was the unlikeliest of conference champions in 2013. They had two miracle plays to beat Georgia and Alabama to get to the SEC Championship game, where the Tigers beat Missouri. Still Auburn needed some additional good fortune to get to Pasadena as Michigan State upset No. 2 Ohio State in the Big Ten championship game.
Auburn, in effect, was playing with house money when it got to Pasadena. But it didn't make the final score hurt any less.
"Auburn represented the SEC so well tonight," said Slive. "It was a great college football game."
Let the record reflect that an SEC team won the first BCS Championship game (Tennessee, 1998) and that the conference made a total of 10 appearances in 16 years with nine championships. The SEC actually had 11 appearances when you consider that in 2011 the BCS championship game featured LSU and Alabama. Until Monday night, the SEC had never appeared in the BCS championship game and failed to take home a crystal football.
"What we've done in the BCS era is a reflection of the commitment our institutions have to excellence," said Slive. "We have the most incredible fans who are passionate about this sport."
Slive, who was instrumental in bringing about the four-team College Football Playoff that will begin next season, said that the level of competition during the SEC regular season has played a huge part in the success his teams have had in this event.
"The BCS championship is a big game, obviously," he said. "But every week in our conference is such a struggle. To win a championship you have to be at your best every week and then find ways to win when you don't play your best. Once our teams get to this game, they know they can pretty much handle anything."
When the history of the SEC in the BCS is written, it will reflect the fact that in many seasons, good fortune allowed the conference to get into the big game. But once the SEC got to the championship game, with Monday night being the exception, it took care of business. Specifically:
• In 2006 Florida was ranked No. 4 on Championship Saturday. No. 2 USC was upset 13-9 by UCLA. Florida jumped over No. 3 Michigan, which did not play after losing to No. 1 Ohio State 42-39. The voters didn't want a rematch so the Gators played the Buckeyes and dominated them in Glendale, Ariz.
• In 2007 LSU started Championship Saturday ranked No. 7. The only way the Tigers had a shot was if both No. 1 Missouri and No. 2 West Virginia lost on the same day. It happened as Missouri lost to Oklahoma 38-17 in the Big 12 championship game and West Virginia, a 28½-point favorite, lost to Pittsburgh 13-9. LSU beat Tennessee in the SEC Championship game and jumped all the way to No. 2 and became the first team with two losses to reach the BCS Championship game. LSU beat No. 1 Ohio State in New Orleans.
• In 2011 Alabama thought it was out of the BCS championship race after losing at home to LSU 9-6 in overtime. But then No. 2 Oklahoma State was upset by Iowa State 37-31. Alabama got a rematch with LSU in the BCS championship game and this time the Crimson Tide won 21-0.
• This season Auburn, whose only loss was to LSU back in September, beat Missouri on Championship Saturday. But it still needed No. 2 Ohio State to lose in the Big Ten championship game to Michigan State. Michigan State came up with a stop on fourt-and-2 and upset the No. 2 Buckeyes 34-24 and opened the door for Auburn.
And as the BCS draws to a close, it should be noted there were years when the SEC came up just short of the championship game. The conference could have had several more appearances:
• In 2001 No. 2 Tennessee was upset by LSU in the SEC Championship game. If Tennessee had won it would have played Miami in Pasadena for the national championship.
• In 2002 Georgia finished No. 3 behind Miami and Ohio State because of its one loss to Florida 20-13. Georgia quarterback David Greene did not play against the Gators.
• In 2004 Auburn went 13-0 and won the SEC championship, but the Tigers finished No. 3 in the final BCS standings behind USC and Oklahoma.
After that disappointment Slive began thinking about the possibility of the four-team playoff. He first put it on the table at the BCS Meeting of 2008. Next year it will become a reality.
In the four-team playoff there will be no limit on the number of teams to qualify from a conference. Had the selection committee, which will pick the four teams, used this year's final BCS Standings, both Alabama and Auburn would have been chosen.
On Jan. 12, 2015, the championship of the College Football Playoff, which replaces the BCS, will be crowned at Cowboys Stadium in Arlington, Texas. Mike Slive expects to be there.
"I think you can say that the SEC represented itself well during the BCS era," said Slive. "We look forward to the College Football Playoff. We expect to be very competitive."
Saban isn't going to win Alabama's special election, but the Crimson Tide coach got some l...

The Sooners' quarterback and Badgers' rusher stood out among their peers this season

Clark led UAB to an 8-4 overall record, 6-2 in conference this season
SportsLine simulated every bowl game 10,000 times for pick'em leagues and confidence pools

The Tigers are going worldwide for their next punter

Led by Heisman Trophy winner Baker Mayfield, the Big 12 finished with seven first-team sel...