'Dobbs effect' boosting admissions interest in Tennessee
The Hail Mary from Joshua Dobbs to Jauan Jennings that beat Georgia could impact the University of Tennessee for a long time, according to a recent report.
In 1984, quarterback Doug Flutie threw a Hail Mary touchdown pass to Gerard Phelan as time expired to lift Boston College to a 47-45 win at Miami. That iconic moment on a big national stage caused that's been called the "Flutie Effect" — a 30 percent rise in the number of applications sent to Boston College in the next two years.
In 2016, there might be a "Dobbs Effect," according to a recent report from Capture Higher Ed.
(Want the latest scoop on Tennessee football and basketball? Make sure you're in the loop — take five seconds to sign up for our FREE Vols newsletter now!)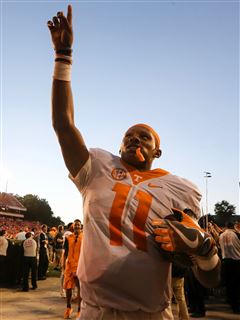 According to research compiled by Capture, there was a 70 percent rise in web traffic on the University of Tennessee's admissions site in the immediate aftermath of senior quarterback Joshua Dobbs' 43-yard Hail Mary touchdown pass to sophomore wide receiver Jauan Jennings to lift the Vols to a dramatic win at Georgia in Sanford Stadium.
Capture noted the traffic on UT-Knoxville's admissions website on Sept. 3 — the last Saturday when the Vols didn't have a football game — and compared them to the admissions website traffic on Oct. 1, the day of Tennessee's game at Georgia that aired in CBS' premier SEC game of the week slot.
"As the morning progresses, people start getting excited about the game and browse admissions-related pages on Tennessee's website," the Capture report stated. "When the game starts, traffic initially increases then drops off as the game gets more exciting. Finally, after the dramatic win, visitors start flooding in.
"Keep in mind, this is www.utk.edu, and does not include the athletics website www.utsports.com. These are people checking out the school, not athletics."
(Buy one month of GoVols247 and GET TWO MONTHS FREE!)
Capture's report stated that there was no way to definitively link Flutie's Hail Mary to the spike in admissions applications sent to Boston College, there was a definitive way to measure the potential of a "Dobbs effect" at Tennessee.
In addition to the 70 percent spike in web traffic on UT's admissions website on Oct. 1 compared to Sept. 3, there was another significant spike of 32 percent in admissions website traffic in the hour immediately following the Dobbs-to-Jennings Hail Mary winner.
Capture's report suggested that the "Dobbsnail Boot" could have a big impact on the entire UT-Knoxville campus for years to come.
"Instead of conjecture, we can know for certain whether there is such a thing as a Dobbs Effect," the report stated.
?The Capture report didn't mention the ubiquitous references to Dobbs' academic chops — he's an aerospace engineering major on track to graduate early from a demanding, highly-ranked program while serving as the football team's starting quarterback, serving two internships at prestigious Pratt & Whitney and donating plenty of hours of community service — that seep their way into the broadcast of every Tennessee game. It's tough to imagine that not also having an impact on the admissions website traffic.
———————————————
Contact Wes Rucker by email at wesrucker247@gmail.com or ON TWITTER, or FOLLOW GOVOLS247 ON FACEBOOK.
CBS Sports HQ Daily Newsletter
Get the best highlights and stories - yeah, just the good stuff handpicked by our team to start your day.
Please check the opt-in box to acknowledge that you would like to subscribe.
Thanks for signing up!
Keep an eye on your inbox for the latest sports news.
Sorry!
There was an error processing your subscription.
The class of 2020 rankings saw a massive update just ahead of the start of the high school...

The Tigers are the overwhelming favorite to take the ACC title yet again

The second of a home-and-home series between the Fighting Irish and Bulldogs will air on C...
The Pac-12 has been in just two of the five editions of the College Football Playoff

Durkin was fired from Maryland last year in the aftermath of Jordan McNair's death

Clemson is an overwhelming favorite to continue its run of ACC championships