Document reveals Northwestern's anti-union dialogue with players
CBSSports.com has obtained a document revealing unionization question-and-answer sessions between Northwestern, players, parents and staffers in early April.
• 6 min read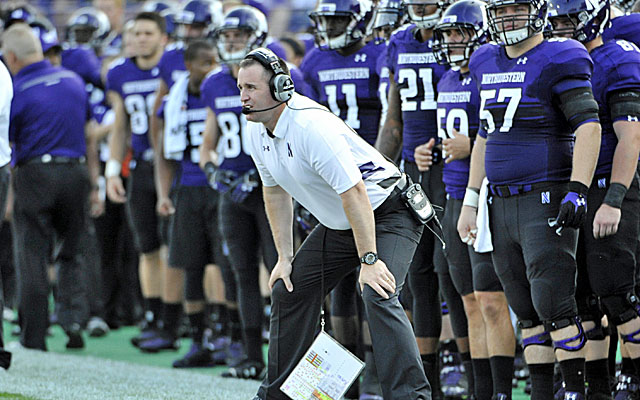 More college football: Dennis Dodd | Jeremy Fowler | Latest news and notes
A school Q-and-A between Northwestern and players considering unionization reveals the Wildcats' anti-union talking points leading up to Friday's National Labor Relations Board vote.
Northwestern and coach Pat Fitzgerald tell players several times they would be "stuck" with a union if they vote to uphold last month's NLRB ruling to become employees, according to the internal document obtained by CBSSports.com.
The 21-page document, dated from April 1-6, includes 72 questions and answers broken down by four categories: Player Questions, Parent Questions, Staff Questions and Background Questions.
Northwestern, Fitzgerald and the school's legal team compiled the file to help inform players on their voting decision. Players, parents and staffers could submit questions in an anonymous drop box or through various forms of communication such as email, phone calls or in person. Most answers appear to be from Fitzgerald directly.
"This is not what we wanted," a player says, according to the document. "How can we get back to being students and not employees? Specifically student athlete status and not employees."
Fitzgerald/Northwestern answer: "Unfortunately, the petition has been filed, and the regional director has ruled that the players are employees. Northwestern agrees with you that you men are students, not employees, and that's why the University is appealing the decision. That process has to go forward, but you can still express your desire to "get back to being students" by voting "No."
When asked by a player what recourse is available if the vote passes and a player wants out, Northwestern said they would be "stuck with the union for a minimum of one year, even if everyone changed their mind."
"And if the union tells you they would just walk away if the players change their mind, don't believe this for a minute," Northwestern says. "It is extremely difficult to get rid of a union once it is voted in."
Northwestern team spokesman Paul Kennedy verified the authenticity of the document. Northwestern is protected from releasing public records because it is a private school; CBSSports.com obtained the document independently. As part of the guidelines of the union process, Northwestern can inform players but can't make promises or threats or engage in speculation.
College Athletes Players Association president Ramogi Huma, who has reviewed the document, said he believes it was sent to all scholarship football players and their parents. CAPA recently met with the players in Chicago.
The player vote is Friday. Players can submit a vote between 6 and 7:30 a.m. and 10 a.m. to noon at the N Club on campus, according to the document.
The "Background" section covers the school's protocol if players strike: "Northwestern could potentially bring in replacement players, perhaps even asking the walk-on football players to cross the picket line," and the tension from such a situation would be "unprecedented and not in everyone's best interest," the school states.
The players' questions cover several topics but are general in nature, none of which elicit a disdain for the current system. A few topics include:
Daily interaction with the coaching staff under a union agreement.
Whether to address media about union status.
Whether the school must comply with union demands after a majority vote (No, "provided we've bargained with the union in good faith," Northwestern says).
Next steps for players wishing to communicate his views to help sway voters to his position.
The union's claims about what Northwestern can cover medically or financially via a scholarship.
Whether players are still employees if the union is voted down.
Whether Fitzgerald would step down if a union succeeds (Fitzgerald says he's excited about coaching Wildcats in 2014 "regardless how the union vote turns out.")
Mechanisms for change if players vote no.
Whether unionized players could go home for a family emergency like they can now.
When asked if a player that votes "no" is still part of a union if it gets majority vote, Northwestern confirms yes and adds that the player would be "stuck with whatever the union negotiates." Northwestern tells a player that the current benefit of going home for a family emergency might not be available after a majority vote because "that would be subject to negotiation with the union." "The union's agenda, which is set by the union leaders, may not take into account the specific things that are important to you as an individual," Northwestern states Fitzgerald later adds, "I don't think I have EVER denied or discouraged any player from taking the time they need for important personal matters."
When asked about non-union mechanisms for change, Northwestern cites the looming NCAA changes giving power to the five major football conferences and the school's longstanding advocacy for student rights -- leadership in maximum allowable benefits to student-athletes, the team's "Leadership Council," the school's participation in the Student-Athlete Advisory Committee, Fitzgerald's position on the AFCA board and athletic director Jim Phillips' election as president of National Association of Collegiate Athletic Directors. Voting no would help players "pursue this alternative path to continue the national discussion," says Northwestern, adding that electing a union will not give players immediate access to NCAA reform. "I ask that you let history be your guide, and give Northwestern and me an opportunity to prove that we deserve your trust and confidence as you consider your vote."
According to questions from players, the union tells them Northwestern could pay for medical expenses after they leave Northwestern and pay for school for "up to six years" after eligibility expires. Northwestern says the last part is "not quite accurate" in part the NCAA used to impose a six-year cap on aid for completing coursework but doesn't anymore. Fitzgerald adds Northwestern almost always graduates its players on time.
One parent asked: "Have the kids been given the platform to express why they think this is necessary?" Northwestern says it has stressed open communication and encouraged players to speak openly about the union.
Northwestern tells parents change will happen faster through NCAA reform than through unionizing, which could "take several years before the issue whether our players are employees entitled to unionize finally is resolved."
Both parents and staffers ask about the issue of taxation for employees on scholarship, and Northwestern says it's a complicated issue that ultimately would be up to the IRS. Northwestern adds the taxation issue is one of many uncertainties with unionization. "Anybody who tells you that they do know how this will all play out is fooling themselves," Northwestern said.
Staffers ask whether players understand that other teams/schools aren't impacted, only Northwestern, to which Northwestern says "absolutely right." Staffers also ask whether a coach can discuss how taxes personally affect players or "facts (on the matter) as we deal with them?" (Northwestern says coaches can if comfortable)
When asked by a staffer what Northwestern does for concussion prevention, Northwestern says it takes "every possible step" to reduce risks with independent doctors and certified athletic trainers on hand for every practice while following "specific protocol" for concussion management.
When asked by players about how to handle the "switch of opinion with the media" if the union goes through, Northwestern doesn't really answer but cites how players have "said all along that they have been treated extremely well by Northwestern University" and hopes the players vote no. "We agree with the players who have spoken out already to say that 'Northwestern University, specifically the athletics department and the football program, has given players every opportunity within their power to succeed, not only on the field, but in the classroom and after graduation.'"
Northwestern tells players that it hopes they are always comfortable talking to coaches but parts of that the dynamic might have to be negotiated in collective bargaining.
CBS Sports HQ Daily Newsletter
Get the best highlights and stories - yeah, just the good stuff handpicked by our team to start your day.
Please check the opt-in box to acknowledge that you would like to subscribe.
Thanks for signing up!
Keep an eye on your inbox for the latest sports news.
Sorry!
There was an error processing your subscription.
The lawsuit claimed Colorado officials failed to properly address domestic violence claims...

The cupboard isn't bare in Tuscaloosa

Media members are now on the record for their picks for the 2018 season
Bubba Cunningham believes his coach's remarks were 'poorly communicated'

Ball is still life for Malzahn, but he now has some space to be himself as he leads the Ti...

Swinney is happy to have his current quarterback situation