Documents appear to show improper NCAA involvement in USC case
NCAA trying to keep documents sealed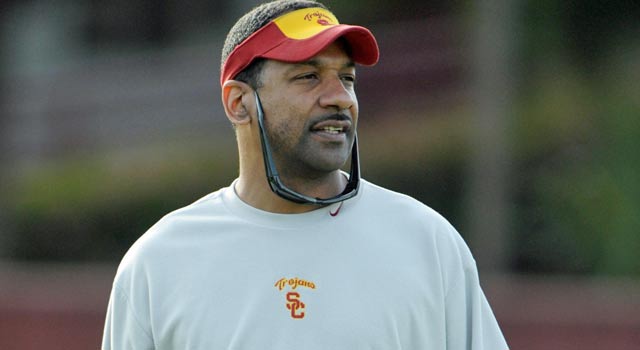 Former USC assistant Todd McNair is suing the NCAA for defamation of character.
(US Presswire)
Documents that the NCAA is aggressively trying to keep under seal appear to show improper involvement by NCAA staff and committee members in the landmark USC decision more than two years ago.
A judge's decision made public last week -- and obtained in full by CBSSports.com -- shows that at least three persons may have improperly tried to influence the NCAA's powerful infractions committee to find former USC assistant Todd McNair complicit in the Reggie Bush case. Lawyers for McNair are trying to show the association violated its own rules and procedures in investigating their client.
Two non-voting members of the NCAA infractions committee and NCAA staffer allegedly tried to influence voting members inside the 10-person committee. The judge's decision contains excerpts of emails that he has determined show "ill will or hatred" toward McNair.
McNair is suing the NCAA for an undisclosed amount for defamation of character citing irreparable damage to his career. The information was disclosed after a motion by NCAA lawyers to dismiss the case was denied.
Information in Judge Frederick Shaller's decision reveal in detail the apparent lengths the NCAA went to cast McNair -- as one NCAA staffer put it  -- as "a lying morally bankrupt criminal, in my view, and a hypocrite of the highest order."
The duties of that staffer, believed to be infractions committee liaison Shep Cooper, are basically administrative -- to assist the committee on infractions on their needs and gathering information. Cooper is a former NCAA enforcement rep.
Shaller said that evidence provided by McNair's attorneys show the NCAA had a "reckless disregard for the truth." Emails between Cooper and committee members Rodney Uphoff, a Missouri law professor, and Roscoe Howard, a former U.S. attorney, were circulated "covertly" in violation of NCAA rules according to the document.
Shallers' decision uses only last names "Cooper," "Uphoff" and "Howard" but the document identifies by their NCAA duties and titles relevant to the case.
The document also refers to a four-page email Howard wrote to infractions committee members trying to persuade them that McNair lied numerous times. The entire email is not included in last week's decision but is summarized by Howard saying, "I hope none of you was insulted by this rant … USC's approach to this case I have found very troubling and downright insulting."
Shaller, a USC grad, already has concluded McNair has proven "actual malice" on the NCAA's part in the lawsuit. McNair contends that false information produced and gathered by the NCAA was central to his appeal that was denied by the association in 2011. He sued the NCAA later that year.
In finding McNair and USC guilty of rules violations, the NCAA used a phone call between the coach and would-be marketer Lloyd Lake, a convicted felon, as evidence. The NCAA concluded that Lake's description of the call was credible and rejected McNair's version.  An NCAA investigator got the year of the call wrong (2005, instead of 2006) while interviewing McNair.
The NCAA admitted it had telephone records showing that Lake initiated the call, contrary to his testimony to the association. Lake told the NCAA McNair had called him in early hours of Jan. 8, 2006. That conclusion according to Shaller's decision "could reasonably cast doubt on the occurrence of the … conversation." The NCAA "should have known" parts of the infractions report regarding that call were "demonstrably untrue."
Largely on the basis of that call and Lake's testimony, McNair was found to guilty of unethical conduct by the NCAA. Shaller's decision says McNair's attorneys had proven the NCAA infractions report on USC "contained material false statements regarding" the phone call.
An email from infractions committee member, Eleanor Myers, admits to a "botched" interview with McNair according to Shaller's decision.
On the basis of those issues Shaller said last week he would unseal the entire McNair inquiry waiting 30 days to give the NCAA time to file an appeal. The public's access to the file could reveal the inner workings of one of the most contentious cases in NCAA history. Bush was found to taken benefits and cash from two would-be marketing agents.  The school was hit with a two-year bowl ban and the loss of 30 scholarships over three seasons. That particularly penalty has two years to run.
McNair was given a one-year show cause order by the NCAA which his lawsuit contends damaged his reputation such that he hasn't been able to find work in his chosen field. McNair, a former NFL player, was a Trojans assistant from 2004-2009.
The lawsuit was filed in Los Angeles. The fact that Shaller's undergrad degree is from USC is not necessarily considered a conflict in legal circles. Shaller would have to have a personal interest in the outcome of the case.
The NCAA infractions committee hears testimony from enforcement officials and the accused before assigning penalties in infractions cases. The enforcement and infractions process was streamlined last month by the NCAA. 
CBS Sports HQ Daily Newsletter
Get the best highlights and stories - yeah, just the good stuff handpicked by our team to start your day.
Please check the opt-in box to acknowledge that you would like to subscribe.
Thanks for signing up!
Keep an eye on your inbox for the latest sports news.
Sorry!
There was an error processing your subscription.
The lawsuit claimed Colorado officials failed to properly address domestic violence claims...

The cupboard isn't bare in Tuscaloosa

Media members are now on the record for their picks for the 2018 season
Bubba Cunningham believes his coach's remarks were 'poorly communicated'

Ball is still life for Malzahn, but he now has some space to be himself as he leads the Ti...

Swinney is happy to have his current quarterback situation