Dodd's Power Poll: ACC back? Maybe; but SEC wagon's still running
Don't look now, but three ACC teams are in the top 12 of this week's Power Poll. Miami, coming in at No. 12, gets its biggest win in years.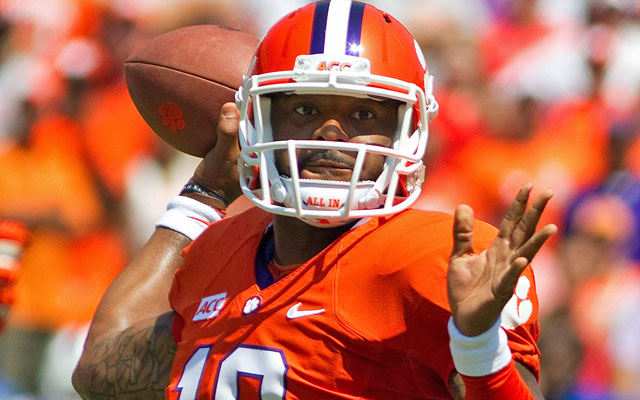 On the season's first Shakeout Saturday, we learned these truths ...
•There are some third graders who have yet to read the following sentence: It was not particularly a good day for the SEC. Will Muschamp has to get the offense fixed. Florida tumbled eight spots in the latest Power Poll after losing/giving a game away to Miami.
In the second week of September, the top three teams in the East (including Georgia and South Carolina) each have a loss. Samford led Arkansas in the third quarter.
It's not time to jump off the bandwagon just yet. Something called Alabama-Texas A&M this week should get the nation's attention transfixed again on the Strength Everywhere Conference.
•Flaws and all, Michigan, No. 11 in the Power Poll, seems to be the favorite in the Big Ten's Legends Division. You know what that means. Devin Gardner is a Heisman candidate. The same goes for Jeremy Gallon and the Biletnikoff Award. Taylor Lewman already was an Outland candidate. If this team ever lives up to AD Dave Brandon's marketing of it, a Big Ten championship game may be in its future. At least.
•The ACC is at least resurgent, if not back. Yes, that's three teams in the top 12 of the Power Poll. Florida State and Clemson are championship contenders. Miami just had its biggest win in years. Holy Swofford, Maryland and Duke are both 2-0 too.
•We have our first hot seat coaches of the season. Actually, they're not much different from the hot seat coaches before the season.
They were booing USC's Lane Kiffin at the Coliseum in a depressing 10-7 loss to Washington State. BYU ran for the most yards in its history at the same time Texas gave up the most rushing yards in its history. Things don't look rosy for Mack Brown with -- in order -- Ole Miss, Kansas State, Iowa State, Oklahoma and TCU coming up.
•The nation's seventh-leading rusher is a quarterback, BYU's Taysom Hill. That's nothing. The nation's leading rusher is a Carrier -- New Mexico's Kasey Carrier.
Onto the season's second Power Poll ...

1.Ohio State (1): How to place a Buck's heart in his throat? Tell him Braxton Miller sat out the last three quarters against San Diego State with a left knee sprain.

2. Alabama (2): Somewhere in his secret lair on the outskirts of Tuscaloosa during the bye week, Dr. Saban was devising a plan to rule the world ... and beat A&M.

3. Oregon (3): Ducks' furthest trip East since 1970 results in an easy march through Virginia.

4. Stanford (4): "There's not a lot of teams that look like us anymore," coach David Shaw said after season-opening win over San Jose State. Not too many teams have been to three straight BCS bowls either.

5. Clemson (5): Tajh Boyd gets the wind knocked out of him. Tigers blow past South Carolina State.

6. Louisville (6): Teddy Bridgewater running out of digits to count his touchdown passes this season (nine).

7. Florida State (8): FSU enjoys bye week to contemplate spectacular start. Only 41 days left until Clemson.

8. Texas A&M (9): Shots fired: Johnny Footloose tunes up for Bama with 436 yards total offense and three passing touchdowns.

9. LSU (10): Jeremy Hill quietly makes his debut while Zach Mettenberger loudly throws for school-record five TDs vs. Alabama-Birmingham.

10. Georgia (12): Who says Dawgs can't win a big one? One-for-two in that category this season.

11. Michigan (18): Devin Gardner pretty much the only quarterback ever to wear No. 98. Here's why.

12. Miami (NR): Outgained almost 2-1 by Florida, plucky Canes hold on for biggest win in years. Al Golden couldn't be more deserving.

13. Oklahoma State (NR): With Sports Illustrated investigation pending, Cowboys smash Texas-San Antonio.

14. Oklahoma (13): The bad: Quarterback issues. The good: Only one touchdown given up in two games.

15. South Carolina (7): Gamecocks' coaches clash on sidelines at Georgia. "At least they care," says Spurrier.

16. Northwestern (19): Wildcats roll up 34 points and 387 yards -- by halftime -- in beating Syracuse.

17. North Dakota State (15): Not exactly as earth-shattering as upsetting Kansas State, but Bison beat Ferris State for 15th straight home-opening win.

18. Wisconsin (NR): No problem slapping round dregs so far. Back-to-back shutouts against UMass and Tennessee Tech.

19. Florida (11): Carbon copy of last year's Cocktail Party. Gators turn it over five times against Miami.

20. Nebraska (20): That's more like it. Defense returns two pick sixes in dignity-restoring win over Southern Miss.

21. Washington (NR): Yeah, so Huskies moved into Power Poll during a bye week. It's my poll, I'll do what I want with it. Illinois next at Soldier Field.

22. Ole Miss (NR): Just what Texas doesn't need after giving up a school-record 550 rushing yards to BYU -- the Rebels this week averaging 510.5 yards per game.

23. Eastern Washington (22): Eagles continue to be kings of the Beaver State, beat Western Oregon.

24. Baylor (24): Bears averaging 2.7 points per minute of possession, 69.5 points per game.

25. Arizona State (21): Way back on Thursday, Sun Devils opened the season by sacking Sac State. Wisconsin next.
Also receiving love: BYU, TCU, Illinois, Tennessee, Fresno State, Notre Dame, Auburn, Minnesota, McNeese State, Northern Illinois, Arizona.
Dennis Dodd makes his prognostications for the last and most important week of the regular...

Kelly is presently deciding whether to start anew with the Gators or Bruins

There are a handful of conference championship games still to be determined
SportsLine's top college football expert, on a 30-18 run, locks in his top picks for a loaded...

Haynes was 14-45 in five years with the Golden Flashes

True romance isn't dead yet