Does a big bowl surprise create momentum? Or just expectations?
With Oklahoma the consensus Big 12 favorite, it's worth asking: can a big surprise bowl win catapult a team to a huge follow-up season, or just make them overrated?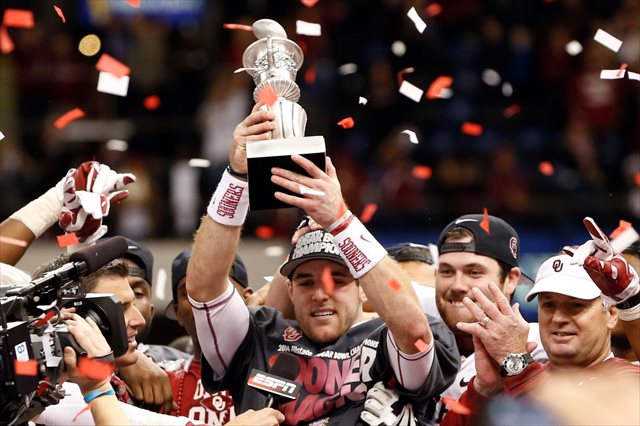 When Oklahoma was established as a 15-point underdog heading into its Sugar Bowl showdown with Alabama last mid-December, no one flinched. No one outside of Norman, anyway -- the Sooners were 10-2 and riding an impressive three-game win streak with upset wins at Kansas State and Oklahoma State, but they were also the same team that had been thumped by Texas, blown out at Baylor, and made to work by the mediocre likes of West Virginia and TCU. 
That is, they were the same team until that night in New Orleans, the night when quarterback Trevor Knight -- who had thrown for only 385 yards against BCS-level competition all season, with a 2-to-3 touchdown-to-interception ratio and 6.2 yards-per-attempt average -- shredded the SEC's top-ranked defense to the tune of 348 yards, 4 touchdowns and 7.9 yards-per-attempt. Behind Knight, the "same team" that scored 28 points combined against West Virginia and Baylor hung 45 on the Crimson Tide, and the second-biggest underdog of the entire 2013 bowl season walked out convincing two-touchdown victors.
Fast-forward eight months, and it's safe to assume the Sooners aren't considered 15-point underdogs to anyone. They're the runaway Big 12 favorite, a consensus choice for the preseason top-5 and a College Football Playoff berth, and the team with the fourth-shortest odds available on winning the whole shebang. As Dennis Dodd wrote for CBSSports.com at Big 12 media days, there's no high quite like a shocking bowl victory high.
But that begs the question: does a team like Oklahoma ride that high through the following season to even greater success -- as seems to be expected -- or come thudding down from it? The prevailing theory has always been that big bowl wins fuel a team's offseason "momentum," but it's not hard at all to think of teams who saw them fuel unrealistic expectations and disappointment, either. Bowl wins don't get much bigger than West Virginia's 70-33 demolition of Clemson in the 2011 Orange Bowl, the driving force behind Geno Smith's appearance on a (totally cursed) Sports Illustrated preview cover and a No. 5 ranking at midseason. Since then, the Mountaineers have gone 6-14.
So, which is it? Will a victory like Oklahoma's power a team to even higher heights the following season ... or just set it up for a bigger fall? To answer that question, I looked through the 2010, 2011 and 2012 bowl seasons to find similar stunners, games in which either an underdog won by 14 points or covered the spread by 21, or a favorite of a field goal or less covered the spread by 21. This approach 1. eliminates any subjectivity about what's a "big" win or not 2. weeds out routine blowouts by heavy favorites. (Alabama crushing Michigan State 49-7 in the 2010 Capital One Bowl didn't change much, if anything, about how Alabama was going to be perceived the following season; it just told us they were way, way better than Michigan State.)
Ultimately, 19 games from those three bowl seasons fit the criteria. Some facts about the 19 teams that won those games:
• Of the five teams to be ranked in the preseason AP top 25 the following season, all five failed to match that ranking in the final AP poll of the season, with three finishing the season unranked. (The lone team from 2009 to post a bowl win that matched the criteria and earn a preseason AP ranking, Nebraska, also failed to live up to a preseason top-10 ranking in 2010.)
• Of the nine Power 5 teams included in the sample, only two -- Baylor and Syracuse in 2013 -- improved on their conference's preseason media projection. Five finished lower than expected, with two finishing exactly where projected.
• Though win totals weren't available for all teams (particularly among the 2011 crop), of the 13 teams that did have an over/under to hit, eight went under their total. (See totals here, here and here.)
Those numbers aren't overwhelming, and though there are some examples of some spectacular pratfalls (Ohio 2013, Troy 2011) teams below the Power 5 level met or exceeded their expectations after a big surprise bowl win about as often as they failed to meet them.
Still, it's worth repeating: of the last six teams to win a bowl game meeting the above criteria and earn a preseason ranking the following year, none lived up to that ranking. Nothing here suggests it's a slam dunk that Oklahoma makes good on its preseason hype ... but disappointment nonetheless seems far more likely given the numbers above, doesn't it?
The 19 games in question, on a case-by-case basis:
2012
1. Louisville (+14) 33, Florida 23, Sugar Bowl. And in 2013 ... the Cardinals went 12-1 but missed out on the inaugural AAC title by losing at home to UCF. Went from 9 in preseason AP poll to No. 15 at season's end.
2. Northwestern (+1) 34, Mississippi State 20, Outback Bowl. And in 2013 ... Pat Fitzgerald's preseason No. 22 team responded to its first bowl win since 1948 by going 5-7 overall, 1-7 in the Big Ten.
3. Texas A&M (-3) 41, Oklahoma 13, Cotton Bowl. And in 2013 ... Johnny Football and Co. lost four regular season games, slipping from preseason No. 7 to No. 18 after the bowls.
4. SMU (+13) 43, Fresno State 10, Hawaii Bowl. And in 2013 ... the Mustangs went 5-7, one win shy of hitting their over and missing a bowl for the first time since 2008.
5. Rice (+1.5) 33, Air Force 14, Armed Forces Bowl. And in 2013 ... the Owls made good on their bowl showing, beating Marshall in the Conference USA championship game for their first outright league title since 1957.
6. Ohio (+7) 45, ULM 14, Independence Bowl. And in 2013 ... the preseason MAC East favorites went 4-4 in league play and 7-6 overall, finishing third in their division.
7. Baylor (+3) 49, UCLA 26, Holiday Bowl. And in 2013 ... the Bears went from outside the AP preseason top 25 to outright Big 12 champs with a stunning 11-1 regular season. 
8. Georgia Tech (+7) 21, USC 7, Sun Bowl. And in 2013 ... posted winning records both overall (7-6) and in the ACC (5-3) but fell short of the 9 wins required to hit their over.
9. Syracuse (+4) 38, West Virginia 14, Pinstripe Bowl. And in 2013 ... the Orange went a surprising 7-6, capping a successful debut season for Scott Shafer with a Texas Bowl win over Minnesota.
2011
10. West Virginia (+3) 70, Clemson 33, Orange Bowl. And in 2012 ... as mentioned above, the bottom fell out in a five-game midseason losing streak from which the Mountaineers have yet to recover.
11. SMU (+3) 28, Pitt 6, BBVA Compass Bowl. And in 2012 ... things went pretty much as they were supposed to for SMU, with the Mustangs going 6-6 in the regular season and 5-3 in Conference USA West (before the shock annihilation of Fresno in the bowl, anyway).
12. Northern Illinois (+1.5) 38, Arkansas State 20, GoDaddy Bowl. And in 2012 ... the Huskies had no problem backing up their bowl rout of the Red Wolves, rolling to a 12-2 record, MAC title, and Orange Bowl berth.
2010
13. Miami (Ohio) (+2) 35, Middle Tennessee State 21, GoDaddy Bowl. And in 2011 ... first-year RedHawks coach Don Treadwell oversaw a swan dive from 10-4 and a MAC championship to 4-8 and a fourth-place division finish. 
14. Tulsa (+10.5) 62, Hawaii 35, Hawaii Bowl. And in 2011 ... Bill Blankenship led the Golden Hurricane to a 7-1 Conference USA mark and an Armed Forces Bowl berth in his first year at the helm.
15. Washington (+14) 19, Nebraska 7, Holiday Bowl. And in 2011 ... the Huskies went 0-5 against ranked teams en route to a 7-6 finish, 5-4 Pac-12. 
16. Northern Illinois (-1.5) 40, Fresno State 17, Famous Idaho Potato Bowl. And in 2011 ... Dave Doeren led the team back from an early upset loss to Central Michigan to a MAC championship, GoDaddy.com Bowl title, and 11-3 record.
17. Illiois (+1) 38, Baylor 14, Texas Bowl. And in 2011 ... the Illini ended the regular season on a six-game losing streak, costing Ron Zook his job after a fifth-place finish in the Big Ten Leaders division.
18. Notre Dame (+2.5) 33, Miami 17, Sun Bowl. And in 2011 ... the No. 16 Irish were upset by USF in their opener and went on to lose four more games, finishing the season unranked.
19. Troy (-2) 48, Ohio 21, New Orleans Bowl. And in 2011 ... the Trojans went a stunning 3-9, ending a run of five bowl appearances in seven seasons, and haven't been back to the postseason since. 
And the four teams that meet the criteria for 2014:
Oklahoma: Covered above.
UCF: Knights upset Baylor as 16.5-point underdogs in the Fiesta Bowl.
Texas Tech: Surprising lack of preseason buzz, it seems, for a team last seen demolishing two-touchdown favorite Arizona State in the Holiday Bowl.
San Diego State: The Aztecs drubbed Buffalo 49-24 in the Famous Idaho Potato Bowl after coming in as narrow 1.5-point favorites, but it's safe to assume that spread would have been larger if the MAC -- which went 0-5 straight-up and against the line in the 2013-14 bowl season -- hadn't been a bit overvalued across the board. 
Georgia Tech has been with Russell Athletic since 1992

The junior will take the snaps for the defending national champions in 2017

MetLife Stadium is about 10 miles away from where the World Trade Center buildings once st...
The Terps will wear these against Indiana on Oct. 28.

The coach of the Eagles isn't here for no science talk

These are the teams that are getting too much -- or too little -- love before the season