Does autonomy make college football Cinderellas a thing of the past?
Are the lines of demarcation between the haves and have nots drawn so clearly that only the kings will rule, prosper ... conque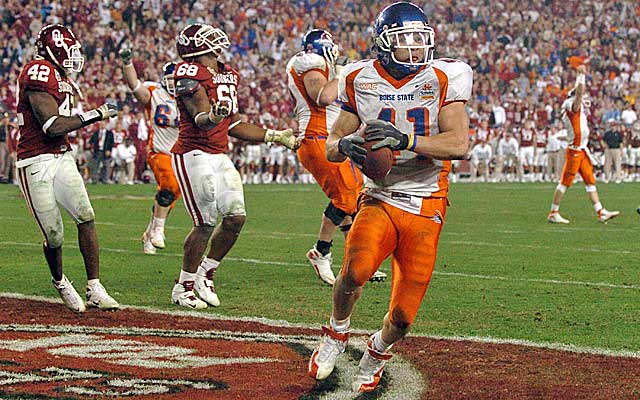 Conference previews: ACC | Big Ten | Big 12 | Pac-12 | SEC
CBSSports.com this week explores the new class separation in college football. Decades in the making, it now threatens to cut off the bottom 60 schools from the top 65 in power conferences. Many think it's happened already. Is that a good thing, a bad thing or just gridiron evolution?
Today: Is Cinderella dead?
Wednesday: 1) Houston goes all in on football. 2) Will Chris Petersen's Boise magic work at Washington? 3) Five Cinderellas to watch in 2014.
Is Cinderella dead?
Are the lines of demarcation between the haves and have nots drawn so clearly that only the kings will rule, prosper ... conquer? Nevermind the excitement of the new playoff era, will the college football world ever be as excited again by an upset on the scale of Boise over Oklahoma or Appalachian State over Michigan?
Old news to some, especially when the only thing that matters going forward are those top four teams. This week a CBSSports.com series will explore the plight of college football's disenfranchised schools, those below the sport's Mendoza Line. There already has been a de facto separation of the Power 5 (Big Ten, Pac-12, SEC, Big 12, ACC) from the Group of Five (MAC, American, Mountain West, Conference USA, Sun Belt) in the Football Bowl Subdivision.
The major powers have almost gerrymandered and legislated half of FBS out of the conversation. There will be one-offs (upsets) on the field but with what impact, what lasting value?
Appalachian State -- author of that 2007 stunner in Ann Arbor -- now plays in the same division as Michigan. The 60 schools in the Group of Five have more money and legally enough access to the playoff, but who are we kidding?
"College football is being defined as the Big Five and everybody else," said the Colonial Athletic Conference's Tom Yeager, the dean of Division I commissioners.
It has been that way for a while. Those Power 5 leagues collected 85 percent of the revenue in the BCS era. While the split for the Group of Five has increased six-fold -- to $75 million per year -- the same competitive realities apply.
Since 1998, no non-BCS school has played for a championship. Only one of those would have participated in a four-team playoff based on BCS standings. That would be TCU in 2009 and 2010. That would be TCU, which parlayed that success into becoming one of the big boys, now beginning its third season in the Big 12.
Students and states heavily subsidize several of those Group of Five schools. Houston students passed a referendum that will add $45 per semester to their fees and bring in $3.5 million per year to the athletic budget. They're not no doubt hoping to capitalize on momentum created by the Cougars' BCS run under Kevin Sumlin three years ago.
"Students really felt that [fee] was a return on their investment," said student body president Charles Haston.
The economic plight of Sun Belt Conference schools narrows the focus. The athletic revenues of the leagues 12 schools range from 72nd to 187th nationally according to the USA Today database. The league's average athletic revenues -- $21.1 million - is outstripped by at least 12 of the 14 SEC schools in football revenue alone, according to latest figures.
Current average spending per football player is more than 3 1/2 times higher in the SEC than the Sun Belt. Even more compelling: The Sun Belt's average per player in 2012 was still less than the $61,000 the SEC spent in 2005.
Nick Saban is among almost half the Power 5 coaches who prefer not playing the Group of Five. The Big Ten won't schedule FCS (formerly Division I-AA) schools.
At the lower end of FBS it is a cruel circle of life. The most cash-strapped programs are playing football to finance a continuation of playing football.
Athletic segregation and separation have not been subtle. The selection committee refined its criteria last week, reiterating an emphasis on strength of schedule.
"If [strength of schedule] matters in the slightest bit, you will never see a mid-major in the playoffs. Never," wrote Dave Bartoo, proprietor of cfbmatrix.com.
Going forward, the best of the Group of Five is guaranteed one spot in the New Year's Six bowls (Rose, Peach, Fiesta, Cotton, Orange, Sugar). That's better access than the BCS, which required a predetermined standard be met.
But will we care as much if Central Florida beats Baylor or Utah (now in the Pac-12) beats Alabama? Been there, done that.
"There's still room for that 12-0 Cinderella," Mountain West commissioner Craig Thompson said. The discussion, he says, will extend all the way to the top four in that playoff.
"The great debate will be ... the selection committee will say, 'Damn, they're 12-0 but who did they play?'" Thompson added. "'But this [Power 5] team is 10-2 but they beat Oregon State and Cal.'"
Thompson and American commissioner Mike Aresco probably represent the best of the underclass. Their reconfigured conferences contain four teams (Boise, UConn, Central Florida, Cincinnati) that have played in BCS bowls.
"That's part and parcel of what helped grow the popularity of the game," MAC commissioner Jon Steinbrecher said when presented the Cinderella question. "It made all our games national games. What we did had an impact on the Pac-12 and Big 12 and vice versa."
Still, the Power 5 have the overwhelming majority of money, talent and all of the conference networks. Those stakeholders argue this is their manifest destiny.
Those commissioners leveraged their power to push through autonomy. They now control the major bowls, not the other way around. Their leagues recruit most of the talent. (Ninety-nine of the top 100 recruits went to Power 5 schools in 2014)
The sport is built on accepted monopolies. In the 16 years of the BCS, only 12 teams won championships. Only 17 played for one out of what is now 129 FBS schools.
From here on, is it possible for the little guy to rise up, knock off a major power? Sure it is, but upsets only seems to antagonize the big boys.
Historically, college football does not abide the underclass. There was a time when Princeton and Oklahoma competed in the same division. That was "solved" by creation of Division I-AA (now FCS) in 1978. The last "have not" to win a national championship was BYU in 1984. Two years ago, the once-grand conference the Cougars played in -- the WAC -- ceased football operations.
"Now there is such a big separation with those 65 teams now," Yeager said. "That's what's tough. Their guys are working just as hard as our guys are working. But the separation is there."
The BCS era was both a boon and a curse for the underdog. If not for the BCS, TCU and Utah arguably wouldn't have ridden momentum into Power 5 conferences. But the realignment tsunami didn't take Boise State along with it. That despite the Broncos winning as many BCS bowls (two) as Michigan, Georgia, Auburn and Oregon.
"It is," former Boise coach Chris Petersen said of moving to the big time at Washington, "like starting over."
The what-ifs are agonizing. What if Houston had finished off a 13-0 season in 2011 instead of being upset by Southern Miss? The Cougars finished 12-1, plummeting from sixth to 19th in the BCS. That was the difference between a possible BCS bowl and the TicketCity Bowl.
"It might have an impact," Sumlin said impassively, "Maybe, maybe not."
Like Petersen and Urban Meyer before him, Sumlin has moved up from that underclass to a football power. Viewpoints change.
"Where's the equal playing field? Is it just the football field or is it financially? I think that's going to play itself out in these next couple of years," Sumlin said.
"We live in America, right?"
The power players have been brutally honest in their assessment. The value of a Texas scholarship -- AD Steve Patterson said earlier this month -- would place players in the top third of U.S. household income.
But college football doesn't do socialism. It's not about sharing. It's about the ruling class, controlling most of the money and power. Who's got it, what they're going to do with it and how?
"There's going to be a $10 million [a year] coach," Baylor AD Ian McCaw said.
This from an administrator who has given numerous raises to his ascending coach Art Briles. No one at the top is apologizing. There are still only 20 or so athletic departments that make money.
Essentially, they all go by the same economic philosophy. It takes money to make money. The possibility that Big Ten schools may be making $40 million per year soon doesn't keep administrators from operating on a thin profit margin.
In fact, drunken sailors at closing time have been more frugal.
"What's happening, resources are more plentiful with the TV contracts," McCaw said. "That's causing people to invest more dollars in football because that [supports] every athletic program. ... In the non-profit world, when revenue goes up, you find a way to invest."
Starting in 2003, those power conferences consolidated their power with another round of realignment, essentially becoming media conglomerates more than leagues. Clear lines were drawn. The commissioners themselves created the labels: BCS vs. non-BCS.
Conference networks emerged as those commissioners stacked inventory (games) down separate silos (extra cable fees to see those games). It all sounds so clinical, but all of it was based on our rabid interest.
Meanwhile, financial pressures have never been greater. Extra costs for a full training table, cost of attendance and the O'Bannon ruling likely will add a seven-figure expense to budgets already stretched thin. Idaho plays in the same NCAA division with Alabama despite an annual football budget ($4 million) that is 57 percent of Nick Saban's annual salary.
The projected 2014 net revenue of the Big Ten Network ($102 million) equals 40 percent of the entire Sun Belt's athletic gross revenue.
In a way, class separation doesn't seem a logical outcome from a BCS era that breathed life into Cinderella.
Perhaps it will take something radical. SMU coach June Jones raised eyebrows last month when he suggested a spring season for the Group of Five. While it sounds incongruous -- what about recruiting? Bowl games? -- so did the BCS a few years ago.
"... If we don't think that way as a group of have-nots," Jones said, "we're going to get left behind."
Thirty years ago Steve Ehrhart was legal counsel and later executive director of the USFL. At the same time Jones was starting his coaching career as an assistant in the league. The short-lived USFL was known mostly for signing underclassmen and winning a landmark suit against the NFL. But the league's unique spring season also produced better ratings than Major League Baseball, according to Ehrhart, currently the Liberty Bowl executive director.
There's no doubt a 60-team entity suddenly available on the open market would be a valuable property. Networks lap up live programming. We've turned 12-year old Little Leaguers into product. Millions sit slack-jawed weekly watching "The Bachelor."
Reality sells. How cool would it be watching an Easter weekend doubleheader featuring SMU-Houston and Fresno State-Boise?
"I would never sell June Jones short on his creative ability," Ehrhart said.
Division, conference and playoff races are on the line over the holiday weekend

A look at the weekend that was in the world of college football

Rashaad Penny etched his name in San Diego State's history books
Kelly led Oregon to a national championship appearance and is an innovator in the game

This week's AP Top 25 college football rankings remained largely unchanged

Mora went 46-30 since joining UCLA in 2012, taking the Bruins to four bowl games