Does Missouri get an SEC mulligan?
An injury-marred Missouri team underwhelmed in its 2012 SEC debut. Coach Gary Pinkel and his players aim to double the five-game win total.
• 2 min read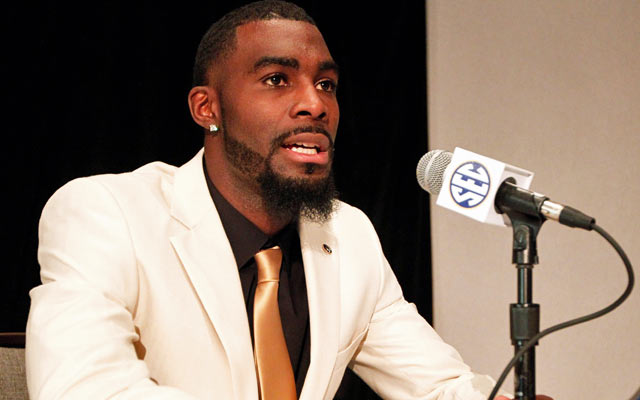 HOOVER, Ala. -- Missouri was the league's best-dressed team during the first session of SEC media days. Wide receiver L'Damian Washington's cream-colored jacket with a black shirt and gold tie was a nice play. Quarterback James Franklin would make Tom Ford proud with his black-and-silver-striped shirt, black jacket and silver bow tie.
But enough about that, fellas. How are you possibly going to compete in the mighty SEC? Boy, are you overmatched! Is Gary Pinkel still there? What a coup Texas A&M was for the league. The Aggies sure do amplify the Tigers' current outlier status.  
That might as well have been the underlying message to Missouri coach Gary Pinkel and his players on Tuesday after the media asked several different ways how the Tigers might transition to the SEC after a 5-7 debut season in the league.
The stigma stems from SEC arrogance and bad timing. Texas A&M sauntered into the league with 11 wins and a Heisman-winning quarterback at the same time the Tigers struggled. Meanwhile, the proverbial hot seat appears firmly lit for Pinkel, all while A&M's Kevin Sumlin garnered NFL looks this offseason.
Going 5-7 is not an unmitigated disaster, but the Aggies' rise accentuated the Tigers' problems. Injuries to Franklin and others affected the offense's ability to impose its will. A year ago, Missouri lost by an average of 19 points to SEC teams that finished with a winning record (all six of them).
Yet Washington has goals for a 10-win season and invites the league's arrogance from seven straight titles.
"Fuel to the fire, right?" he said.
Before Missouri can show it belongs, it must learn to survive. A reported six different rotational offensive linemen missed time due to injury last season. So much for stopping SEC fronts.
As a result, Pinkel says he'll completely avoid two-a-days in August and will reduce hitting. The last two years created the worst injury stretch Pinkel's seen in 35 years of coaching, he says.
"I want to try and do something to help that," Pinkel said. "And that's what we're doing."
From 2005-11, Missouri averaged nine wins per season. This is not a throwaway program. But doing it in the SEC might take some time, especially in recruiting, where Mizzou is ranked 13th in the league and 44th nationally in the 2014 class, according to 247Sports.com. In 2013, the Tigers were last in SEC recruiting, according to those same rankings.
With the erratic-yet-talented Franklin and playmakers Henry Josey (out with knee injury last year) and highly touted receiver Dorial Green-Beckham, there's enough firepower to manufacture points.
But one SEC coach who spoke on the condition of anonymity said Mizzou's linebackers last season were "very average." Outside of first-round draft pick Sheldon Richardson, Missouri lacked the "physical freaks" many SEC defenses carry on Saturdays, the coach said.
Perhaps a few recruiting classes can change that.
"It's a line of scrimmage league," Pinkel said. "We knew that coming in."
Staying healthy while navigating a manageable schedule (toughest nonconference game might be Indiana; no Alabama or LSU from SEC West crossovers) could give Mizzou the chance to make the debut it wanted a year ago.
"We really want to change that perception," linebacker Andrew Wilson said. "If you want to be the best, you have to beat the best."
Josh Adams and Derrius Guice helped their teams to big wins in Week 8

The Eagles have started winless in Summers' second season and were 5-13 overall under him

The Fighting Irish are up to No. 9 in the latest edition of these college football ranking...
The Fighting Irish are getting more attention after throttling USC 49-14 Saturday night

Jerry Palm is back to look at where the bowl games stand after the midway point of 2017

The sophomore leads the SEC in total offense and passing