Does Notre Dame have any BCS magic left?
Notre Dame got outclassed by Oklahoma and Michigan but could still make a BCS bowl if the Irish win out.
• 3 min read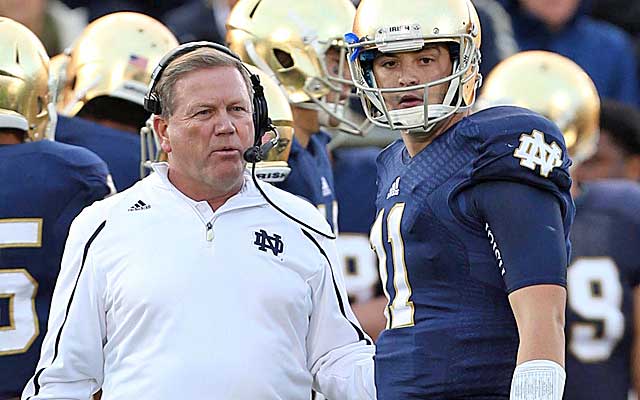 Notre Dame's starting quarterback from last year is throwing passes blindfolded in San Diego and discussing why he cheated on a test. 
Tyler Eifert is a Bengal. Brian Kelly was almost an Eagle. Manti Te'o is a google search for how not to date. 
You see where this is going. The Irish's momentous wave from 2012 washed out long ago. 
But look closely, ask around and you might find it. 
On a much smaller scale, it's happening again. Notre Dame might have enough mojo left in the pocket of Kelly's blazer to make a BCS run. 
Outclassed by Michigan/Oklahoma early in a season that probably won't live in South Bend folklore, Notre Dame still can find creative ways to win. Somehow finish 10-2, and the BCS math might slide Notre Dame into the top-eight slot it needs to qualify as an at-large, especially if the SEC cannibalizing itself and Stanford, Notre Dame's opponent on Nov. 30, beats Oregon. 
"This is still a find-a-way team," said offensive tackle Zack Martin, whose Irish play Navy on Saturday. 
On paper, the Irish looks like a 9-3, maybe an 8-4 team. Stats don't tell the whole story, but it's noteworthy that in 11 major statistics -- total offense/defense, rushing O/D, passing O/D, total O/D, third down O/D, turnover margin -- Notre Dame ranks outside of the national top 30 in all but one of them (scoring defense, 28th). That's nothing inside of the top 25 and only two appearances in the top 40 (total D, 32nd)
Save the NFL-caliber defensive line tandem of Stephon Tuitt and Louis Nix, is this team particularly great at anything? 
But there have been a few games that had the 2012 vibe, suggesting maybe the Irish can get weird again. 
Arizona State has pounded Washington and Washington State by a combined score of 108-45. Sun Devils quarterback Taylor Kelly didn't throw a late-game pick-six against those teams, but of course he did against Notre Dame in a neutral-site loss to the Irish early last month. The Sun Devils are legit. Notre Dame found a way. 
The USC-Notre Dame game used to be must-see TV but was camouflaged nationally by Clemson-Florida State and other compelling matchups a few weeks ago. The game had minimal buzz. But there was Notre Dame, making a late-game stand on defense. Joe Schmidt made a timely open-field hit on third down to dislodge the ball from Jalen Cope-Fitzpatrick's clutch. 
Where did that hit come from? Was that a Notre Dame hit? This team isn't elite but it also won't go away. There's still a beast somewhere in there. Several players remember what it takes to sustain a successful season. 
"We're fighters," Martin said. "That's what never changed. We never worried about all the other stuff." 
This isn't Notre Dame's year, they say, but it sort of is. In some ways, the Irish are still on pace for an overachieving season. They lost Golson because of wandering eyes, lost linebacker Danny Spond for the season, and Nix will miss another game. Cam McDaniel's viral-worthy smile doesn't match his 4.5 yards per carry. 
The Stanford game looms, and this isn't the Stanford that got stopped on 4th-and-1 in South Bend. This is the Stanford that barrels into the end zone. Stanford is tough to stop when it sticks to its power game. 
But Nix still sees improvement every week. You might not see it, he says -- but he does. 
"We know we had some swag about ourselves last year and we're getting that back," Nix said. "Different team, different people, different guys stepping up. We're getting it back in a different way." 
What way is that? 
"You just keep working hard, man…No milk in this chocolate. Just keep playing." 
A glass of chocolate milk has roughly 209 calories, which is about the same number of ways that Notre Dame could miss a BCS bowl.
But what if the Irish find a way?  
Trust the Process as Tom Fornelli leads you toward his best bets for Week 13 of the season

This edition of the sport's greatest rivalry will go down in history as one of the most im...

Dennis Dodd makes his prognostications for the last and most important week of the regular...
Kelly is presently deciding whether to start anew with the Gators or Bruins

There are a handful of conference championship games still to be determined

SportsLine's top college football expert, on a 30-18 run, locks in his top picks for a loaded...