Does Oklahoma State rout of Baylor open door for Mike Gundy's exit?
Oklahoma State's defense and chilly currents short-circuit Baylor's high-profile offense. But does the big win make Mike Gundy a target for the USCs and Texases of the world?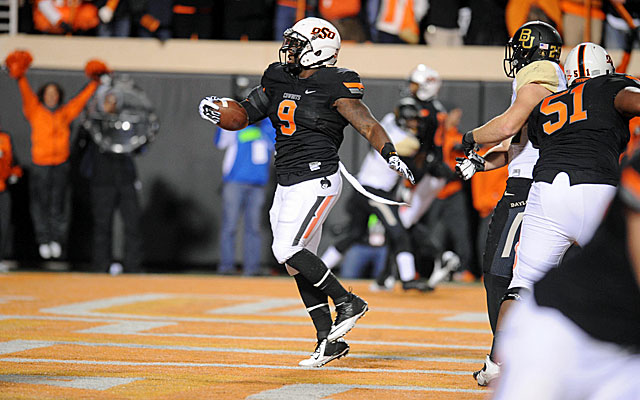 STILLWATER, Okla. -- Stillwater was a mother for Baylor.
Mother Nature, for starters.
If it only could have ended with the weather conditions. Oklahoma State played its significant role too on a cold, blustery night that made the national championship picture just a bit clearer.
The wind blew. Baylor was blown out.
The nation's highest-scoring team never looked so dysfunctional this season in a 49-17 loss to the No. 11 Cowboys. Oklahoma State's defense and a bitter north wind stiffened at the wrong time for the No. 3 Bears.
Their national championship hopes are done. Their conference title chances might not be far behind. Baylor fell into a three-way tie for the Big 12 lead at 6-1 with Texas and Oklahoma State. However, the Cowboys control their own destiny and can snag the Big 12's BCS berth by beating Oklahoma on Dec. 7.
The loss wasn't as surprising as how it was shaped. Defensive coordinator Glenn Spencer's defense basically loaded the box against Baylor, daring quarterback Bryce Petty to beat the Cowboys.
The nation's most efficient passer couldn't.
The result positioned Mike Gundy to possibly become Big 12 coach of the year and begged the biggest question of the conference's season. How did Gundy and the Cowboys lose to West Virginia on Sept. 28?
The 30-21 defeat to a 4-7 team is all that stands between Oklahoma State and a national title shot of its own. As it is the Cowboys can chase their second Big 12 title in three years.
The result also positions Gundy beyond Stillwater. Why would he leave all this? USC is open. Texas and Florida might be. Those are all clear career upgrades -- even with all the millions T. Boone Pickens has and will throw at the program.
Why would Gundy leave all this? The stadium that bears Pickens' name sold out for the first time Saturday in the four years since it was remodeled.
You want to talk upgrades? There's not a question the Trojans, Longhorns or Gators are destination jobs.
Gundy also has one of the wheelingst, dealingest agents in the country, Jimmy Sexton. If nothing else, what Gundy is about to accomplish -- those two conference titles in three years -- are going to net him a big raise.
At least.
Even for someone who doesn't care much about money, that's a lot, especially Gundy, who is being paid an average of $3.7 million through 2019.
With those millions, Pickens wants to beat Texas. Gundy could soon be at Texas cutting out the middle man.
Meanwhile, the nation is down to five unbeaten teams. Baylor isn't one of them after its celebrated offense stalled. The Bears didn't score in the first quarter for the first time since the third week of the 2012 season. It went a span of nine consecutive plays over three possessions gaining two yards or fewer.
It came within a few seconds of being shut out in the first half for the first time in two years.
At times the game resembled a bad Star Trek sequel. The quarterbacks looked like they had switched bodies. Oklahoma State's Clint Chelf completed his first 11 passes helping his team to a 14-0 lead. Even when Petty looked somewhat good, he stumbled. Literally.
On the Bears' second possession, Petty was running untouched 28 yards for the game's first touchdown. But he fell on his own at the Cowboys' 1. Two plays later, Shock Linwood fumbled the ball away.
An offense that had been averaging 61 points and 684 yards per game fell flat as a whole at the worst possible time.
The cold -- a 26-degree wind chill at kickoff -- and hostile environment seemed to close in on the Bears. Baylor still hasn't beaten a team on the road ranked this high since 1985. The Bears finally started looking like a team that was missing its top two tailbacks (Lache Seastrunk, Glasco Martin), its best receiver (Tevin Reese) and its left tackle Spencer Drango because of injuries.
For Gundy it was reinforcement that he may be the Big 12's best coach at the moment. The former national coach of the year (2011) called a 48-yard throw pass that led to a third-quarter touchdown.
Gundy broke out fullback Kye Staley, who scored twice on short runs. The sixth-year Cowboys senior came into the game with two career carries. Arriving here in 2008, Staley see didn't the field until his fourth year in the program.
But it was Staley's first-half scoring run that got Oklahoma State going. Up until that point, Staley had two career carries.
The Cowboys started as a clunky collection of parts. Chelf didn't become the full-time starter until Oct. 19 vs. TCU. The offense improved markedly. Since that loss to West Virginia, the passing game went from 38th nationally (258.2 yards) to 17th (314.3).
The 400-plus yards passing Saturday were the second-most this season. They were most, though, in a game when it counted the most.
That would be at home, in late November when a conference title is on the line and a cold, cold wind is blowing. A perfect time for the Cowboys to blow away the Bears.
Byron Murphy reportedly sustained a foot fracture in practice

GoDawgs247 previews big-time college football recruits headed to Athens

Dig below the surface and you'll find a lot of intriguing matchups on the slate this Satur...
SportsLine tapped into its Vegas sources and found out pro bettors are all over No. 8 Michigan...

An early-season Big 12 game already has major conference and national implications

Top-ranked Alabama hits the road to take on upstart Vanderbilt in Nashville on Saturday