If men like Jack Blair aren't in demand, perhaps they're about to be.
Blair is a former FBI agent, and for the last 23 years, he has worked as a private investigator. He is currently CEO of his own investigative firm, Blair & Associate, and runs the website ex-fbi-agents.com.
Blair's entire career has been spent rooting out the truth. So much so, he says a contract was once put out on him after he testified against the mob. So much so, that he once wrote a wiretap affidavit for Albuquerque police that helped bring down former New Mexico basketball coach Norm Ellenberger.
At his fingertips are a variety of risk management and former FBI officials who can find out anything you want -- for a price.
"That's the nice thing about what we do," Blair told CBS Sports. "If somebody asks for assistance, I can give that person with that experience in that location, if it's available."
Blair said he would not have been fazed if asked to check out the background of Sam Ukwuachu. The former Baylor defensive end now sits in jail convicted last month of sexual assault of a female Baylor soccer player.
What and when Baylor knew what it did is at the center of an ongoing investigation commissioned by the school. Going forward, the question is quickly becoming for all schools: How motivated are those schools in vetting any incoming athlete or coach?
The downside of not doing so is becoming increasingly risky. CBS Sports recently spoke to four risk management specialists, all familiar with the Baylor case. They were all asked how far they could dig into Ukwuachu's background to spare the school its current situation.
"Say we represent Baylor and we'd like to speak to [Ukwuachu] on this matter," Blair began. "Typically, [he] would cooperate. They might not but, I think we could get a job done."
That, Blair noted, is despite a maze of federal privacy laws.
"It's not that hard," said Bob Flores, a former federal prosecutor. "It requires a true effort. For example, kids are all over social media. Their sense of privacy is much different than ours. That's a treasure trove of information that can be mined.
"You can use that to talk them and ask informed questions. You have to actually sit down and talk to students."
Never mind the expense, there are few athletic directors who would want private investigators sniffing around their campuses. But the risk of not doing proper diligence may be becoming too high.
Illinois recently hired the Dan Beebe Group during its investigation into Tim Beckman. Beebe, the former Big 12 commissioner and NCAA investigator, provides an array of risk-management services. His clients include Auburn, Florida and the Houston Texans.
"You'd be wise to know everything you can possibly know," said Auburn athletic director Jay Jacobs, who was not speaking specifically about Baylor.
"There is no such thing as secrets. You need to know what the questions that you're going to have to answer before you get surprised by those questions."
In Baylor's case, the Ukwuachu scandal has least altered the perception of the elite Christian flagship. In the wake of the scandal, Big 12 athletic directors recommended adopting a transfer rule similar to the SEC's that bans those with "serious misconduct" issues.
Baylor president Kenneth Starr has recommended a senior-level position be created within that athletic department for oversight. A Baylor spokesman said the exact duties of that person have not been determined.
The school aggressively hired a public relations firm last year to state its case in the College Football Playoff. Yet Ukwuachu was admitted into the program with a sketchy past.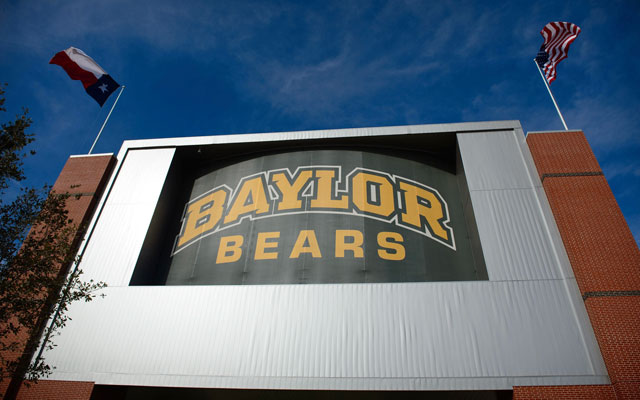 Priorities?
Coach Art Briles has had to fight off suggestions that he was negligent in vetting Ukwuachu. An outside law firm has been hired to do an independent investigation. That firm owns the company that investigated Penn State in the Jerry Sandusky scandal.
Two attorneys from that firm, Pepper Hamilton in Philadelphia, are considered experts in sexual assault cases.
At any school, it starts with caring about vigilance. At least one SEC coach employs an array of analysts who monitor recruits on social media. Such monitoring led that school to stop recruiting junior college prospect Tyreek Hill.
Hill recently pleaded guilty to domestic abuse and received three years probation. He had been dismissed from Oklahoma State's team.
The concept of a search firm has risen up over the years to least provide a level of plausible deniability for schools during their coaching searches.
But those search firms also bear a certain amount of responsibility for checking candidates' character.
Sometimes that isn't enough. The widely-used Parker Executive Search produced recently disgraced former Minnesota AD Norwood Teague as a candidate. Parker said there was no evidence in Teague's background of the sexual harassment that eventually caused him resign.
"That's part of the dilemma," said one former FBI agent familiar with risk management. "You get the information. You talk to five witnesses and what's the truth? With anything less than a conviction what am I going to do to find if [a] guy beat his girlfriend up?"
More intense scrutiny is available. It's just a question of how far administrators want to go. "Trapline" is a well-known reference guide in security circles. For a fee, former FBI agents can list their area of specialty. There are 40 such areas of expertise.
Briles says he was unaware of Ukwuachu's background at Boise State. For the player's trial, Boise State produced a 200-plus page report that suggested Ukwuachu had significant personal problems.
Ukwuachu's former girlfriend at Boise testified at his trial that he punched and choked her.
Former Boise coach Chris Petersen said he "thoroughly apprised" Briles of Ukwuachu's background. Ukwuachu then assaulted the woman while on scholarship at Baylor. He was suspended for 2014 season and never saw the field.
Flores and Bob Northrop operate The Winning Integrity Education Foundation, a non-profit. They also own a sports arrest database -- arrestnation.com.
They are in the process of selling their investigative services to schools, in essence, to help prevent another Ukwuachu situation.
"We believe almost all the major infractions cases over the last 10 years can be traced to the inability of the university to really manage their players," Flores said.
"We are proactive. It's a matter of when, not if [it could happen]."
No NCAA infractions are involved in the Ukwuachu case at the moment.
Northrop is a retired postal inspector who is a recognized expert in child exploitation cases. Flores is a former federal and state prosecutor with the Justice Dept.
"Think of it as an internal affairs investigation," Northrop said, referring to his services. "We already know he's been removed from Boise State and he's an all-star player."
Ukwuachu was a freshman All-American at Boise State in 2012. Briles said he was told by Petersen only that Ukwuachu was depressed before taking him as a transfer in 2013. Three days, after he was diagnosed with major depressive disorder (per ESPN.com), Ukwuachu was dismissed from the Boise football team. Broncos officials have said they never received reports that Ukwuachu had allegedly assaulted his girlfriend.
"To get a [transfer] release on a [freshman] All-American," that player has "to do something that's really beyond the pale," Flores said.
Northrop added: "Baylor has a reputation of trying to rehab these kids and they do a pretty good job of it. So you sit him down and say, 'I want to know the truth, Sam.' You get him on the record and say, 'We're going to investigate it.' We just can't enter into that kind of agreement [without doing so]."
Flores told CBS Sports he has developed an interview risk assessment tool that he and his partner are trying to sell to schools as part of their service. The partners don't yet have any clients for that particular part of the business.
Schools and outside investigators are both bound by numerous privacy laws. The HIPAA Act keeps private medical records. The Buckley Amendment prohibits a school from releasing educational records.
Baylor, like all schools, is bound by the Clery Act. The federal law requires proper reporting of campus crime. Here is Baylor's 2014 fire safety and security report.
Several of the risk management sources said in their investigation they would ask a player to sign a waiver to obtain certain information. That, of course, is up to the player -- and probably the school.
"You're absolutely responsible for everything," former Texas coach Mack Brown said recently on Dallas' KESN 103.3 FM. "And this is bothersome to Art, obviously. It's a huge distraction. There's not any coach in America that would take a young man who has raped a girl …"
Ukwuachu's victim has retained John Clune, a high-powered attorney who continues to represent the accuser against Jameis Winston. The accuser and Winston have sued each other.
All universities are bound by Title IX, a comprehensive federal law that prohibits discrimination on the basis of gender. Clune's firm is steeped in Title IX litigation experience.
An initial investigation by Baylor in the Ukwuachu case was found so lacking that it wasn't allowed as evidence during the player's trial.
"This was a first for me," Flores said of the investigation conducted by Baylor associate dean Bethany McCraw. "An investigation was so bad that it was not admitted as any form of evidence."
An internal inquiry led by faculty athletics representative Jeremy Counseller lasted less than a week. Three sources suggested to CBS Sports a possible conflict of interest with Counseller. In his position at faculty rep, Counseller could be called as a witness if Ukwuachu's victim files suit.
Per protocol, Counseller would have heard an appeal if the victim protested a loss of scholarship. The victim eventually left school after the attack.
"Professor Counseller's inquiry of our programs and processes concluded when he decided that there appeared to be sufficient reason to engage outside counsel," Baylor spokesman Lori Fogleman said in an email. "The president [Starr] had full confidence in Mr. Counseller to take the inquiry wherever he felt necessary and readily accepted his recommendation."
The school quickly announced the hiring of Pepper Hamilton. The firm owns the risk management firm headed by former FBI director Louis Freeh, whose report in the Penn State Sandusky scandal was highly criticized by some for its accuracy.
Previously, Starr was famously the independent counsel looking into the Clinton administration at the same time Freeh was FBI director. Fogleman said their paths, "very occasionally crossed socially over the years."
"This isn't brain science here," Flores said. "This is something that you spend some shoe leather on it. You find out the complete picture and build a risk management program."