Dorial Green-Beckham enrolling at Oklahoma, eligible in 2015
Former Missouri receiver Dorial Green-Beckham visited Oklahoma Thursday and decided to join the program.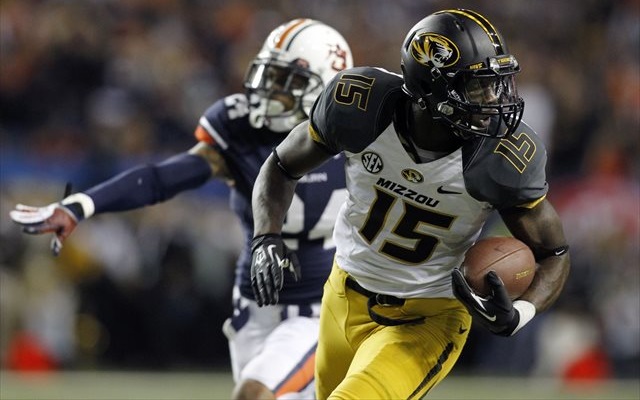 UPDATE (2:00 p.m. ET): That was fast. Oklahoma coach Bob Stoops announced that Dorial Green-Beckham will enroll at Oklahoma and join the program immediately. According to NCAA rules, he won't be eligible until 2015. 
"We are pleased to welcome Dorial to the University of Oklahoma, where he is excited to continue his education and resume his playing career," Stoops said. "Dorial understands the privilege and responsibilities of representing the Oklahoma Football program. He is a talented young man who is eager to get to work with the rest of our team in the classroom and on the field."
However, Jason Kersey of The Oklahoman is reporting that the school is pursuing a waiver to make him eligible for the 2014 season. 
The release says he'll be eligible in 2015, but I've been told OU is pursuing a waiver for immediate eligibility #Sooners

— Jason Kersey (@jasonkersey) July 3, 2014
---
DGB to OU? May-B?
According to a report from SoonerScoop (subscription required), Dorial Green-Beckham is in Norman and meeting with Oklahoma's coaching staff on Thursday (though those coaches apparently do not include Bob Stoops or co-offensive coordinator Jay Norvell). Now, I suppose it's possible that Green-Beckham is only meeting with the Sooners coaching staff for advice on how to invest his money, or maybe gardening tips, but I'd say the more likely reason is that he's considering transferring to Oklahoma.
Which would not be that big of a shock considering that Oklahoma was one of the many schools that recruited Green-Beckham out of high school, when he was the top recruit in the nation. The Oklahoman also reported that Oklahoma had "marginal interest" in bringing him to Norman last month, so Thursday's visit likely means that interest has intensified a bit over the last couple weeks.
Green-Beckham was kicked off the Missouri football team in April after he was indefinitely suspended following an incident at an apartment complex in Columbia. Green-Beckham allegedly shoved a female "down at least four stairs" after forcing his way into an apartment. While he was never charged, the allegations combined with a couple earlier arrests for marijuana possession, Missouri decided to cut ties.
It had been reported that Green-Beckham would transfer to Eastern Illinois, but it never materialized, and CBSSports.com's Jeremy Fowler reported in May that Green-Beckham could sit out the 2014 season altogether before entering next year's NFL Draft.
If Green-Beckham were to transfer to Oklahoma -- or any FBS school -- he would have to sit out the 2014 season before regaining eligibility in 2015. 
It looks like Jennings is slowly making his way back to the Vols after being dismissed last...

Offensive coordinator Brian Daboll's departure to the NFL has left a void at Alabama

Wilkins was considered a potential first-round pick in the NFL Draft
Brown will have two years of eligibility remaining

Chip Kelly has added some talent to his quarterback room from within the Pac-12

The 2017 season is in the books, and several big-name stars are jumping early to the NFL