Dr Pepper to sponsor College Football Playoff, trophy
The College Football Playoff and Dr Pepper announced a six-year sponsorship deal Tuesday.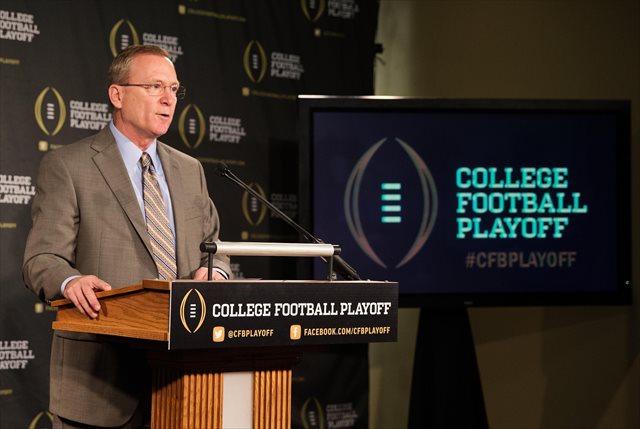 Dr Pepper's longtime corporate willingness to sponsor college football properties has now extended to the newest, shiniest property of them all.
The soft-drink brand and the College Football Playoff announced a six-year sponsorship deal Tuesday, with Dr Pepper becoming the presenting sponsor of the playoff championship trophy and the playoff's official corporate partner.
That trophy will not be the now-iconic "crystal football" Coaches Trophy, which will be awarded by the American Football Coaches Association to whichever team finishes No. 1 in the final Coaches' Poll and will be sponsored by the Amway corporation.
Already the title sponsor of events like the Pac-12 and ACC Championship Games, Dr Pepper will also sponsor ESPN's SEC broadcasts and the forthcoming SEC Network, ESPN announced -- the latter big news in Gulfport, Miss., no doubt.
Trust the Process as Tom Fornelli leads you toward his best bets for Week 13 of the season

This edition of the sport's greatest rivalry will go down in history as one of the most im...

Dennis Dodd makes his prognostications for the last and most important week of the regular...
Kelly is presently deciding whether to start anew with the Gators or Bruins

There are a handful of conference championship games still to be determined

SportsLine's top college football expert, on a 30-18 run, locks in his top picks for a loaded...