Ducks ready to sprint to a title? One expert is convinced they are
Is the 'fastest college football team ever' ready to win the national title? One expert is now convinced the Oregon Ducks will.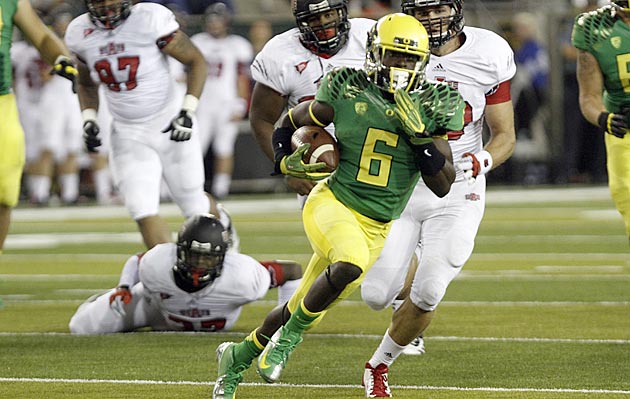 Zoom! De'Anthony Thomas and the Ducks give the Red Wolves whiplash on Saturday. (AP)
For the past three decades, John Thompson has broken down film, probed for weaknesses and drawn up schemes. The 56-year-old has run the defense at, among other places, five different SEC programs. The guy has coached against national championship teams that have been pass-heavy and also teams that have relied primarily on the run to win national titles. Last Saturday night, Thompson was tasked with trying to get the Arkansas State Red Wolves, a team that won 10 games in 2011, to slow down the Oregon Ducks.
The game kicked off at 7:30 PT and within 15 minutes, it unfolded in a disastrous manner for Thompson. The Ducks proceeded to score touchdowns on their first seven drives. None of those drives took longer than 2:54 seconds. By midway through the second quarter, Thompson's team trailed 50-3.
Football coaches, especially ones in their mid-50s, seldom are awestruck. But that word, perhaps better than any other, summed up Thompson's mindset after what he witnessed Saturday night in the Pacific Northwest.
"That is, by far, the fastest team I have ever, ever, EV-VER seen," Thompson said Tuesday night. "It is unbelievable."
The Ducks went on to win 57-34 and amassed 605 total yards of offense, but in truth, Chip Kelly had throttled things down so much by midway through the second quarter, stats don't illustrate much of an accurate picture of the kind of display Oregon put on. If Kelly felt so inclined the Ducks would've scored over 100 points on the defending Sun Belt champs in Week 1.
"We had guys there in the right spot and we still ended up two steps behind 'em," Thompson said. "Things just happened so fast."
Thompson was well-versed in the Ducks' speed. This off-season, he had studied hundreds of hours of film of an offense that averaged over 46 points per game last year. He saw clips of De'Anthony Thomas averaging over 77 yards a carry in the Rose Bowl. Saw video of Oregon's spring game where the new starting QB Marcus Mariota broke off an 82-yard TD run right through the Ducks D. Saw clip after clip of Kenjon Barner gashing defenses.
"We weren't gonna play a snap of man," he said. Instead, the Red Wolves went with some combo coverage and also kept a man over the top. "We tried to blitz 'em. They ate us up. We tried zone pressures. They got us with that too."
They preached sure tackling and taking good angles. Problem is, that kind of geometry can't be replicated from a board. Reliable, heady players could diagnose things but couldn't get near making the play because they had never seen the pace or the speed until they were caught up in the whirlwind.
The Ducks' headliners: Thomas and Mariota, were even better than advertised. Thompson struggled for a comparison to fit the 5-9, 176-pound sophomore. Former Florida great Percy Harvin, a bigger, thicker player with a great first step, was the closest Thompson could think of, but even that didn't seem to apt. "Thomas has such great moves and has so much pure speed. He's not like Dexter [McCluster], who was more of a jitterbug type. He's a one-cut and go guy. Wow!"
The real revelation, though, proved to be Mariota, the 6-4, 211-pound Hawaiian, who went 18-of-22 for 200 yards and three TD passes. "I thought he'd be more run than throw, but he's got a very live arm and is really, really accurate and has great touch. I was so impressed with him."
Of course, if you focus too much on those two, then Kenjon Barner or freshman running back Byron Marshall may get you. Or Josh Huff. Or . . .
As flashy as the Ducks' personnel and shiny uniforms are, their playbook was actually not fancy. Like many teams, they run the inside zone, they run the stretch play, run the power, throw some screens and are very adept at running boots and nakeds thanks to their dynamic young QB. "It's West Coast concepts and some spot routes, but they're so good at play-action and their O-line does a good job of selling play-action, and when they run the climb routes, they just get on you so fast and find the spaces between the linebacker and the safeties."
In all, the Ducks had six different ball-carries with at least a 24-yard gain. They had 11 different receivers with a reception of 10 yards or longer. They were 10-of-19 on third downs and four-of-five on fourth downs. "You've gotta keep great leverage on them, and that's what we didn't do," Thompson said.
Two seasons ago, Oregon came within a last-second field goal of beating Auburn for the BCS national title. Last year, the Ducks were bottled up by LSU, 40-27, in the opener. Thompson, though, pointed out that in that game, the Ducks dropped some balls, had some fumbles and Duck quarterback Darron Thomas missed quite a few open receivers. "Then," he says, "LSU's swagger took over. But this kid (Mariota) is a much, much better thrower.
"I think they're gonna win it all," Thompson predicted. "I just don't see people being able to deal with their speed."
Aaron was reportedly shot while trying to protect his girlfriend when a fight broke out at...

An assistant-by-assistant look at changes Saban made to the Tide's staff ahead of 2018

Find out when Nick Saban, Kirby Smart and the rest of the coaches will speak ahead of the...
It wasn't only the massive $75 million contract that got Fisher to depart for College Stat...

Weinke was injured when Florida State lost to Tennessee in the 1999 BCS title game

It was one of the busiest offseasons for the assistant coaching ranks