Dueling PSU reports forge degrading tie in court of public opinion
Paterno family's investigation reveals little except more of he said/he said.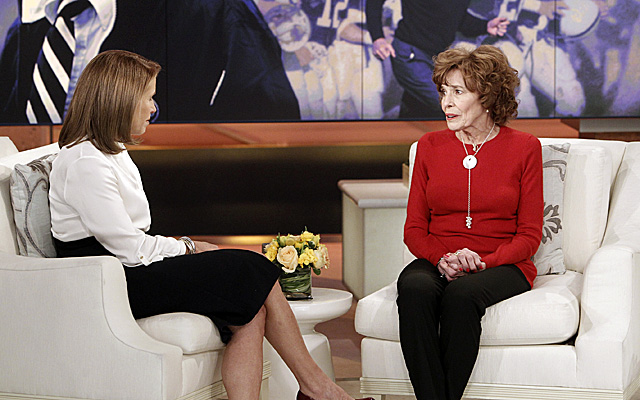 JoePa's widow, Sue Paterno, talks with Katie Couric in an interview that will air Monday. (Getty)
The Freeh Report now has a rebuttal, which is good if you're a fan of Katie.
That's where Sue Paterno may have to break the tie to decide her husband's legacy.
That's also how far the national discussion on the Jerry Sandusky scandal has descended -- into the realm of bad taste. No matter what you think of the Paterno family's hand-picked experts picking over the Freeh Report in a carefully orchestrated rollout Sunday morning (ESPN's Outside the Lines), that discussion is getting more and more absurd.
If you still care at all. The only rational conclusion -- that a monster was allowed to roam free due to the Penn State administration's neglect -- still applies. Whether Joe Paterno knew or didn't know, he should have. That was sort of the NCAA's point in applying the penalties of last July. Whether you agree with them or not, they were why we should have kept channel surfing Sunday morning.
It wasn't about Penn State or the NCAA or Sandusky, it was about polishing Joe's image.
Former U.S. Attorney General Dick Thornburgh, former FBI agent Jim Clemente and attorney Wick Sollers made a case for the Freeh report being flawed. Then I opened their 180-page rebuttal. It claimed the "NCAA never identified a single infraction based on Sandusky's crimes."  Wrong. The NCAA claimed plenty of infractions, some you may not agree with or know of, but there were infractions.
The rebuttal also took issue with how many "steps" there were between the office of Sandusky and Paterno. It concluded as "error and unsupported opinion" that Paterno was one of the most powerful persons at Penn State. We can argue about a lot of things at Penn State, but that isn't one of them.
Sorry, Thorburgh, Clemente and Sollers, you lost me. What we're left with is the Penn State Board of Trustees-approved independent investigation vs. the Paterno family-sanctioned report. That's hundreds of pages and millions of dollars thrown together to sway public opinion.
Sollers called the Freeh Report a "cram down" by the NCAA. The fact still remains that Penn State adopted that report in the consent decree that led to those NCAA penalties. There are a lot of people being blamed here, and once again the victims were overlooked.
Why should we slow down to take a look at this latest lawyered-up car wreck except for them? A threesome of powerful and articulate -- and no doubt well-paid -- men appeared on OTL to discredit the Freeh Report. In the end it was one flawed investigation vs. another with Paterno's legacy at stake.
Let's forget legacies for a second and pray for the physical and mental damage done to the victims.
In the court of public opinion, call it tie. Call us tired. Sue Paterno has chosen to tell her side of the story on an afternoon talk show hosted by a deposed network news anchor. The only folks who should be more upset than the public who are subjected to this trash are Oprah and Dr. Phil. Unlike with Lance and Manti, they whiffed on this one, whiffed on the big "get" interview.
Or did they?
Maybe they took a pass. Maybe this was too messy -- or too irrelevant. The whole Paterno/Sandusky/board of trustees/statue/NCAA controversy has taken on a depressing, degrading turn. The question is whether we care. The fact remains that Paterno was told explicitly of an assault of a sexual nature by Sandusky. After that everything else is details.
Count the steps from Joe's office to Sandusky's.
Argue about Louie Freeh's investigation. (The review of 3 1/2 million documents doesn't seem cursory.)
Debate whether it matters that (per the rebuttal) Joe never asked anyone not to investigate.
A perky afternoon talk show host holds some sort of tiebreaker on Joe Paterno's legacy. (Check your local listings!)
Never mind whether you care; should you care?
Cristobal's first game at Oregon ended the same way Chip Kelly's did

Conner Manning and the Panthers dominated the Hilltoppers in the Cure Bowl

You can only go to the well so often before it dries up
The Trojans beat LSU earlier in the year and now have their first 11-win season as a FBS t...

Saban has never been a fan of the early signing period and made it clear that hasn't chang...

Paul Tyson is a three-star quarterback prospect for the 2019 recruiting class