Dykes' loyalty move has paid off big, but can he win at Cal?
Cal coach Sonny Dykes was faced with an interesting dilemma: Kentucky or Texas? His decision has set him up for a very successful career as one of the sharper offensive minds in football. Now can it translate into a national title for the Bears?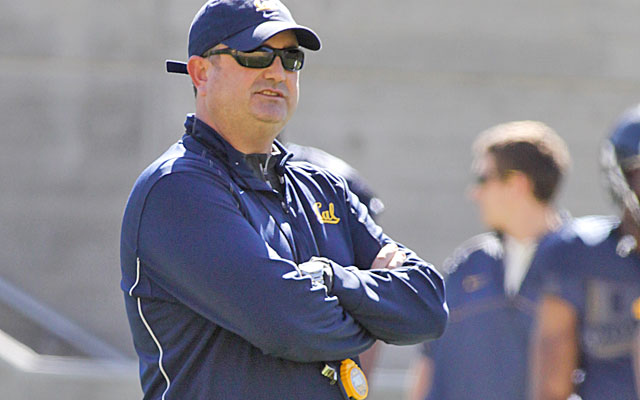 BERKELEY, Calif. -- Sonny Dykes didn't need more than two seconds to come up with an answer to the question, "Best advice you ever got from your father?"
"He told me, 'Don't worry about places. Worry about people.'"
The younger Dykes went on to explain that in 1997, about six weeks after he accepted an offer to become a graduate assistant at the University of Kentucky, he got a call from then-University of Texas head coach John Mackovic to come join the Longhorns staff as a GA. To say the Texas offer was tempting would be an understatement.
Dykes' daddy, the long-time Texas Tech head coach Spike Dykes, had once been an assistant at Texas in the mid-'70s when Sonny was a toddler. Texas had just won the Big 12 title after knocking off Nebraska in the conference title game. The younger Dykes, a former Texas Tech baseball player, had been trying to get a foot in the door at Texas for four seasons. Meanwhile, UK had been an SEC doormat.

Even though Dykes had a famous last name in football circles -- Spike Dykes is in the Texas Sports Hall of Fame -- he hadn't been able to break into major college football.
"I couldn't get a sniff," he said. "I hadn't played college football. I didn't want to work for my dad, and I'm not sure he'd have hired me anyway."
His first job after college was as a JV baseball coach in a town of 6,000 in West Texas. Then he got hired as an assistant football coach at a high school in the Dallas area before spending two seasons at Navarro College. While at the Texas junior college, Dykes met a Division II coach from Valdosta State while they were both recruiting at Carter High in Dallas. At the time, Dykes was making around $4,500 a year and living in the dorms.
"My credit card was maxed out," Dykes said. "My grandmother had passed, so I was driving her Mercury Topaz. I went home for Thanksgiving (in '96) and my dad told me, 'I think Hal Mumme is gonna get the Kentucky job.'
"I'm thinking, 'A guy from D-II is not going to get the Kentucky job,' but I went home and called Hal."
Dykes got hired as a GA by Kentucky in January, but in March, while he was back in Lubbock, the Texas Longhorns called.
"I asked my dad and he said, 'You made a commitment to those guys and you need to stick with it.' Best advice I've ever gotten. I went to Kentucky and was fortunate enough to be around some guys that were on the cutting edge of college football."
Dykes eventually was hired by Mumme's top assistant at Kentucky, Mike Leach, when Leach replaced Spike Dykes at Texas Tech. The younger Dykes worked with Leach in Lubbock six seasons. He later spent three years as Arizona's offensive coordinator before he landed the head coaching job at Louisiana Tech, where he transformed a listless program into one that went 17-8 the past two seasons. Last fall, his team led the nation in total offense and was impressive enough that Dykes became one of the hottest commodities in coaching. He ended up taking the Cal job.
The Golden Bears program is coming off a 3-9 season, hasn't finished in the Top 25 since 2008, and has just two top-10 finishes in 62 seasons. The school, though, just completed a nearly half-billion dollar stadium and facilities upgrade, which, along with the proximity to a very fertile recruiting base, intrigued the Texas native. In fact, Dykes said he is convinced Cal is one of the few college football programs where you can actually win a national title. But can the Texan with the famous football last name and a rep for prolific, fast-paced offense take back the Bay Area from upstart Stanford, much less become the heavyweight of a Pac-12 that seems to be more in flux than ever?
"The big thing was the resources here," Dykes said of why he opted for Cal. "It is the flagship university for the sixth-largest economy in the world. I liked it from the outside, and usually when you find out more things about a place, the warts starts to show up, but the more I found out about Cal, the better it was.
"You can win a national championship at Cal, and I don't think there are many places out there like that."
Beyond that, Dykes said the vibe of the Bay Area and Berkeley especially was appealing. "Berkeley is just such a cultural center, and the ability to raise our girls in such an incredibly diverse cultural center really attracted me and my family here."
He first got a sense of just how different Berkeley was back in his Arizona days.
"I was coming to a Nike deal to look at [quarterback] Matt Scott that was back when you could evaluate guys. I'm driving down Telegraph and I see this guy riding his bicycle totally naked. Well, except for his sandals and sunglasses. Wow. It's so different and makes this place so cool. You can walk across campus and you might hear 20 different languages spoken."
Dykes follows Jeff Tedford, who took over a program that had gone 1-10 the previous season (2001) -- its worst in school history -- and promptly led the Bears to their first winning season in almost a decade in his first season. By his third season, Tedford's team was 10-2 and finished No. 9 in the country. But after leading Cal to a second 10-win season in 2006, the Bears started to backslide and became something of an underachiever. Tedford's rep as a QB guru (he sent a bunch of quarterbacks into the NFL and was the guy who unearthed Cal great Aaron Rodgers) fizzled.
It didn't help Tedford's cause that the program was plagued by APR issues and a poor academic track record. Staff instability hurt too. Truth is, it's hard for any college coach, especially one at a school without much track record for big success, to sustain momentum for a decade.

Dykes inherits a roster with the least starting experience in the Pac-12. He has five starters back on defense and just four on offense. A big key will be figuring out who his triggerman will be. Dykes has shown he can pile up points with any kind of QB because his "system" is so flexible. When Mike Stoops hired him to run the Arizona offense, the Wildcats roster had only five scholarship wideouts, five fullbacks and a bunch of tight ends, including the uber-talented Rob Gronkowski, so Dykes reasoned being in four-wide sets didn't make sense. Plus Stoops wanted to run the Power.

"We needed to win fast," said Dykes. "We couldn't develop guys. We had a hodgepodge offense and we did some good things, but kinda felt like we lost our way offensively. I ended up getting Louisiana Tech job, and saw what [another former Mumme assistant at Kentucky] Tony Franklin was doing with the QB run game and the tempo part of it and liked it."

At Arizona, Dykes had Willie Tuitama and Nick Foles, two big, strong-armed QBs who threw the deep ball very well. That prompted Dykes to rely more on the play-action game, and since Tuitama was good throwing comebacks and deep outs that became more of a focus. At Louisiana Tech, Dykes inherited a smaller, more nimble QB in Colby Cameron. "He didn't throw as good a deep ball, but had really good mid-range accuracy and a good sense of timing," said Dykes.

Cameron, once he developed more confidence, blossomed under the Dykes' staff. In 2012, he threw for 4,147 yards and 31 TDs against just five picks while setting an NCAA record for most consecutive pass attempts without an interception in a season (428) and career (444). He even won the 2013 Sammy Baugh Award. At Cal, Dykes has more former blue-chip QB prospects than Cameron was. Many expect Zach Kline, a redshirt freshman, to emerge as the Bears starter.

"The best thing about him is his demeanor," Dykes said of Kline. "He's got some toughness. He's competitive and very coachable. He's got a big arm. He's got to learn to become more accurate, play with more touch and throwing the ball on time. He really improved from the early spring but he's got confidence about him and the players respond to him. With what we do offensively, throwing the 25-yard comeback though is not nearly as important as being able to throw the ball to the back out in the flat on time."

In junior Austin Hinder, Dykes has more of a running threat while Jared Goff, an early-enrolled freshman, is a guy who is adept at getting himself out of trouble.

"With young quarterbacks," Dykes said, "they have to learn, 'Am I throwing it over a linebacker and under a safety? Do I have to zip it here or throw it with air?' Learning to anticipate throws is really critical too."
 
Tedford left behind an impressive collection of young receivers. One of them, a 6-3, 185-pound redshirt freshman named Kenny Lawler, Dykes called a big surprise this spring. "He caught a lot of contested balls," said Dykes. "He's about as good as I've ever been around doing that."

As for the running game, Dykes got less of a sense of what he has because blazing-fast backs Brendan Bigelow and Daniel Lasco weren't able to do much in spring ball. Expect Bigelow to be a big factor in an offense that was just No. 10 in scoring in the Pac-12 last fall.

Dykes said the biggest change for the players will be the simplicity of the offense.

"Our playbook is small," he said. "We don't do a lot of stuff. They were a scheme-based offense, and we're not."

What they do is go fast. Last season, only one team (Marshall) ran more plays per game than Dykes' Louisiana Tech team.

From a scheme sense, Dykes' offense has some similarities to the old Air-Raid system. The Bears offensive linemen will still vertical set. (Dykes likes it because it gets all the O-linemen on the same plane and makes it easier to pick up line twists and blitzes.) Like fellow Air-Raid disciple Dana Holgorsen, Dykes is a big fan of the three-back formation, although Louisiana Tech was more varied with it than West Virginia was. Dykes often lined up two offensive linemen in the backfield as part of it. (The O-lineman would be in a tight end jersey so he'd be eligible, and in reality it wasn't much different for the guy than if they were pulling him as a guard.) Sometimes Dykes would have two tight ends back there. Sometimes it's going to be all three running backs.

"Football's really changed," he said. "There's about three different ways to create deception, and that's what you have to do offensively. You have the old wing-T or single wing or wishbone teams where you create deception within the play. You can do it before the snap with motion and shifts, like what Jim Harbaugh did and what Stanford's doing. Or you can go fast and play with fast tempo. We've gone from that shift, motion move and playing with tempo.

"We didn't do it with smoke and mirrors (at Louisiana Tech). We did it by recruiting players that fit our program and we developed players and by playing good fundamental football. That's the thing that gets lost. People watch you and see that you're going fast and they think somehow you're doing it with this magic scheme, it's not. It's technique and fundamental football and being able to execute. Those are the same reasons why Alabama wins."

Whether Cal can achieve similar results remains to be seen. At the very least, Dykes knows that life at Cal -- or his offense -- won't be boring.
Many NFL-eligible juniors ignore advice provided by the league and risk going undrafted each...

Snyder died in Manhattan, Kansas, on Wednesday

Locksley joined Alabama's staff in 2016
Saban reportedly wants to hire Freeze, but there may be things keeping that from happening

Florida State-Miami will be on Oct. 6, and the Seminoles will play Clemson on Oct. 27

Weis Jr. was an offensive assistant for the Atlanta Falcons in 2017