Early signing period crosses final hurdle, officially approved: 4 things to know
The new rule will change college football recruiting forever
• 3 min read
After a being a years-long topic, an early signing period is happening for college football. 
On Monday, the Collegiate Commissioners Association approved changes to the National Letter of Intent program, which the association runs. Those changes include a new, 72-hour early signing period between the dates of Dec. 20 to 22. The dates will coincide with the first three days of the midyear JUCO signings. 
The CCA was originally scheduled to vote on the early signing period in June, CBS Sports' Dennis Dodd was told, but the rubber-stamping process was moved up to May. Last month, the NCAA DI Council NCAA DI Council approves early signing period for football, prohibits oversigning along with a variety of other recruiting and practice-based proposals. the association's approval was considered the last hurdle for the new rule. 
Here are the additional details, which also include information about official visits and staff size ... 
To say an early signing period will drastically affect college football recruiting as we know it is not an understatement. This is a completely new layer to consider in the recruiting process. But exactly whom it affects and how remains to be seen. Generally, however, we know or can anticipate the following items. 
1) The dates mentioned could create an interesting atmosphere: National Signing Day as it exists now in early February is a show. Live puppies, sick announcement videos and last-minute flips are all part of the drama. But this is also an event that takes place after the national championship game and before spring practice picks up. It's slotted perfectly in an otherwise empty schedule. In late December, however, schools will be on break, which means availability by coaches and players may be sparse. This is also taking place right as bowl season gets underway. As far as player availability and timing, an early signing period could be much more subdued. 
2) This helps players and coaches who want to lock things down early: Again, there's no specific formula yet for who the early signing period helps, but players and coaches wanting to end the recruiting process a couple of months in advance will now be able to do so. If a program wants to show it's committed, it can do so sooner by sending a early NLI. If the player is equally committed, then he signs. If either side doesn't show up as planned, it lets the other know they're probably not as serious about signing as they had led on. The good news is there would still be another 6-8 weeks for either side to consider more options. Players wanting binding protection will be happy, but a lot of teams benefit from this, too, if they find a 3-star gem without many offers or want to concentrate on fewer prospects closer to February (i.e. do less work). 
3) This could hurt some late developers (on and off the field) and the schools that recruit/flip them: Recruiting isn't static. Players get bigger, better, worse or they get injured. Grades can be a major hurdle, too, depending on the prospect and school. Stanford, for example, may not get be able to sign everyone it wants because its admissions process takes more time than most. Late-bloomers on the field could be trapped as well. If a player signs early, he could be throwing away offers from bigger and/or better programs that come along later. 
4) Certain coaching changes should result in a full release: Another way the early signing period could hurt players is if there's a sudden coaching change. These changes typically happen in December and January before signing day. (There is then a second, but smaller, exodus of coaches post-signing day.) An early signing period would mean more players could be subjected to the annual coaching shift after they've been bound to a NLI. Plenty of coaching changes -- and just as noteworthy, coaching rumors -- take place during December and early January. The natural counter is that players should commit to the school, not the coach. However, coaches develop strong relationships with the kids they recruit. Those relationships are a big reason why recruits commit to the schools they do. This is no different than any other relationship with a mentor/teacher in any other field. If an applicable coach is let go -- be it a head coach or assistant -- between the early signing period and the February one, the NLI should be loosened. It won't be realistically, but it would be the right thing to do.
CBS Sports HQ Daily Newsletter
Get the best highlights and stories - yeah, just the good stuff handpicked by our team to start your day.
Please check the opt-in box to acknowledge that you would like to subscribe.
Thanks for signing up!
Keep an eye on your inbox for the latest sports news.
Sorry!
There was an error processing your subscription.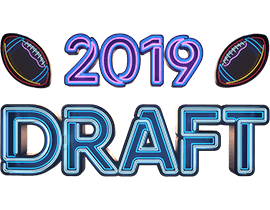 Get Live Coverage of Every Pick
It's the second time this week football has been mentioned

The CFP is holding its annual meeting this week in Irving, Texas

Plenty of mid-round picks become solid NFL players, and I think these could be the next se...
Ford played in nine games for the Bulldogs in 2018

If Hoffman files a different waiver, his path toward NCAA eligibility may be an easier one

Fisher expressed his commitment to Texas A&M after Scott Woodward's exit to LSU