East Tennessee State wants Phillip Fulmer to coach restarted program
Whether Fulmer has any interest in rebooting the Buccaneers' dormant program is a matter of speculation.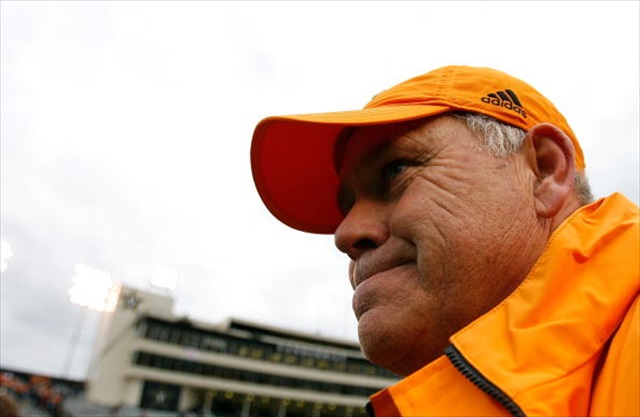 First: Though the Johnson City Press reported Tuesday that former Tennessee head coach Phillip Fulmer was on campus last Friday meeting with East Tennessee State officials regarding the Buccaneers' potential head coaching opening, it's not known how much interest -- if any at all -- Fulmer would have in such a job.
Second: The reason the opening is only a "potential" one is because the Buccaneers don't actually have a football team for Fulmer to coach as of yet. ETSU dropped its FCS program in 2003 amid rising costs, but is poised to resurrect it if the Tennessee Board of Regents endorses a student government-approved fee increase to bring football back to campus.
ETSU interim athletic director Richard Sander told the Press that the school would need to "move as quickly as possible" if the Buccaneers got the go-ahead to restart football -- and said that making Fulmer the centerpiece of that restart would be the best possible first move.
"If you can get Phil Fulmer to coach your team, with that kind of success, that kind of image and credibility and just an impeccable reputation, you couldn't draw up a better scenario," Sander said. 
Of course, Sander also admitted that even after having Fulmer on campus, he has little idea -- at least, little public idea -- if the former BCS championship winner would even entertain taking on a colossal challenge like the Buccaneers' reboot:
"I'm not sure he's thinking about that right now ... I'm not sure Coach Fulmer is in that mindset right now," Sander said. "We were just talking to Coach Fulmer some about if there was potential for him to help us on down the road as we move forward ... would there be any potential for him to help us in some capacity. 

"When you have a chance to talk to somebody that's won a national championship, is in the Hall of Fame, probably as revered as any football coach in the South, you've got to talk to him and just really value everything he says."
A speculative guess at translating Sander's comments: "I'm not sure he's thinking about that" plus "some capacity" multiplied by "we were just talking" equals "he's not going to be the head coach here." Which isn't a surprise; though other successful, veteran college football coaches have embraced starting a program from scratch or near-scratch (think Howard Schnellenberger at FAU, Larry Coker at UT-San Antonio, Bill Curry at Georgia State), Fulmer is a little closer to his coaching prime and has been a little more transparent about hoping to return to the coaching game on better terms.
It doesn't hurt ETSU one bit to ask, of course, and if a former SEC coach like Terry Bowden can eventually get desperate enough for work to sign on at North Alabama and then Akron, you truly never can say never. But the guess here is that if the Buccaneers can even get Fulmer to come on board in a Jim Tressel-at-Akron-style advisory capacity, that'll be success enough.
Cristobal's first game at Oregon ended the same way Chip Kelly's did

Conner Manning and the Panthers dominated the Hilltoppers in the Cure Bowl

You can only go to the well so often before it dries up
The Trojans beat LSU earlier in the year and now have their first 11-win season as a FBS t...

Saban has never been a fan of the early signing period and made it clear that hasn't chang...

Paul Tyson is a three-star quarterback prospect for the 2019 recruiting class