Eastern Michigan receiver found dead, victim of potential homicide
Police believe the death of Eagles wideout Demarius Reed was caused by a gunshot wound and is being treated as a homicide, mlive.com reports.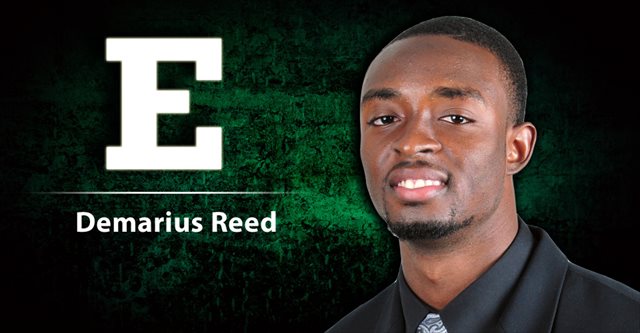 Eastern Michigan officials have confirmed to mlive.com that the victim of a suspected homicide in Ypsilanti, Mich. is junior Eagles wide receiver Demarius Reed. 
Reed was found dead in an Ypsilanti apartment building hallway early Friday morning by his roommate. An Ypsilanti police detective told mlive.com reporter John Counts that the cause of death is believed to be a gunshot wound, and that the case is being investigated as a homicide.
EMU issued a statement Friday afternoon "extending its deepest condolences to [Reed's] family, friends and teammates."
"The EMU family has suffered an unbelievable loss today," Vice President and Director of Intercollegiate Athletics Heather Lyke said in the statement. "Demarius was an influential leader who thrived in the classroom and on the field. Everyone gravitated to him and often described him as the 'life of the locker room.' Our hearts go out to Demarius' family. We are doing all we can to help and support them along with the rest of our student-athletes."
Per the statement, the Eagles' home game against Ohio will be played at 1 p.m. Saturday as scheduled "to honor Reed."
A Chicago native, Reed had started all six games for the 1-5 Eagles, catching 15 balls for 185 yards and a touchdown.
A photo from the crime scene taken by Counts:
Ypsilanti police are investigating a homicide at the University Street apartments. pic.twitter.com/yKJ4nHK6wF

— John Counts (@John_Counts) October 18, 2013
Florida's roster got a boost on Tuesday with the return of several key members of the prog...

Tom Hutton joins the ranks of former Aussie rules footballers joining the college football...

The freshman is already on Heisman lists after throwing the walk-off score in the national...
These seven teams should make the most noise down the homestretch towards signing day

Air Force was forced to cancel 11 athletic events because of the 69-hour government shutdo...

Olson has a lot of the tools offensive coordinators want in a quarterback