Ed O'Bannon shies away from comparisons to Curt Flood
Curt Flood's activism eventually yielded a free market for major-league baseball players. Time will tell if Ed O'Bannon's fight does the same for college athletes.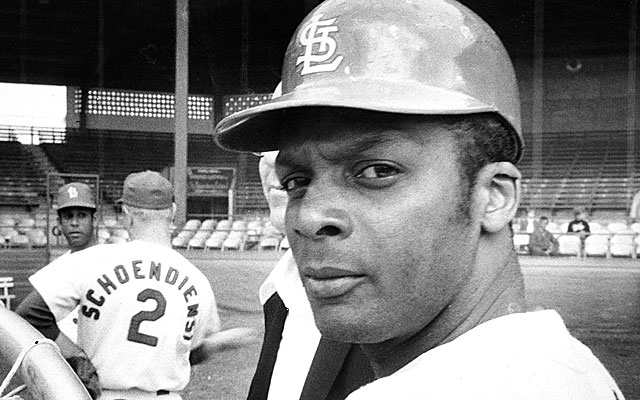 More: O'Bannon news | On CFB: Dennis Dodd | Jeremy Fowler | Jon Solomon
Ed O'Bannon has heard the comparisons for five years: He is the Curt Flood of college sports.
Flood, the former St. Louis Cardinals star, was defeated in court by Major League Baseball when he fought the game's reserve clause. But his willingness to challenge the long-established system played a major role in obtaining free agency rights for players.
O'Bannon, the former UCLA basketball star, got a significant win in court Friday when a federal judge ruled the NCAA has violated antitrust law by preventing athletes from being paid off their names, images and likenesses. But compare him to Flood? O'Bannon treads cautiously.
"I have an idea of what he went through," O'Bannon told CBSSports.com. "I know that Mr. Flood felt alone a lot of the time when he was in pursuit of free agency. I do know what that feels like, I've got to be honest. But there were two different times and two different eras. The hatred that he went through just on a daily basis, I can't relate.
"I have an idea. I am a black man in America so I can understand, and I guess I can relate in some respects. But I didn't go through what he went through. In that respect, I refuse to compare myself with Mr. Flood."
There are, of course, some significant differences between Flood and O'Bannon, not the least of which is the O'Bannon ruling still doesn't provide college athletes with a free market (at least not yet) as Flood's fight eventually yielded.
Flood, unlike O'Bannon, was still an active player during his battle, which essentially ended his career. Flood's activism in the 1960s was ahead of its time by a black baseball player during the Civil Rights movement; most players stayed silent.
Flood fought alone. His teammates were skeptical of the suit and didn't support him, according to a 2011 article in The Atlantic. Only two former players, Jackie Robinson and Hank Greenberg, stood by Flood on the day he testified. No active players were there.
Shortly after suing the NCAA in 2009, O'Bannon was joined in the lawsuit by several other former college athletes. Eventually, NBA legends Oscar Robertson and Bill Russell were added as plaintiffs. O'Bannon was even inducted into the Pac-12 Hall of Honor in 2012 as the case was proceeding.
By 2013, the O'Bannon lawyers added six active college football players to the case (one quickly dropped out). And by the time the trial happened this June, many prominent pro athletes publicly supported O'Bannon's cause. NCAA president Mark Emmert made a point to shake O'Bannon's hand on the day Emmert testified in Oakland, Calif.
O'Bannon said he felt alone at times during the case, but had support from his wife, children and friends. There were days he said he felt sorry for himself, maybe due to something in the case or because he wasn't selling cars at his job in Las Vegas, "but I knew what I was getting into."
Has there been criticism of O'Bannon? Sure, he says, but nothing like what he learned Flood endured. Some of the heaviest criticism directed at O'Bannon may have come from fans of the popular NCAA-themed video games that were discontinued due to the lawsuit.
"Why are you doing this? That's as criticized as I've been to my face," O'Bannon said. "Most people have been supportive. Look, I'm a grown man. I've got two kids in college and one will be in college. I'll be 42 in a couple weeks. I can handle criticism.
"I really don't care, quite honestly, what anyone says. I have been at the top of the college game and I have been at the lowest point of the college game, and anything in between. So there really isn't anything you can tell me that's going to ruin my day. I know what the athletes deserve because I was an athlete in college."
Perhaps that's where there are the most similarities between O'Bannon and Flood. They fought for what they believed was a greater cause for the future.
Cries of doom and gloom about the future of baseball were sounded during Flood's pursuit of free agency, but instead salaries skyrocketed and so did profits. Similar fears have been sounded for college sports over where the money will come from, if the games will remain as popular, and whether non-revenue sports will get cut.
"To me, it boggles the mind that billions of dollars are made and the players -- the people that are actually doing a lot of the work to make these billions -- don't see any of it," O'Bannon said. "I think we're kind of moving toward they will eventually get a piece of that pie. The players didn't ask for all the TV contracts and all that stuff. They didn't ask for it. But now that it's there, because of their hard work and labor, they should be able to benefit."
O'Bannon learned of the court victory Friday at his job as a car salesman. His manager, who O'Bannon had just seen two minutes earlier, called to give him the news.
"I was like, dude, why are you calling me? The judge hasn't said anything, what are you talking about?" O'Bannon said. "He said you're all over the Internet, you might want to turn on the computer."
The truth is, the ruling -- although a clear victory for the O'Bannon plaintiffs -- could have been worse for the NCAA. The judge won't allow athletes to receive money for endorsements. The NCAA can cap the amount of new payments players receive while in school, but the cap cannot be an amount that is less than the athletes' cost of attending school.
And as for names, images and likenesses, schools and conferences will be allowed to put money into a trust fund for football and men's basketball players, but the cap cannot be less than $5,000 per year in 2014 dollars. The amount doesn't concern O'Bannon, who said he just wanted to see players have the opportunity to make money.
Curt Flood? No, O'Bannon shies away from most of those comparisons. But O'Bannon's determination to bring change -- whatever that may eventually look like in college sports -- may make him more remembered for a court case than winning a Final Four as the most outstanding player.
"I know what the athletes deserve and I personally did all I could do to help the college athlete," O'Bannon said. "My parents kind of always told me whatever you do, leave the world a better place. Make your mark in a positive way and leave it in a better way than you receive it. I'm working on that. Criticism? Come on. Stop. I don't care."
CBS Sports HQ Daily Newsletter
Get the best highlights and stories - yeah, just the good stuff handpicked by our team to start your day.
Please check the opt-in box to acknowledge that you would like to subscribe.
Thanks for signing up!
Keep an eye on your inbox for the latest sports news.
Sorry!
There was an error processing your subscription.
Wake Forest's defense ranks last in the ACC in yards allowed and points allowed per game

Stanford and Kentucky picked up big wins to stay undefeated in 2018

The Wildcats enter the AP Top 25 college football rankings after beating Mississippi State
This new slate of college football rankings has both Kentucky and Texas in the top 25

The Monarchs shocked the Hokies on Saturday, and Trevon Hill appeared to act out afterward

There was a shakeup in Jerry Palm's New Year's Six projections this week thanks to a few major...