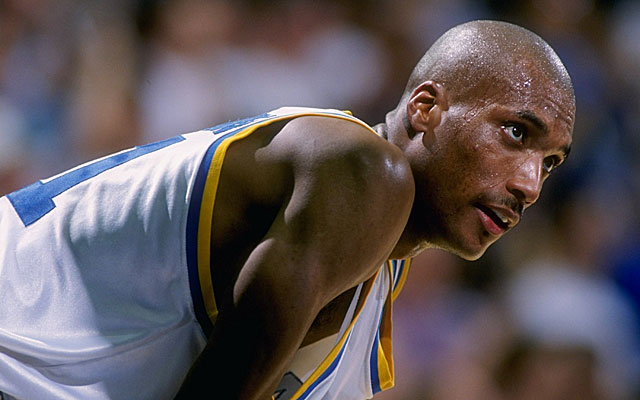 HENDERSON, Nev. -- Every now and then Ed O'Bannon will pull out a highlight tape for the family and throw it in the DVD player.
"The last one I showed," the former UCLA star and father of three said, "they fell asleep on. They were lying on the floor. Something happened in the game and I got no reaction."
Elsewhere, you might have noticed, O'Bannon's image and likeness are causing quite a stir. He is the face of the most important piece of litigation, perhaps, in NCAA history. A month from Friday the landmark O'Bannon v. NCAA lawsuit is scheduled to go to trial.
At stake is only the future of the NCAA. The lawsuit contends that athletes should have a cut of broadcast rights, DVD sales, photos, video games, etc. from entities that profit off their images.
But on this day in suburban Las Vegas, O'Bannon is relaxing in the Findlay Toyota showroom where he works in marketing. He is as at ease discussing the trade-in value of a reporter's '09 Camry as he is the 35,000-foot view of college athletics.
On the student-athlete welfare sought by the Northwestern unionization effort:
"For sure, we were talking about those kind of things back when I was in school," O'Bannon said. "We just didn't know how to go about it.
"You're taught at a young age that you can only act a certain way, do a certain thing, speak a certain way. Everything is so structured. If you step out of those lines you're going to get whacked. If you're at that age and on scholarship and on someone else's dime you're taught to keep your head down and be quiet.
"Just on the strength of speaking out, I admire tremendously what that initial player [Kain Colter] did."
People listen to what O'Bannon has to say with good reason. Even if he wasn't the lead plaintiff in the lawsuit, O'Bannon has been through the system. As a UCLA athlete, he was struggling at the end of the month to make ends meet. He was a member of the first Bruins team in 20 years to win a national championship.
One day O'Bannon stopped by a friend's house and saw a video game being played where "#31" was tearing it up. It occurred to O'Bannon that the wearer of that number hadn't gotten anything in return from the game company or NCAA to use his likeness.
"Pretty much, yeah," he said.
It's all because players sign away such rights in perpetuity to the NCAA according to Form 08-3a. It doesn't mean they can't profit on their own images throughout their lives following graduation. It does mean the NCAA can -- forever -- without compensation.
The O'Bannon plaintiffs are alleging anti-trust violations. If those athletes were allowed to market their own images, likenesses and licenses while in school, it would be a more competitive market.
The NCAA obviously disagrees, in part because a favorable judgment would cost it perhaps hundreds of millions of dollars and redefinition of the word "amateur."
The definition of the man hasn't changed. Out here in the burbs O'Bannon is just dad -- coach of his son's middle school baseball team, about to send his daughter off to play basketball at Utah Valley. An oldest son is studying journalism at Nevada.
O'Bannon is comfortable being the face of the litigation. If nothing else, it gives him a platform on the state of college athletics.
"If a kid wants to have an agent, he should have an agent. Who gives a s---?
"You have to go to school for three years before you enter the [NFL] draft. But going to school for college, let's face it. Maybe ... at least half the players that are playing college basketball don't necessarily want to be there.
You force them to go to college, you force them go to class and then when they finally just get fed up, there's too many consequences, in my opinion, for violations and life lessons."
It would be hard to find a more suitable front man for seismic change in the system. If O'Bannon wasn't trying to sue the NCAA back to the Paleozoic Era, he'd be perfect for one of those going-pro-in-something-other-than-sports commercials.
"It's almost like a blessing that he's the face of the case," said Sonny Vaccaro.
Beginning in the 1970s, Vaccaro, now 74, became an undeniable influence on big-time college basketball, making shoe brands matter. Millions from Nike and later Adidas went to coaches for sponsorships. Players began to choose schools based on shoe brands.
The two met at Vaccaro's Roundball Classic in Pittsburgh, where O'Bannon was MVP his senior year.
He helped UCLA win the NCAA championship in 1995, played pro basketball for seven years. Shortly thereafter, O'Bannon took a job in marketing here at Findlay Toyota. Somewhere in between O'Bannon got his degree in history from UCLA.
When it came time to pick someone who had the personality, fortitude and will to be the lead plaintiff, Vaccaro thought of his old prodigy.
"It was just the feeling that he was always that kid," Vaccaro said. "This isn't Eddie O'Bannon, the leader of the biggest lawsuit in college sports history. He's [like] a guidance counselor, he's an academic person.
"It's unbelievable when the caricature of Eddie was painted when he named himself. They blamed him for not being a good pro, which is stupid.
Then working in a car dealership, in the eyes of the public that demonizes [him]."
But the process has galvanized him. O'Bannon and his wife Rosa huddled with Vaccaro and attorneys in late 2009 when the suit was being assembled. Vaccaro remains an unpaid consultant for the plaintiffs in the lawsuit.
"We went through all of the ramifications," Vaccaro said. "They were afraid. They were afraid for their kids. They were afraid because Eddie wanted to be a coach, would that hurt him? It's like it motivated him, pushed him to going back and getting his degree."
O'Bannon's current place in the universe?
"My priorities haven't changed," O'Bannon said. "My life is here working out with my kids, going to church every Sunday and being the best man and dad I can be.
"I do know right from wrong and I believe that things need to change. If I'm the face and this whole process needs a face, Mr. Vaccaro thought I was strong enough to carry that proverbial torch."
Across town at UNLV, he is reviled -- at times. It was O'Bannon's dream to play for the Rebels. But about the time he was ready to sign, the Rebels were being investigated by the NCAA. Jerry Tarkanian announced that 1991-92 would be his final season. In November 1993, the program was put on three years' probation.
"Jerry came to my home," O'Bannon said. "He told me if we go on probation, not only will you have my blessing but I want you to leave. You have nothing to do with what's going on. There is no reason you should be penalized."
But that hasn't changed some locals' views. He should have still come to UNLV.
"People in this town remind me of it all the time," O'Bannon said. 'That championship you got over at that other school is supposed to be ours.' It's part of the reason I don't go to the games here in town. It gets pretty ugly."
Once he represented Findlay at Thomas and Mack Arena for a half-court shot promotion. He was booed and afterward heckled by a fan while standing in a tunnel.
O'Bannon doesn't quite lead the life of a celebrity. There's a lot of sitting around at a car dealership. A lot of time to chew the fat, consider the world. Some folks will recognize him, chat him up. O'Bannon has done a few commercials for Findlay.
Yes, folks care what he says these days. Next week O'Bannon will be in Washington to testify to a Senate committee on the state of college sports. But mostly he is a devoted father and husband with one big appointment on his calendar -- June 9 in Washington for trial and the case that will bear his name.
"Oh, I'll be there," he said.