Ed Orgeron on Jack Del Rio interview: 'I really don't care'
The Trojans' interim coach says he understands if Pat Haden interviews other candidates for the job.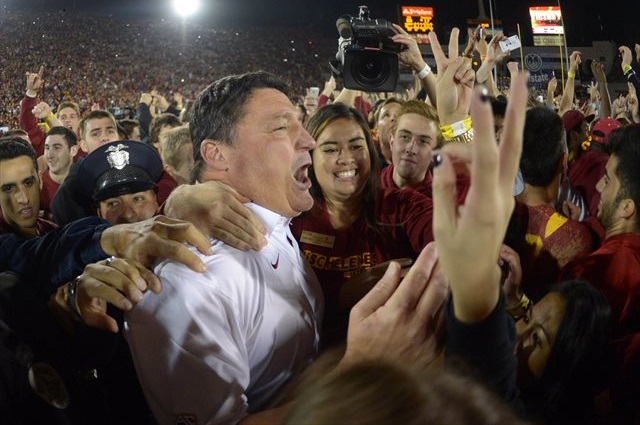 After engineering a dramatic in-season turnaround and upsetting No. 5 Stanford last Saturday, USC interim coach Ed Orgeron suddenly seems to have positioned himself as a serious candidate to keep the job on a permanent basis.
But Orgeron told reporters Sunday that he knows athletic director Pat Haden isn't going to stop interviewing candidates -- candidates like Jack Del Rio, who the Broncos confirmed met with Haden during Denver's recent bye week.
"That's the first that I've heard about that," Orgeron said when asked about the Del Rio interview, per ConquestChronicles.com, "and I really don't care. I know [Haden] has a job to do, and I know he's going to go out there and interview the best guys available for USC.
"My focus today is really celebrating our big win against Stanford, being with our coaches, doing the best job I can for USC and focusing on Colorado. That's all I can do."
Orgeron has gone 5-0 in Pac-12 play since taking over for the dismissed Lane Kiffin, thrusting the Trojans into the midst of the Pac-12 South race.
"Ain't no doubt in my mind that Ed Orgeron should be named USC's head coach, and I don't care who hears me," USC running backs coach Tommie Robinson told CBSSports.com's Bruce Feldman Saturday after the win. "No man on this planet can make these kids play harder than he can. We got 50 kids on scholarship playing like they are and like they did tonight against that team? This guy is phenomenal."
LSU at Florida has been picked as the SEC on CBS Game of the Week

The Michigan coach had quite a few things to say on Monday after their visit to West Lafay...

Injuries are ravaging an LSU team that is searching for an identity
Jones started answering an injury question and then went off about 'fake news'

The full ranking of all 130 college football teams includes TCU up and a major drop for Florida...

The charges all stem from an investigation into improper debit card charges