Eddie Robinson Jr. dies at 70
The son of legendary coach Eddie Robinson, Eddie Robinson Jr. died Wednesday night at the age of 70.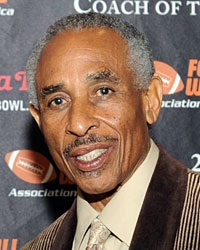 Eddie Robinson Jr., the son of legendary Grambling State coach Eddie Robinson, died Wednesday night at Baylor University Medical Center at the age of 70. Robinson, who had recently undergone heart surgery, was dealing with a prolonged illness.
"We are deeply saddened by the passing of Eddie Jr," said the Robinson family in a statement. "He was a great father, coach and truly a personal friend to us all. Over the years, he could always make us smile. He will be greatly missed. Even in recent months he still had a great love for college football and Grambling State in particular. While it is hard to understand his passing at this moment, we will remember all the good times with Eddie Jr. and always keep those memories close to our hearts."
Robinson played for his father at Grambling and later served alongside him as an assistant coach for 16 seasons.
Funeral arrangements are pending.
Chip and Barton pick win totals for Ohio State, Penn State, Michigan and more

These three teams could surprise quite a few people in 2017

With the Chargers moving to Los Angeles, the Aztecs now need to find a new home -- fast
Lawyers representing Ole Miss want Leo Lewis and Kobe Jone to show at an infractions heari...

The redshirt sophomore will not only decide Auburn's fate, but the landscape of the SEC

Ohio State filed for apparel rights to 'OSU' in February 2017