Elite talent shines at L.A. Nike Camp
This year's Los Angeles Nike Football Training Camp was loaded with elite recruits- many of the best at their positions nationally for the 2015 cycle. Almost without exception, the highly-touted prospects performed at a high level.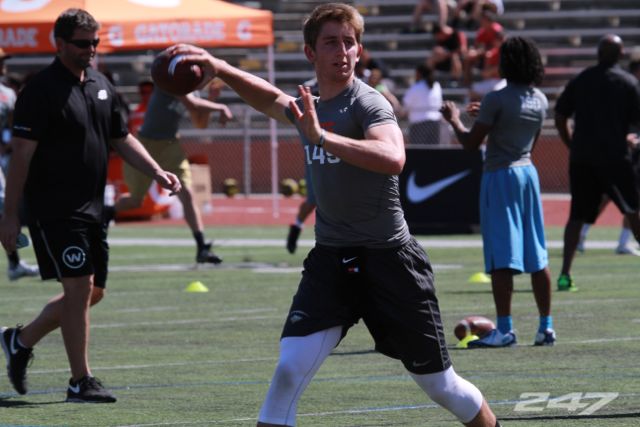 Sunday's Nike Football Training Camp at Redondo Union High in Redondo Beach, Calif., was loaded as several of the top prospects ranked among the tops at their positions in the 2015 cycle competed, tested and trained.

Four prospects earned invites to The Opening, the nation's premier summer all-star event held on the Nike Campus in Beaverton, Ore., in July. The Elite 11 Quarterback Camp finals also will be held during that time.

Here's a breakdown of the top 10 prospects, according to 247Sports Composite Rankings, who took part in the event.

Josh Rosen, QB, Bellflower (Calif.) St. John Bosco

Rosen, the No. 1 pro-style quarterback prospect in the 2015 class, did not disappoint. For my money, the 6-foot-4, 205-pounder was the best signal caller of the day, winning the Quarterback MVP Award from the staff and earning an invite to The Opening and Elite 11 finals. He has elite arm strength and good size- really everything you'd want in a big-time quarterback. Rosen plans to announce his college choice on March 24 and UCLA is the team to beat.

Ricky Town, QB, Ventura (Calif.) St. Bonneventure

Town, the No. 2 pro-style quarterback prospect in the 2015 class, does not have the plus arm in terms of velocity that Rosen has, but is still a surgeon in the passing game- hitting his spots with exceptional accuracy. The 6-foot-4, 202-pounder backed up what we saw on film heading into the event- his game is advanced. Town is committed to USC.

Iman Marshall, CB, Long Beach (Calif.) Poly

Marshall's nickname is "biggie" around Los Angeles and after seeing him in person, he's aptly named. When you see him walk around (6-foot-1, 190 pounds, thick build), you think he's maybe a running back or linebacker, but then when you watch him cover you know why he's given up very few receptions during his high school career. Marshall is a rare prospect at cornerback who could end up No. 1 at his position nationally. Currently, he's No. 3 according to 247Sports Composite rankings. Marshall has a slew of offers and is a likely signing day (2015) decision, but most of the 247Sports Crystal Ball expert predictions have him to USC.

Rasheem Green, DT, Gardena (Calif.) Serra

Green, the No. 5 defensive tackle prospect in the 2015 class, is just scratching the surface of his potential. During the one-on-one portion of the camp, his quickness and athleticism presented a tough match-up for the offensive line prospects he faced. Green is a 100 percent Crystal Ball prediction to USC. Florida is a team to watch here, though.

John Houston, LB, Gardena (Calif.) Serra

There may not be a better frame on a linebacker prospect in the country this cycle and to be honest, there may not be a better linebacker. The 6-foot-3, 211-pound Houston had a "wow" moment at an event that normally does not for a player at his position (it's tough to judge linebackers on anything more than athleticism without pads) when he stepped in front of a pass for a pick-6 during seven-on-seven drills. Houston has a slew of offers (Alabama is the most recent) and will consider a variety of programs, but as is the case with his teammate, Green, Crystal Ball reads 100 percent Trojans. Houston received one of the invites to The Opening.

Christian Kirk, WR, Scottsdale (Ariz.) Saguaro

Kirk, the No. 1 prospect in the state of Arizona this cycle and the No. 2 overall receiver, is built like a running back (measured in at 5-foot-11, 197 pounds) and that gives him an advantage in the physical matchup department against smaller defensive backs. It's also not out of the question that we see Kirk carry the ball from scrimmage a bit at whatever program he lands at. Kirk ran the 40-yard dash in 4.54 seconds (laser-timed) in addition to performing well in one-on-ones. Texas A&M (75 percent) and Oregon (20 percent) are the leading vote getters on the Crystal Ball, but he's getting plenty of new offers and most college staffs believe he's the top receiver prospect in the West this cycle. He was one of the four to earn an invite to The Opening.

Keisean Lucier-South, DE, Orange (Calif.) Orange Lutheran

Lucier-South was outstanding in the testing portion of the event (4.4-second pro agility shuttle- this measures lateral movement and change-of-direction) and was a tough match-up during one-on-ones. The nation's No. 5 weakside defensive end prospect was the defensive line MVP of the event. Currently, UCLA (50 percent) and Michigan (50 percent) are the two leading predictions on Crystal Ball. The Bruins are thought to have the inside track at this early stage. Lucier-South was invited to The Opening following the event.

Blake Barnett, QB, Santiago (Calif.)

The Notre Dame quarterback commit stood out in a star-studded group, just like he did at the Elite 11 regional workout in early January (where he earned an invite to The Opening and Elite 11 finals). Barnett has a good arm and great size (6-foot-4). Also, on film, he's an excellent scrambler and you could see that in his footwork on Sunday. The nation's No. 3 pro-style quarterback prospect in a great fit for what the Irish like to in their offensive scheme. Oregon also recently offered, a testament to his running ability.

Brady White, QB, Santa Clarita (Calif.) Hart

White, the No. 4 pro-style quarterback prospect in the 2015 cycle, measured in at 6-foot-2, and showed off his excellent arm during the passing drills. White is part of the logjam of elite signal caller talent in southern California this cycle. Currently, Cal is the team to beat on the 247Sports Crystal Ball. 

Stanley Norman, CB, Gardena (Calif.) Serra

Nicknamed "Scrappy", Norman played cornerback during the event and was fearless as far as who he attempted to cover- going against several of the big-time prospects at receiver multiple times. Norman likely projects highest in the secondary, though he can play receiver as well. UCLA is the team that is pursuing the hardest at the moment.

Notes on five other high-level prospects at the event.

Cordell Broadus, WR, Las Vegas (Nev.) Bishop Gorman: The son of rapper "Snoop Dogg" has been living in the weight room of late and is now a physical matchup issue for opposing defensive backs with deceptive speed and elusiveness, hands and explosiveness. He's one of the best in the country and most college-ready. USC continues to lead with Florida State and Notre Dame also looming.

Travis Waller, QB, Anaheim (Calif.) Servite: Yet another outstanding SoCal quarterback, we knew Waller could run, but he was electric in the passing game on Sunday, showing great velocity and accuracy. Washington and Arizona have extended early offers to the 6-foot-3, 195-pounder, but if Oregon, which is an 83 percent prediction on Crystal Ball, offers, then the Ducks could be the team to beat. He has the potential to put up eye-popping numbers in that system.

Keenan Walker, OT, Paradise Valley (Ariz.) Chaparral: We knew Walker was a plus-athlete at offensive tackle, but he showed a nasty streak and aggressiveness that gives him even more promise. Arizona (the current 100 percent prediction on Crystal Ball), Texas A&M, Michigan, Arizona State and others have offered.

Ben Humphreys, LB, Santa Ana (Calif.) Mater Dei: We were high on Humphreys after watching him on film and the 6-foot-3, 195-pounder did not disappoint in person, so much in fact that he was extended an invite to the U.S. Army All-American Bowl on Sunday afternoon after he claimed the Linebacker MVP from the staff. California, Washington and Washington State have offered- expect more soon.

Fred Ulu-Perry, C, Honolulu (Hawaii) St. Louis: Ulu-Perry is one of several high-end prospects from the Islands in this cycle and is one of the best center prospects in the country. He won the Offensive Line MVP award from the camp staff and was deserving. Texas Tech, Washington State and Hawaii have offered- expect others soon.
Bookmaker.eu has odds on quarterback battles, and we have thoughts on the best bets

Michigan has few returning starters and even fewer wins over its rivals under Harbaugh entering...

Carrington was the Ducks' leading wideout in 2016 but was dismissed from the team this off...
Michigan coach Jim Harbaugh always makes things interesting at media days

The Sooners and Longhorns have top-10 classes with Texas landing four top in-state players

These three Big Ten teams could surprise in 2017