Emmert: 'No discussions' in relieving more Penn State sanctions
NCAA president says Executive Committee will wait until next report on Penn State in August.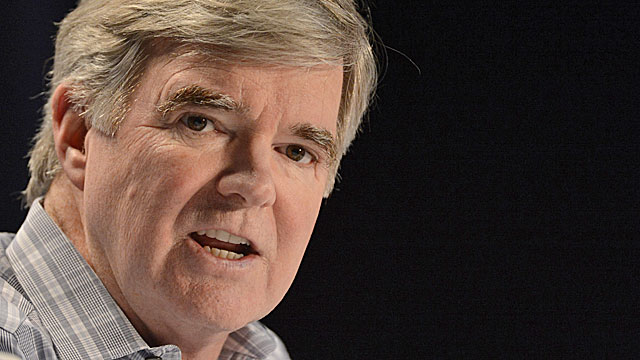 More from AFCA meetings: Coaches poll lives, but crystal trophy not part of playoff
INDIANAPOLIS -- There have been "no discussions" regarding the further relaxing of Penn State's sanctions, NCAA president Mark Emmert told CBSSports.com on Monday.
Emmert was asked directly if talks had progressed to the point of rescinding Penn State's two remaining bowl bans. The school still has two years to go on those bans after the NCAA Executive Committee announced in September it would gradually restore scholarships sooner than previously announced. 
That move was made after former senator George Mitchell's report gave Penn State a favorable recommendation toward "athletic integrity." The football program was hit with unprecedented penalties in July 2012 in the wake of the Jerry Sandusky scandal.
"What the Executive Committee did this last go round, they looked at the [Mitchell] report and made a decision based on that," Emmert said while at the American Football Coaches Association. "I know they're anxious to see the next report. There's been no discussions since that last meeting."
The next report is due in August, Emmert said.
"All the presidents were certainly impressed by the serious work the university has done," Emmert added.
As for the hiring of James Franklin, Emmert said, "I just met Coach Franklin at the BCS [national championship] and chatted with him. He seemed like a delightful guy. He had a great run of success at Vanderbilt. I'm sure he'll do well there."
Franklin has a six-year contract through 2020. As it stands, scholarships won't be restored to the 85-man limit until 2016-17. The Nittany Lions can next play in the postseason after the 2016 season (Big Ten championship/bowl).
Saban isn't going to win Alabama's special election, but the Crimson Tide coach got some l...

The Tigers are going worldwide for their next punter

Led by Heisman Trophy winner Baker Mayfield, the Big 12 finished with seven first-team sel...
Schiano would have made $4.4 million in Year 1 with annual raises as part of a six-year de...

Dykes spent this season as an offensive analyst at TCU

The 'Wyoming Wild Man' notched six tackles for loss as a junior in 2017