Emmert says recent criticisms of enforcement are inaccurate
NCAA president Mark Emmert made pointed examples of progress being made in enforcement in a letter obtained by CBSSports.com. Emmert did not mention, but the letter is assumed to be in response to recent criticisms by Big 12 commissioner Bob Bowlsby.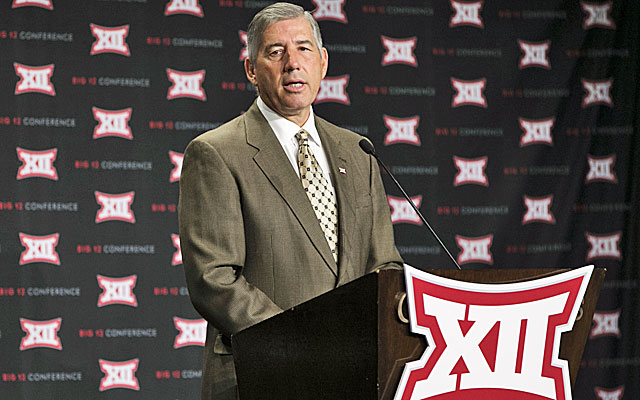 More CFB: Fowler: Michigan State still seeking respect | More from Dodd | Latest news
Mark Emmert responded to recent critics of the NCAA's enforcement process in a Monday letter to college leaders obtained by CBSSports.com. 
The NCAA president said it was "inaccurate" recently to say that "there have been no cases handled" by the association's infractions committee.  Emmert went on to mention the enforcement division is currently conducting 100 investigations as well as making 64 allegations across 14 cases.
The letter was addressed to all 32 Division I commissioners and the NCAA board as well as Purdue AD Morgan Burke and Missouri AD Mike Alden. Both Burke and Alden represent national AD organizations.
While Big 12 commissioner Bob Bowlsby was not specifically mentioned, Emmert's response came a week after Bowlsby said "cheating pays" at the Big 12 media days.
Bowlsby went on to say NCAA enforcement is "broken," doing their jobs with "BB guns in their hands" while the other side is using "howitzers." In the letter, Emmert did refer to "recent comments and stories in the press."
Bowlsby would not comment on the contents of Emmert's letter.
Enforcement and infractions have been under scrutiny in recent years for perceived uneven investigative techniques and rulings. Big Ten commissioner Jim Delany said recently enforcement was "overmatched." The division has also been hurt by what has been called a brain drain of staffers leaving the NCAA.
A new penalty matrix went into effect recently to address some of those criticisms.
Without providing specific numbers Emmert said cases are being processed at a "higher-than-average" rate. Last week, NCAA enforcement director Jon Duncan told CBSSports.com his division is on track to bring more than 100 allegations against 20 schools.
Enforcement projects at least one infractions committee hearing through the 2014-15 academic year, Emmert wrote. The enforcement division is responsible for bringing evidence in cases of wrongdoing that it believes should be acted upon by the infractions committee. Not all allegations, nor do all cases, make it to the infractions committee, which levies penalties. 
"Counting allegations and cases is instructive, but measures only one facet of the department's much broader work," Emmert said.
Miami looks to cap an undefeated regular season at Pitt on Black Friday

Fitzgerald was injured while running during the first quarter of the Egg Bowl

D.K. Metcalf certainly had an interesting spin on his touchdown celebration
The Commonwealth Cup has resided in Blacksburg for over a decade

The biggest game in the AAC this season takes place Friday

Can Arkansas spring the upset on a Missouri team that has caught fire after a sluggish sta...