Emmert testimony should be great theater but will mean little
Mark Emmert is poised to testify Thursday at the Ed O'Bannon trial. Expect plenty of sound and fury that ultimately signals little about where the NCAA model is headed.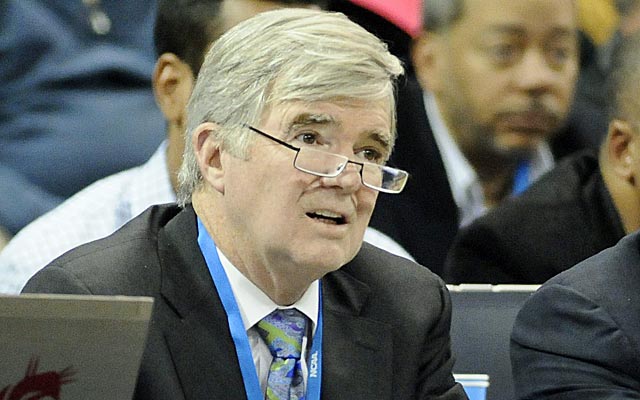 More: O'Bannon news | On CFB: Dennis Dodd | Jeremy Fowler | Jon Solomon
If you want resolution, don't show up Thursday in an Oakland federal courthouse.
 The testimony by NCAA president Mark Emmert has been portrayed/anticipated as something Nicholson-esque from A Few Good Men.  Sooner or later, some slick O'Bannon attorney playing the Tom Cruise role is going to melt Mr. Emmert down in front of God, country and in-court media tweeters.
This is perceived as the day when the whole sham comes crashing down on a former university president turned NCAA CEO.
I asked around this week. Emmert is the second NCAA president to take the stand. It will be great theater because Emmert is anything but boring.
In his time, he has become the most controversial NCAA exec since Walter Byers. And Byers was a hermit. Emmert is a media hound. Anyone remember #askemmert? 
I'm not pronouncing judgment. It just is. Penn State happened on his watch. He inherited USC and Miami but his stamp is all over the sloppy final resolution of those cases.
It just so happens that during Emmert's term the dam burst. The money got so big that it drew the attention of big-time lawyers who saw the possibility of a big payday. The stakeholders did a bad job of managing the money and realizing the pot had gotten absurdly large. Meanwhile, they were busting Johnny Football's chops over autographs. Really? Seemed unfair.
Is the NCAA's model outdated? No question. Are the rules archaic? No doubt. But it's funny how few people cared about student-athlete welfare until schools/NCAA began getting sued back to the stone age. Without that collegiate model a lot of folks at those schools/NCAA are out of job.
In that sense, Emmert just happened to be the wrong president at the wrong time.
"The NCAA has issues ...," Big Ten commissioner Jim Delany said. "Mark is the executive of the day but a lot of these issues had been brewing for a long time."
Sure, Emmert's ego and arrogance could trip him up in court. The man can't help himself. Sure, the guy who pronounced unprecedented sentence on Penn State is likely to suddenly play the NCAA-reflects-the-will-of-the-membership card.
I'm also certain the O'Bannon legal team has a bushel full of damning past Emmert quotes ready to string across the courtroom like police road spikes.
Emmert will be great theater, but landmark? By the looks of it, if O'Bannon goes to term it won't be decided for another 3-5 years in the Supreme Court. If not, the sides may settle. We'll see if any of it hinges on Mark Emmert trying to defend the collegiate model.
I spent a couple of days this week at the Collegiate Commissioners Association meeting in Southern California. They're concerned about the outbreak of litigation, but in many ways they're past it.
Their take: These rash of lawsuits are going to play themselves out over the next few years. The concussion issue is all but settled -- at least in terms of liability faced by the NCAA.  By that time, reforms will be in place across the board. That's what autonomy is about. 
There is genuine concern about a series of lawsuits that seek to pay players their market worth. Success in that area would -- for better or worse -- destroy that college model. The word "Kessler" should strike fear in to the hearts of every college administrator. Jeffrey Kessler, one of the country's most powerful anti-trust attorneys, doesn't just dip a toe in the water. The money has become big enough for him to get paid.
Meanwhile, at least one conference -- the Big 12 -- has hired a Washington, D.C. lobbying firm to combat the pay-for-play element. 
That's where the action is at the moment. Emmert is just a man with a bully pulpit. One way or another Thursday he is going to be entertaining, which will be nice for hungry O'Bannon lawyers and those in-court tweeters. Just don't place your bookmark in the moment.
Rhoads led Iowa State to three bowl games in seven years as head coach

The Georgia middle linebacker is one of the most valuable players in college football

Explaining my 2017 Heisman Trophy ballot and Jackson's tremendous season
Mayfield is the sixth Oklahoma player to win the Heisman since its inception

The Heisman Trophy will be presented to the best college football player this season

Army topped Navy for the second straight year in an absolute thriller in Philadelphia