Emotional Carlos Hyde lifts Buckeyes over Northwestern
Ohio State overcame sluggish play and turnovers from quarterback Braxton Miller thanks to running back Carlos Hyde, who's eager to overcome his past mistakes.
• 3 min read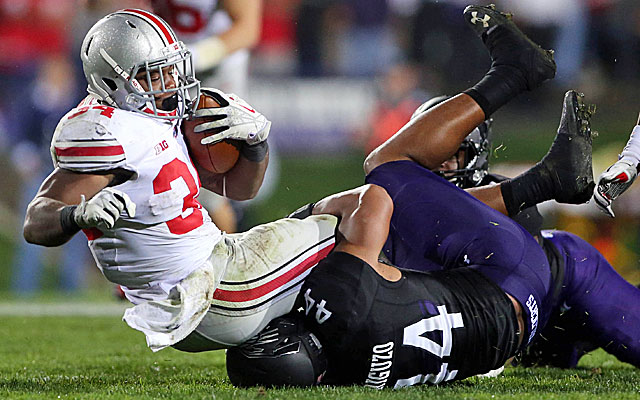 EVANSTON, Ill. -- Carlos Hyde isn't hiding from his mistake.
Whether or not you agree he belongs in an Ohio State uniform because of a well-publicized incident at a nightclub over the summer, he's owning that mistake.
With a white towel hanging from his waist with "4:13" in black letters – a reference to the Bible verse Philippians 4:13 -- the Ohio State running back, who had just carried the sluggish Buckeyes through the thick, tore-up Ryan Field grass, covered his eyes with his hand and started bawling from the postgame press conference podium.
It was an unexpected moment from a player who scored three touchdowns in Ohio State 's 40-30 win over Northwestern. Hyde said he's playing like he can't get back the three games he missed due to suspension after a victim claimed she was assaulted at a downtown Columbus club.
Then he was asked what he'll think about when he wakes up Sunday. The outpour began, with Hyde gathering himself between every few words.
"That suspension, it really hurt, not being out there with my brothers," said Hyde, who rushed for 168 yards and three touchdowns on 26 carries. "Because I made a mistake. I just kept my faith. I prayed to God every night."
Fair or not, it's hard to write about Hyde and not at least think about nightclubs and video surveillances and whether he hit a woman. You can judge the leaked footage for yourself; the victim did not pursue charges.
Meyer's three-game suspension was harsh or lenient, depending on your Twitter feed.
You think Hyde doesn't know what he did was stupid? His press conference did not seem contrived or a well-packaged PR play. He knows he's had to deal with punchline-laced backlash, fans that revel in "gotcha" moments.
Make no mistake, Hyde's no victim here. He got help, too. If he was a third-string running back and wasn't coming off a 16-touchdown season, would he have gotten three games instead of a whole season or a dismissal from the Buckeyes? Hard to tell, but it's a fair question to raise. For decades, difference-makers with legal trouble have found ways to stay on the team.
Without Hyde, the Buckeyes enter the bye week at 5-1 right now. It's that simple.
But two different teammates said the same thing late Saturday night -- that the whole team wanted Hyde back, regardless of his issue.
"For everything he's been through, I'm glad for him," receiver Corey Brown said.
Without Hyde, Ohio State probably wouldn't be riding an 18-game winning streak right now. They were flailing after a two-turnover first half and a 20-13 deficit. Coach Urban Meyer admitted he "almost" pulled quarterback Braxton Miller, who fumbled twice, for backup Kenny Guiton but didn't because "I had a lot of turst 5 would pull it out."
Meyer was so desperate for a spark, he called a failed fake punt from his own 32 in the second quarter with Northwestern holding a 17-13 lead. Meyer later called the decision a coaching error.
Hyde gave Miller and Meyer room to breathe. With a sizable offensive line advantage, the Buckeyes rushed on 10 of their first 13 plays of the second half, with Hyde going for 59 yards and a score on eight carries during that stretch. Even when he was tackled at the line of scrimmage, the 242-pound Hyde seemed to push for at least 3 yards.
Meyer's spread-offense rep and athletic quarterback play seems at its best with a more simplistic approach at OSU -- the power game with Hyde while Miller complements with the run and the playaction.
As Hyde addressed the media, Meyer walked down a nearby hallway with wife, Shelly, expecting to start his press conference.
"Is he in there?" Meyer asked an Ohio State staffer, likely referring to Hyde. By the time Hyde finished his press conference, Meyer was gone, only to reappear about a minute later.
"His whole career was kind of a mush," Meyer said. "I hope this is a game-changer (for him)."
Ohio State still has concerns. Northwestern has its most physical and fast team under coach Pat Fitzgerald, but Ohio State probably shouldn't be giving up 343 passing yards to the Trevor Siemian-Kain Colter quarterback combo. A 67-yard reception by the Wildcats' Rashad Lawrence between two OSU hesitant defenders in the fourth quarter is a prime example.
Miller admits his knee injury, which kept him out of nearly three full games, bothered him slightly when running on the soaked grass in Evanston.
But Ohio State can win ugly. On Saturday, a blocked punt by cornerback Bradley Roby in Northwestern's end zone and a poised fourth-quarter drive from Miller sufficed.
The Big Ten still has a national title contender. And Hyde seems intent on keeping it that way.
"It's a team that refuses to lose." Brown said.
Florida State and Alabama will face off in a highly touted game in Atlanta in Week 1

Five NC State freshman were punished team rules and code of conduct violations

Browne was benched in favor of Darnold early into last season
There are new names to learn every season, and here are 14 to keep an eye on from the SEC

Taking a close, detailed and opinionated look at the SEC a week before the start of the 2017...

Rosier will start for the Hurricanes in their opener against Bethune-Cookman