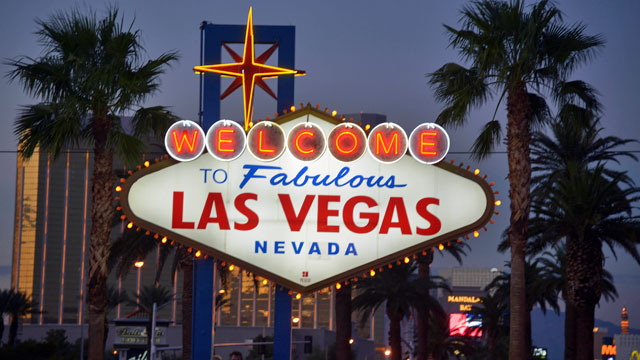 This spring, the NCAA will consider what was once unthinkable -- opening Las Vegas for business.
Yup, we're talking championships -- hockey, volleyball, wrestling -- NCAA Tournament games and perhaps even a Final Four someday in Sin City. If a Mountain West proposal is adopted in April, the NCAA's long-standing ban on championship events in Nevada would be relaxed.
Please stow your rolling-the-dice and what-are-the-odds references. A change in social mores, a local building boom and practicality have made it logical for the NCAA to cozy up to hosting events in the nation's gambling capital.
"What are we talking about?" said Mountain West commissioner Craig Thompson said. "The stigma -- if you will -- is not as pronounced as it once was."
NCAA president Mark Emmert dropped a bit of a bomb in December when he said there would be "robust conversation" about opening up Las Vegas. Per long-standing policy, the NCAA does not allow championship events to be placed in states where sports gambling is legal.
Opening up Nevada enjoyed "strong support" by the NCAA's competition oversight committee last week during meetings in Indianapolis, according to a person familiar with the proceedings. There were no formal recommendations to the NCAA Council, which will consider the Nevada proposals among dozens of others during its next meeting April 6-8 in Indianapolis. New legislation would take effect Aug. 1.
A high-ranking NCAA official said Las Vegas is part of a "broad conversation" by the association and change shouldn't necessarily be expected.
However, there are encouraging signs everywhere.
Thompson's MWC is one of four Division I conferences that plays its postseason basketball tournament in Las Vegas each March. (The Pac-12, WAC and West Coast are the others.) Counting women's hoops, that's seven conference tournaments each spring in the belly of the gambling beast. (The Pac-12 women play in Seattle.) There hasn't been a hint of scandal.
"We [in Nevada] the most regulatory system in the world," said an official from UNLV, where the MWC proposal originated. "We find out when scandals happen other places and the don't allow us to have championships here? It's absolutely ridiculous."
In fact, gambling advocates argue that the legitimacy of games is monitored more closely in Nevada than anywhere else. The city basically considers itself ready for a load of new, big-time sports events.
A new state-of-the-art 19,000-seat arena is opening in April. An NHL franchise has all but been guaranteed as an anchor tenant, according to a source. A new 16-team basketball tournament similar to the NIT kicks off next month at the Mandalay Bay Events Center. The event, like those conference tournaments, is not governed by the NCAA.
Former UNLV athletic director Jim Livengood is part of a group proposing the entire women's Sweet 16 be played in Las Vegas. A parcel of land owned by UNLV is being developed into what is expected to be a new stadium for the Rebels. The stadium could be enclosed and be as large as 65,000 in order to lure an NFL team and the Final Four.
"It's not question of 'if' [the NCAA opens up Las Vegas], it's 'when,'" Livengood told CBS Sports.
Within the NCAA, there was a similar melting of the ice earlier last month when a pilot program was established to serve beer and wine this year at the College World Series.
Beer? Wine? The NCAA Tournament in Sin City? On its surface, the NCAA and its membership are mimicking the nation's changing social mores. In April 2014, the NCAA reduced penalties for a positive marijuana test.
There has been no discussion about Las Vegas regarding the College Football Playoff, according to executive director Bill Hancock. The city would need a minimum 65,000-seat stadium to qualify for hosting the championship game. Hancock said he "did not want to speculate on hypotheticals" in the event that such a stadium was built.
Add to all of it what sources say is the NCAA's desire to balance out the tournament bracket geographically. A true western city (Seattle) hasn't hosted the Final Four since 1995. (University of Phoenix Stadium in Glendale, Arizona, will host the 2017 Final Four.)
One source close to the NCAA men's basketball committee speculated that western cities weren't applying in great number to be tournament sites. That or there are a dearth of appropriate venues out west.
Since 2008, the West Regional has rotated between three cities -- Anaheim, California (Honda Center), Los Angeles (Staples Center) and the Phoenix area -- in every year but one (2010, Salt Lake City).
The Mountain West proposal contends the ban "penalizes" athletes at UNLV and Nevada who cannot experience championship events in their state or on their campus.
Nevada is one of four states nationwide to allow single-game sports gambling. While it considers Nevada, the NCAA is fighting vehemently against New Jersey becoming the fifth such state. The association has sued the state (along with the four major leagues) over its intention to become the latest with state-sponsored single-game gambling.
The country has been limited to those four states because of the 24-year-old Professional and Amateur Sports Protection Act that makes sports betting illegal. Federal judges will consider on Wednesday whether New Jersey is able to proceed.
"It's amazing how little people have spoken about it," said Darren Heitner, a Fort Lauderdale, Florida, attorney specializing in entertainment and sports law. "We're days away and there is very little coverage. It potentially can have a major impact on the state of sports betting. I don't know if this [Nevada] would have any influence on it [New Jersey]."
An NCAA source told CBS Sports that the association's legal staff is concerned a move into Las Vegas will hurt its New Jersey lawsuit. But concern may be all it is.
The odds seem to have changed. The NCAA may be ready to roll the championship dice in the desert.