End of an era? Looks like CFP does what BCS couldn't: Stop the SEC
Don't be fooled by 7 SEC bowl wins. College football's ruling class the past 9 years fails as others assume command in the playoff era.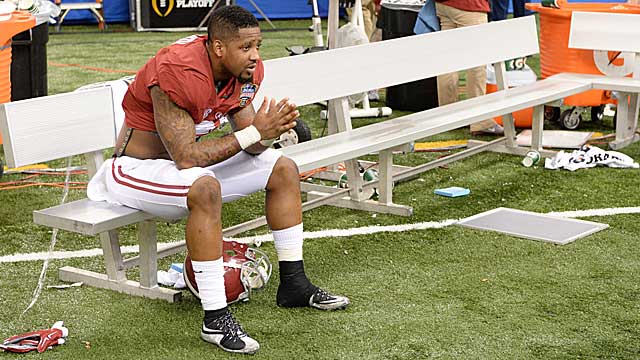 In the end, the league that controlled our thoughts, minds and viewing habits, couldn't control the narrative.
It sure seemed that way when Florida beat East Carolina on Saturday to end the SEC's postseason. The Strength Everywhere Conference immediately fired off a release. The league had tied its own NCAA record with seven bowl wins.
Impressed? No, you're not. Robbie from Gulf Shores isn't holding on Line 1 to talk Birmingham Bowl. He's wondering how the heart of the SEC order struck out -- Alabama, Auburn, Ole Miss, Mississippi State and LSU -- by losing.
Seven bowl wins is not nearly the story down South. Five bowl losses are. So is playing the first College Football Playoff title game without a hint of a drawl.
Look around. Feel it, smell it, breathe it in.
What you're experiencing today was the state of college football at kickoff Dec. 2, 2006. When UCLA lined up against USC in a packed Rose Bowl, everyone had a chance.
Or at least it seemed like it.
The previous season Texas had broken USC's winning streak. Boise State was about to upset Oklahoma. The word "parity" actually had meaning.
Back then, "West Coast bias" could have described a rap war. The term "SEC Fatigue" might as well have been referring to overworked government employees.
On that day more than eight years ago, everything changed. The Bruins upset the Trojans in the final regular-season game, allowing Florida to sneak into the BCS and beat Ohio State.
The Southeastern Conference -- not the Securities and Exchange Commission -- didn't release its grip on college football until Thursday night.
You might recall, an unprecedented seven consecutive SEC national champions from 2006-2012. When Ohio State upset Alabama on New Year's Day, it was assured the SEC wouldn't play for the national title for the first time in nine years and won't win a title for the second straight.
The reaction was immediate, because that's what we do in college football. We judge, we analyze, we overreact based on the smallest of sample size in major college sports.
One game is about 8 percent of the schedule. Teams play largely regional schedules that don't come close to judging programs equally.
Still, college football probably needed this pressure release. Nationally, SEC Fatigue was real. Most likely the league is still at the height of its power. It could win it all next season. But as long as we're judging, let's admit the obvious.
Simple probability theory tell you the SEC's unprecedented run is over. No league will ever win seven in a row again. Perhaps not even four in a row.
Simple math tells you it's harder to win two playoff games, rather than one championship game. It's near impossible for any one league to do it year after year.
Ask Urban Meyer and Mark Helfrich. After the congratulations of advancing faded, each retreated to his bunker to strategize. They've got 11 days to top one of the biggest wins of their careers.
Don't tell them the SEC schedule is a witch. They didn't work any less than Gus or Nick or Les or Spur Dog to get to this point.
The SEC is being asked to win two more games -- same as everyone else, except different. Remember those laws of probability. Remember the muscle memory it's going to take to climb the mountain seven years in a row.
Remember that SEC schedule witch.
Alabama couldn't pull it off this season. Again, that doesn't mean it can't in 2015. It does mean the playoff is giving us something closer to parity, something closer to what college football looked like on Dec. 2, 2006.
In the BCS era (1998-2013), only 15 teams from six conferences (and Notre Dame) played for the title. You might have noticed in the first year of the playoff four teams from four different conferences played for it all.
Bigger field, more competition. More simple math.
The SEC underachieved this season, and it's easy to see the signs of decline: Saban's Alabama has given up at least 40 points in four of the past 26 games, in two of the final three. The last time that happened was 2003.
On opening night, Texas A&M beat No. 9 South Carolina that in no way deserved that ranking. The Aggies' quarterback that night -- Kenny Hill -- no longer starts. Steve Spurrier made more news with his mouth than his team did with the football.
The Aggies just spent $1.7 million per year on a new defensive coordinator. John Chavis can scheme with the best of them. But unless he can line up at D-tackle, Chavis won't make that much of a difference. He'll need better players first.
It feels like we were duped after seeing three SEC West teams in the top four of the first College Football Playoff rankings.
That SEC Jest, er, West had to have its honor defended in the postseason by Arkansas and Texas A&M. Ole Miss, Mississippi State, Auburn, Alabama and LSU lost its bowls by a combined 67 points.
Knee jerk? Snapshot? Small sample size? Sure, but seven years is seven years -- and that kind of run (probably) is never going to happen again. Meyer has built a program that is half Oregon/half SEC. Speed, brawn, intimidation. Most of you didn't know Ezekiel Elliott from the book in the Old Testament.
The Ducks have cornered the market on speed and youth.
TCU might be better than them all this season.
Besides, something new is something good.
In some small way, we're back to the old days, or least the days when there was a little more air to breathe. The atmosphere wasn't choked with Saban's views on pimps or a network launch that a made a presidential inauguration blush.
For nine years we lived in an era when one league dominated the landscape. If that landscape was damaged by Harvey Updyke's horticulture terrorism, so much the better. The South became nationally syndicated.
Yes, the SEC hijacked the airwaves too. What, you hadn't noticed? In this age of SEC excellence, your cashier at the Piggly Wiggly could have been leading a double life as a drive-time oracle.
Let's go to Robbie from Gulf Shores on Line 1. He's got a lot to talk about.
>> Want more about CFP? Solomon: Buckeyes, Ducks are test subjects
Rutgers' offensive line challenged a local curling club to a match

These five teams have the best chance of being the Group of Five darling this coming year

Drevno had been running the Michigan offense for three seasons
Aaron was reportedly shot while trying to protect his girlfriend when a fight broke out at...

An assistant-by-assistant look at changes Saban made to the Tide's staff ahead of 2018

Find out when Nick Saban, Kirby Smart and the rest of the coaches will speak ahead of the...