End of Cinderella: Petersen quits annual upstart Boise for Washington
Chris Petersen made his national rep beating college football's big boys, but now that he's gone big-time, Washington and Boise State will never be the same.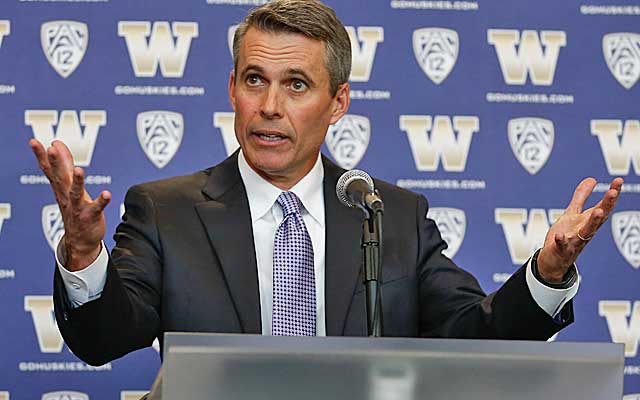 CBSSports.com this week explores the new class separation in college football. Decades in the making, it now threatens to cut off the bottom 60 schools from the top 65 in power conferences. Many think it's happened already. Is that a good thing, a bad thing or just gridiron evolution?
Tuesday: Is Cinderella dead?
Wednesday: 1) Houston goes all in on football. 2) Will Chris Petersen's Boise magic work at Washington? 3) Five Cinderellas to watch in 2014.
SEATTLE -- At a crossroads of the current state of the game, Chris Petersen has crossed over.
He looked like a lifer at Boise State -- 13 years at the school, eight years as head coach, 92 wins, a couple of BCS bowl wins. Every time his name popped up for a job, his inaction shot it right down.
"I think the last year it hit me," Washington's new coach said. "Hey, we have done a lot of things here [at Boise]. Maybe there is a new challenge, kind of like starting over.
"That's what it is, it is like starting over."
Whether he knows it, Petersen sent a significant message when he left Boise for Washington . Following his "worst" year at Boise (8-5), The Coach They Thought Would Never Leave chased the big time. Chris Petersen never can be a Cinderella again.
That's neither negative nor judgment, it just is. Washington has a national championship, at least a share of 11 Pac-10 titles. The $250 million upgrade on Husky Stadium alone is at least five times Boise's entire athletic budget. USC showed some interest. Washington -- a Pac-12 giant -- finally pried him loose with the hope he could replicate some of that overachievement in a power conference.
"I could have seen myself staying for a long time," Petersen said. "Then my feelings changed a little in terms of, 'Is there maybe something more?'"
Washington and Boise State may never be the same. U-Dub, because it can legitimately hope to chase that 12th conference title after years of muddling. Any doubt about Petersen winning 88 percent of his games at Boise have been replaced by the marvel of what it took to win 88 percent of his games at Boise.
"At UC-Davis [where he played and started coaching]," Petersen said, "we shared with the swim team and whoever else was there. We had a tiny little locker ... I've always come from nothing."
For the moment, Boise is in jeopardy because:
Who's going to stay eight years?
Who's going to win 92 games?
Who's going to get further than Petersen in the national picture in the new playoff era?
The system isn't exactly rigged, but it is slanted. The best Boise can hope for any year is a berth in what are now termed the New Year's Six bowls (Rose, Cotton, Peach, Orange, Fiesta, Sugar). Getting into the playoff is another thing. History has proven that getting into the top four is mostly a pipe dream for Group of Five schools (Sun Belt, American, Mountain West, Conference USA, MAC). Only one non-BCS school finished in the top four of the BCS standings from 1998-2013. That team, TCU, is now a proud Power 5 member in the Big 12.
"When a Chris Petersen leaves your program, it's a big piece of the puzzle," Boise State AD Mark Coyle said.
Mostly because Petersen is half Zen, half genius. It's not all about the winning. Somehow he squeezed future pros out of just guys -- "Our Kind Of Guys," he called them, or OKGs. He never landed a five-star but did produce 20 NFL draftees in those eight years -- as many as Michigan State during that period, one fewer than Texas A&M.
New Broncos coach Bryan Harsin probably knows as much about Boise as anyone. He played quarterback there for five years in the 1990s. For 11 years (2001-2010), Harsin was a Boise grad assistant and assistant. He was the offensive coordinator in the 2007 and 2010 Fiesta Bowls. From that 2010 Fiesta Bowl team the entire Broncos defensive line made the NFL. You may recall that 2007 epic upset of Oklahoma, the one where tailback Ian Johnson proposed to his cheerleader/fiancé.
How long has it been? Long enough to remember what may have been the most bitter loss in Boise history. A 34-31 Nevada overtime defeat in 2010 was the only blemish on a 12-1 season.
"Colin Kaepernick really kind of came into his own, maybe, in that game," Harsin said.
It's been long enough for Harsin to spend two years as Texas' co-offensive coordinator under Mack Brown. Long enough to get his cleats dirty, breaking in as a head coach with Arkansas State for one season in 2013.
Long enough to be the guy to follow the guy when Petersen left. How long's it been? Johnson is now Harsin's insurance agent.
"He's going to do great," Petersen said of Harsin. "The one thing about Boise, a lot of good programs are smart when it's going good, they stay inside."
Dirk Koetter -- 26-10 at Boise from 1998-2000 -- moved over from Oregon where he was offensive coordinator. Dan Hawkins, promoted from the staff, won 53 games in five seasons after Koetter left for Arizona State.
Thing is, Koetter and Hawkins never approached the kind of success they had at Boise. Petersen, Hawkins' former offensive coordinator, is the gold standard and a living experiment. He's the one who stayed ... until now.
"The old BCS, it was good to us," Harsin said. "We knew what we had to do to get there."
Petersen, 49, made Boise a brand, made it matter. His family grew up there, his reputation was made there. The future is less about what he can make Washington than what Boise will be.
Whether he'll admit it is moot, Petersen's Boise career had peaked. His OKGs are now being developed in the Pacific Northwest.
During his exit interviews he'd ask departing seniors a series of about 20 questions to evaluate the program. How-are-we-doing questions. The answers rarely were about winning and losing.
"The program is always going to be about having a vision for your life outside of football," Petersen said. "It's about becoming a real man. I think there's such a misperception about what a real man is. In the world we that we live in ... this football and this macho environment guys have no idea what a real man looks like."
That's why Petersen had no problem suspending quarterback Cyler Miles for the opener against Hawaii. Miles had been separated from the program after allegedly assaulting a fan following February's Super Bowl.
They didn't know how to take him at first, these Huskies. The coach who wasn't 24/7 win, win, win set up a home run derby with tennis rackets and tennis balls. His Broncos players always looked forward to floating the Boise River as a team-bonding exercise.
Peterson pulled an April Fool's prank that his new team didn't quite get. He introduced new uniforms that were so garish they almost made sense.
"That's really how I am with our staff," Petersen said. "I'm very focused, detailed, everything matters. I'm big about being early, going to class. I want to have high standards and have fun in the process."
That's fine, but in the process of going to the big time, Chris Petersen can never be Cinderella again.
The Nittany Lions want the Crimson Tide after dismantling the Wolverines

The Nittany Lions and Fighting Irish are storied programs but newbies as CFP contenders

Plus, people need to start paying attention to Matt Campbell and Iowa State
Barkley scored three touchdowns and made some big plays in Penn State's massive win

Projecting the many changes in the new AP Top 25 poll college football rankings after Week...

Keeping tabs on the biggest scores and highlights from Week 8 of the 2017 NCAA football se...